Sixth Annual Metadata Summit to Gather Who's Who of Global Data Experts at Music Biz 2018 Conference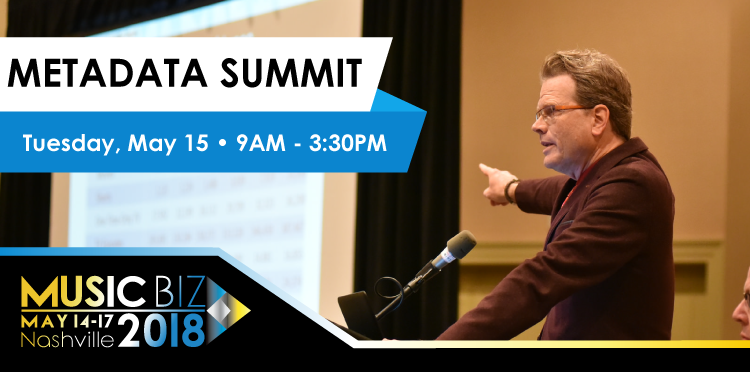 April 23, 2018 – The Music Business Association (Music Biz) will host the Sixth Annual Metadata Summit on Tuesday, May 15, from 9 a.m. to 3:30 p.m. CT at the Omni Nashville Hotel during the Association's 60th anniversary Music Biz 2018 conference. Aimed at data experts from throughout the music industry, the program will amplify the importance of metadata and provide a high-level forum for discussion.
Sponsored by OpenPlay along with supporting sponsors DataArt, primephonic, SOCAN, SoundExchange, and VEVA Sound, this year's Summit will kick off with a presentation from Edward Ginis of OpenPlay, who will explain why metadata must evolve beyond artist, genre, and title to enable the music technology of tomorrow. In addition, global metadata issues will take center stage in a series of presentations, including Bernie Cho of DFSB Kollective discussing how data helped K-Pop become Asia's #1 music export; Ed Peto and Alex Taggart of Outdustry explaining music licensing in China; and Jay Mogis of Nightlife Music detailing metadata use in Australia.
Other panels and presentations will feature a who's who of international metadata experts, including Kim Beauchamp of Universal Music Group; Jon Bender of SoundExchange; Jill Chapman of Amazon, Harris Cohen of YouTube; Deborah Fairchild of VEVA Sound; Joe Freel of Sony Music Entertainment; Neil Gaffney of Universal Music Group; Mark Isherwood of DDEX; Jeff King of SOCAN; Eric MacKay of Warner/Chappell; Jackson Mercer of Concord Music; Vickie Naumann of CrossBorderWorks; Benji Rogers of Dot Blockchain Media; and Howie Singer, Strategic Technology Consultant. These sessions will cover common metadata mistakes that can get songs removed from digital service providers (DSP's), the Music Data Exchange (MDX) database, the music business applications of blockchain, how metadata can help rights-holders find where their songs are being used and ensure they are being paid properly, and the benefits of capturing metadata directly in the studio.
"This year's Metadata Summit comes at a time when high-quality metadata is of utmost importance," said James Donio, President of Music Biz. "With digital services now accounting for the majority of music industry revenue, it is crucial that each and every stream, download, video sync, or other music use be properly identified and associated with its rights-holders. Music Biz's resident data enthusiast, our Digital Programming & Industry Relations Consultant Bill Wilson, has once again assembled experts from all corners of the international metadata scene. We look forward to an in-depth discussion."
"The music tech space is growing rapidly in a variety of different directions, but the one thing they all have in common is they need proper metadata to work efficiently," said Bill Wilson, Digital Programming & Industry Relations Consultant for Music Biz. "It's important for everyone in every branch of the industry to stay up-to-date on these issues and ensure they are following the proper guidelines. This is how we clear the way for fresh innovations that will both keep revenue growing and guarantee it ends up in the right hands."
The currently confirmed schedule for the Metadata Summit can be found below.
9 – 9:30 AM
Metadata Summit Welcome & Acronym Update
Bill Wilson, Digital Programming & Industry Relations, Music Business Association
9:30 – 10 AM
Your Metadata S#*ks!
Our industry is evolving at an incredible pace, toward intuitive discovery, exploration, and experimentation. Cutting edge technologies power these new creative paradigms, including AI learning algorithms, voice-enabled devices, complex pattern recognition engines, and high res audio. At the core of every single one of these technologies is one singular building block, the DNA behind all of these creative technologies: Metadata. We're way past the point of simply needing an artist, title, and genre. We must elevate the metadata experience to future proof every part of the supply chain. Whether you are an artist, a label, a distributor, a PRO, or a service provider — all have a critical role to play in supporting those who are solving the problem.
Edward Ginis, Co-Founder, OpenPlay
10 – 10:40 AM
Rejected! The Most Common Errors
Style guide violations, audio language, missing explicit tags are just some of the many reasons that metadata errors lead to releases being rejected by DSP's. These errors lead to increased time and expense and possibly even missing a street date for an artist. This panel will address questions such as: What are the top reasons that releases are rejected by DSP's? What solutions are currently out there for cleaning up catalog data? Given the swift adoption of voice search, what new fields may cause a release to be rejected?
Moderator: Bill Wilson, Digital Programming & Industry Relations, Music Business Association

Jill Chapman, Digital Media Operations Manager, Amazon

Jackson Mercer, VP of Operations, Concord Music

John Raso, SVP of Client Services, HFA & Rumblefish

Chris Read, Digital Supply Chain Professional
10:40 – 11 AM
Music Data Exchange: Linking Recordings and Compositions
The lack of an efficient workflow to establish timely and authoritative linking of compositions to sound recordings is an incredible stumbling block in the music industry, arguably the most inefficient link in today's royalty chain. When a label releases a track, it is frequently (almost always?) unclear who the publisher is and/or what their royalty share of that composition is. The problem is compounded by the fact that many songs have multiple writers and multiple publishers. The need to make this link and establish shares won't ever go away.
The Fix: In cooperation with U.S. record labels and music publishers, SoundExchange has developed and launched a hub that centralizes the exchange of data between labels and publishers, gives publishers full visibility to claimed and unclaimed percentages, and allows publishers to communicate their shares. The new Music Data Exchange (MDX) portal provides a workflow and central database for real-time, pre-release, highly automated (via DDEX messaging), efficient exchanges of data, resulting in owner-established links between new release recordings and their underlying compositions. Music Data Exchange has proven its value during rigorous, extensive beta testing, with a scheduled production launch in March 2018. Not a moment too soon.
Jon Bender, COO, SoundExchange
11 – 11:45 AM
Battle of the Blockchain
We've all heard the hype around ICO's and cryptocurrency, but do we really understand how (or if) the blockchain can help some of the long-standing rights issues in the music business? The panel will dive into the most pressing and sometimes uncomfortable questions that remain about this transformative technology.
Moderator: Vickie Nauman, Owner & Founder, CrossBorderWorks

Daniel Dewar, CEO & Founder, Paperchain

Jeff King, COO, SOCAN

Vaughn McKenzie, CEO, JAAK

Benji Rogers, CEO, Dot Blockchain Media

Howie Singer, Strategic Technology Consultant
1 – 1:20 PM
The Unsung K-Pop Star: Music Metadata
Get the lowdown on how the "glocalization" of music metadata is the secret success sauce that has helped propel Korean pop music to emerge as the #1 Asian music export in the world.
Bernie Cho, President, DFSB Kollective
1:20 – 1:40 PM
So, You're Licensed Into China… Now What?
China is opening up rapidly in terms of inbound digital licensing, but what happens once your license is in place? In reality, this is just the beginning, not least because Chinese platforms typically don't WANT the content, they have it already.
Rather than expecting the floodgates to open, China still needs to be seen as a very long play. This period may be known in retrospect as "the age of metadata" insofar as the priority for all rights owners should be to pump the market with metadata, readying for the next step which is reporting and accounting. Only then does marketing a record really make sense.
This informal workshop with Ed Peto and Alex Taggart of leading China music industry services company Outdustry is designed to put things in perspective, with a good dose of myth-busting, while also providing hard won practical insights as to how to tackle the market with a long view.
Ed Peto, Owner, Outdustry

Alex Taggart, GM, Outdustry
1:40 – 2 PM
From Little Things, Big Things Grow: Using and Abusing Metadata in Australia
While much is said of the integrity of metadata in general, this presentation will look at two use cases in Australia that move beyond the barriers to current and future possibilities.
crowdDJ is an app that matches commercially licensed content (i.e. OOH) to consumer services on personal devices, so that a range of selection and playlisting options are enabled in both directions. Creating a bridge between these environments demonstrates how commercial music services can apply metadata solutions to seek increasingly granular context on their businesses and harness user experience data to create virtual record stores in every venue.
Music Metrics and the Future of the Australian Music Industry is a three-year Australian Research Council funded project at QUT's Digital Media Research Centre. With industry partners APRA AMCOS, Radio Monitor, and Nightlife Music, Music Metrics has been ingesting and validating streaming, radio, and public performance usage and aggregating this against social media for several years. By engaging world-leading researchers and industry advisors, an evidenced-based whitepaper will outline the current data based barriers and future possibilities to the Australian Government in 2019.
This presentation will outline both use cases and discuss the implications of working with the metadata "you have," which is not always the metadata you need.
Jay Mogis, Licensing & Business Affairs, Nightlife Music
2 – 2:40 PM
My Song, My Money… Why Metadata?
We have access to all the music in the world and answers to almost any query online — instantly and anywhere. Yet rights owners still experience a disconnect from their rights. So what part does the metadata play in this and what can artists, labels, publishers, and management do about this in order to gain a better understanding of where their assets are being used and what they are getting paid for?
This panel — consisting of experts from the entire online music value and data chain — will provide invaluable insights on this topic. The panel will share concrete experiences and hopefully — together with the audience — identify ways to improve the current metadata flow to the benefit of the artists and creators as well as their fans.
Moderator: Hans Peter Roth, Partner & Head of Global Business Development, Muserk

Harris Cohen, Senior Product Manager, YouTube

Neil Gaffney, SVP Global Rights & Society Relations, Universal Music Group

Eric MacKay, EVP, Global Digital Strategy, Warner/Chappell
2:40 – 3:30 PM
From Studio to Smartphone
This panel discusses and demystifies the purpose, practical application, and value of capturing metadata at the point of inception — in the studio.
This panel will engage all those with a vested interest in the collection and propagation of quality metadata, including engineers, producers, production engineers, songwriters, performers, seconds, and production coordinators across different genres and parts of the industry — thereby creating a cross section of contemporary voices to add insight to this crucial aspect of industry growth.
Moderator: Mark Isherwood, Secretariat, DDEX

Kim Beauchamp, SVP Process Innovation & Advanced Operations, Universal Music Group

Deborah Fairchild, EVP, VEVA Sound

Joe Freel, Associate Director, A&R Administration, Sony Music Entertainment

Josh Jackson, Business Development & Industry Relations, UK/Europe, Jaxsta

F. Reid Shippen, Mixing Engineer, Robot Lemon
The Music Biz Conference is the music industry's premier event, giving the commerce and content sectors a place to meet with trading partners, network with new companies, learn about new trends and products impacting the music business, as well as music creatives a place to discuss their craft and learn more about the legal, metadata, financial, and other matters that impact their royalties. The 2018 event, which will celebrate the Association's 60th anniversary, will feature the presentation of the Presidential Award for Outstanding Executive Achievement to Cary Sherman, CEO of the Recording Industry Association of America (RIAA), who will be honored with a live performance from Country star Kelsea Ballerini; the Harry Chapin Memorial Humanitarian Award to Scooter Braun, who will also participate in a Keynote interview conducted by noted Washington, DC, Strategist and women's rights advocate Hilary Rosen; the Artist of the Year Award to Ed Sheeran; the Chairman's Award for Sustained Creative Achievement to Nile Rodgers; an Outstanding Achievement Award to record-breaking hit song "Despacito"; a Breakthrough Artist Award to Republic Records singer/songwriter Julia Michaels; and the Independent Spirit Award to the Radakovitz Family, owners of the iconic Sacramento, CA-based record store chain, Dimple Records. In addition, Wendy Goldstein, EVP of A&R at Republic Records, will Keynote the Music's Leading Ladies Speak Out program. The conference will also feature the launch of the Music Business Hall of Fame, with a tribute to first inductee and late Tower Records Founder Russ Solomon from acclaimed actor and director Colin Hanks; the first-ever #NEXTGEN_NOW panel, featuring success stories from young industry executives; and "Trendspotting: The Power of Queer Storytelling in Song," a panel produced in partnership with GLAAD. For the full Music Biz 2018 preliminary schedule, visit http://musicbiz2018.sched.com.
Registration for Music Biz 2018 is open now at http://musicbiz2018.eventbrite.com. For more information, visit www.musicbiz2018.com.
About the Music Business Association
The Music Business Association (Music Biz) is a membership organization that advances and promotes music commerce — a community committed to the full spectrum of monetization models in the industry. It provides common ground by offering thought leadership, resources, and unparalleled networking opportunities, all geared to the specific needs of its membership. Music Biz brings a unique perspective and valuable insight into the trends and changes that innovation brings. Today, we put our collective experience to work across all delivery models: physical, digital, mobile, and more. Music Biz and its members are committed to building the future of music commerce — together.
Music Biz Media Contact
Laurie Jakobsen, Jaybird Communications — laurie@jaybirdcom.com, 646.484.6764