Scooter Braun to Receive Humanitarian Award and Give Keynote Interview on His Philanthropic Mission at Music Biz 2018 in Nashville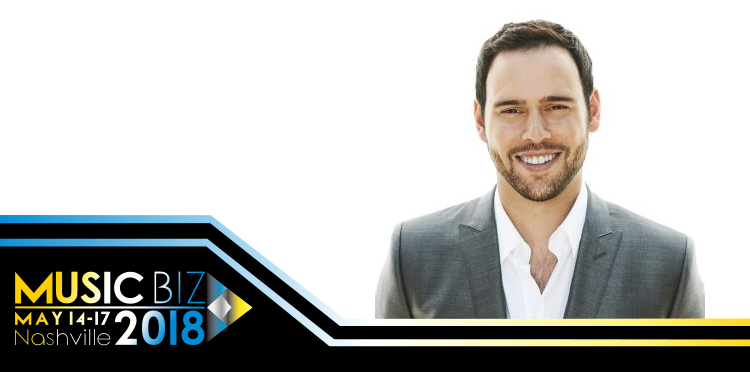 Scooter Braun will receive the Music Business Association's (Music Biz) prestigious Harry Chapin Memorial Humanitarian Award at the Music Biz 2018 conference on May 17, 2018 at the Omni Nashville Hotel. Braun will be honored at the conference's Awards Luncheon, sponsored by BuzzAngle Music, for his outstanding charitable efforts, and will participate in a keynote interview focusing on his philanthropic mission.
Braun has instilled philanthropy as a cornerstone of the SB Projects philosophy, designing a charitable element for each company initiative executed at the intersection of music, film, television, technology, brands, and culture. In 2017, Braun organized the One Love Manchester benefit concert following a terrorist attack at Manchester Arena during an Ariana Grande concert. The benefit featured a star-studded lineup that included Grande, Justin Bieber, The Black Eyed Peas, Coldplay, Miley Cyrus, Marcus Mumford, Niall Horan, Little Mix, Katy Perry, Take That, Imogen Heap, Pharrell Williams, Robbie Williams, and Liam Gallagher. One Love Manchester raised over $22 million for the We Love Manchester Emergency Fund supporting concert victims and their families. Three months later, Braun organized Hand in Hand: A Benefit for Hurricane Relief telethon. The hour-long broadcast, containing A-list celebrities including George Clooney, Oprah Winfrey, Beyoncé, and Robert De Niro to name a few, raised more than $62 million to aid victims of Hurricane Harvey and Hurricane Irma. It was later announced that those affected by Hurricane Maria would also benefit from the event.
Braun's social good contributions extend beyond his work at SB Projects. Currently, he serves as Chair of the Advisory Board of Pencils of Promise, a non-profit organization that has built more than 400 schools in developing countries in Asia, Africa and Latin America. He is also on the board of Fuck Cancer, an organization co-founded by his wife, Yael Braun, which focuses on prevention and early detection of cancer. In addition, Braun, his clients, and his companies together have granted more wishes for the Make-A-Wish Foundation than any other organization in its history.
"Scooter's charitable efforts are the gold standard in philanthropy, providing substantial aid to victims of the Manchester terrorist attacks and Hurricanes Harvey, Irma and Maria in this year alone," said James Donio, President of Music Biz. "His dedication to philanthropy in every aspect of his business endeavors honors the giving spirit of our award namesake Harry Chapin and makes him fantastic company for previous honorees such as Paula Abdul, the T.J. Martell Foundation, Martina McBride, Dee Snider, Annie Lennox, Melissa Etheridge, Norman Lear, Jackson Browne, Bonnie Raitt, Hilary Rosen, Michael Jackson, Rock the Vote, Hands Across America, Live Aid, and Chapin himself."
Braun established SB Projects in 2007, a full-service entertainment and media company that serves as an umbrella to his record label Schoolboy Records, management company Scooter Braun Projects, publishing company Sheba Publishing, and RBMG Records, a joint venture with long-time friend Usher. Braun has broken more new artists than any other music executive in the last decade. Today, the company works with a roster of music icons that includes Justin Bieber, Kanye West, Ariana Grande, Usher, Karlie Kloss, Tori Kelly, Carly Rae Jepsen, The Black Eyed Peas, and Martin Garrix. SB Projects houses a film and television production division, which made waves in the industry after the release of the Justin Bieber documentary, Never Say Never, produced by Braun. SB Projects continues to impact new verticals under its tech incubator, Silent Labs, which holds investments in Uber, Spotify, Songza, Casper, Waze, and Pinterest among others.
Music Biz is the music industry's premier event, giving the commerce and content sectors a place to meet with trading partners, network with new companies, and learn about new trends and products impacting the music business. The 2018 event will feature the presentation of the Presidential Award for Outstanding Executive Achievement to Cary Sherman, CEO of the Recording Industry Association of America (RIAA), a Breakthrough Artist Award to Republic Records singer/songwriter Julia Michaels, and the Independent Spirit Award to the Radakovitz Family, owners of the iconic Sacramento, CA-based record store chain Dimple Records, with much more to be announced. Those who would like to propose ideas for presentations, panels, case studies, or interviews can do so via the event's official Call for Presentations, which is open now through November 10. Registration for Music Biz 2018 is open now at www.musicbiz2018.eventbrite.com, with special early bird rates available through March 2, 2018. For more information, visit www.musicbiz2018.com.
About the Music Business Association
The Music Business Association (Music Biz) is a membership organization that advances and promotes music commerce — a community committed to the full spectrum of monetization models in the industry. It provides common ground by offering thought leadership, resources, and unparalleled networking opportunities, all geared to the specific needs of its membership. Music Biz brings a unique perspective and valuable insight into the trends and changes that innovation brings. Today, we put our collective experience to work across all delivery models: physical, digital, mobile, and more. Music Biz and its members are committed to building the future of music commerce — together.
Music Biz Media Contact
Laurie Jakobsen, Jaybird Communications — laurie@jaybirdcom.com, 646.484.6764