Research and Insights
The Music Business Association offers access to the important data and metrics needed to make smart business decisions. Our infographics, recorded webinars, and white papers offer the most pertinent information our members need to effectively respond to the challenges posed by the ever-changing nature of the music business.
February 14, 2019 – Leadership Webinar Series: Session 1 — Leadership Foundations
The entertainment space continues to evolve at an unprecedented pace. In the introduction to our four-part Leadership Webinar Series, presenters Adam Mirabella and Ilana Zivkovich will explore what foundations make for a strong, effective leader in our industry. Every leader is different, but all great leaders know where they want to take their team. Create the environment that allows your people to succeed. Own the leadership space that will propel you, your company and your career.
February 7, 2019 – Hit Songs Deconstructed Webinar: What's the State of the Hot 100 Top 10?
Compositional analytics can be a powerful tool when it comes to making songwriting and business decisions. It can help you spot evolving and waning trends, select a single, determine the best time to release a song, and so much more. So, what compositional characteristics are trending in the Hot 100 Top 10? In this webinar, Hit Songs Deconstructed co-founders Yael and David Penn take you on a deep dive into the compositional trends driving the Billboard Hot 100 Top 10. During this presentation they will highlight trends that have been on the rise and in decline and spotlight trends for the Hip-Hop and non-Hip-Hop genres individually.
December 21, 2018 – Consumption By Genre: How Different Fans Consume Music
As tastes among music fans continue to diversify, it is becoming increasingly difficult to group consumers by their favorite genres. How can marketers analyze such diverse audiences to create actionable insights to inform tailored marketing messages? In a companion to their September 2018 report, "Audiomonitor 2018: The Overall Music Listening Landscape," AudienceNet identifies different music fans, measuring their music listening, spending and discovery behaviors, in an attempt to create a more detailed picture of how different fans consume their favorite music.
September 14, 2018 – Music Consumption: The Overall Landscape 2018
Now in its third year, "Music Consumption: The Overall Landscape" provides a democratic measure of all audio consumption in the United States in a report prepared by Music Biz research partner AudienceNet. The report investigates audiences and tracks their behaviors across a range of topics, including music discovery and spending, paid uptake, usage and perceptions of music streaming services and the role of playlisting in music discovery. It is, therefore, an invaluable tool for any company or person operating within music, and the creative industries at large. This year's report also features a brand-new investigation of smart speakers, measuring their adoption rates, use and overall impact on music consumption.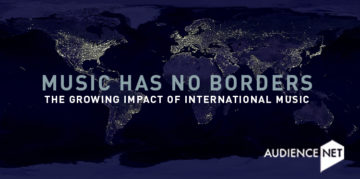 December 21, 2018 – Music Has No Borders: The Growing Impact of International Music
Between 2016 and 2017, the number of Spanish-language entries on the Billboard Hot 100 rose from 4 to 19, and at least 16 more charting singles in 2018 alone. Combined with the boom of chart-topping tracks from both K-Pop and BTS, it is clear that international music is proving to have a sustained impact on the US music charts. In this supporting infographic, AudienceNet outlines the growing appetite for international music among the US population, as well as behavior and perceptions, and asked consumers how they feel it will change their listening in the future.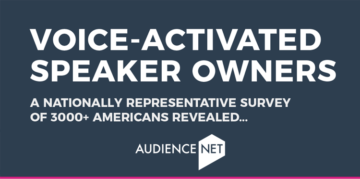 November 16, 2017 – Voice-Activated Speaker Owners
The "Voice-Controlled Speaker Users" infographic shows that music is a major part of the way Amazon Echo and Google Home owners interact with their devices. More than half of each product's owners used them to play music daily, including 52% of Amazon Echo users and 54% of Google Home users. Furthermore, 26% of the Echo's daily listeners requested music multiple times per day along with 20% of the Home's daily listeners. These numbers show that voice-controlled speakers are gaining on the smartphone, the most regularly used device for listening to music with 60% daily use and 44% of those listening more than once a day. The Home and Echo placed second and third, respectively. Finally, both the Echo and Home are making strides in overall ownership, with 10% of the U.S. population owning an Echo and 3% owning a Home.
White Papers & How-To Guides
July 26, 2016 – DDEX Release Notification Standard Starter Guide for Implementation
The Music Business Association (Music Biz) and its Metadata & Digital Operations Workgroup, in association with DDEX (Digital Data Exchange, LLC), are offering labels and label aggregators a step-by-step guide on how to use the DDEX standard to upload and manage their catalogs on digital retailers.
September 30, 2015 – Classical Metadata Style Guide
Released simultaneously with the Metadata Style Guide V2.1, our Classical Metadata Style Guide is the first to specifically address Classical music, which requires specialized formatting that differs substantially from that of modern popular music. (9.30.15)