Music Biz Teams With GLAAD for 'Power of Queer Storytelling in Song' Panel at 2018 Annual Conference in Nashville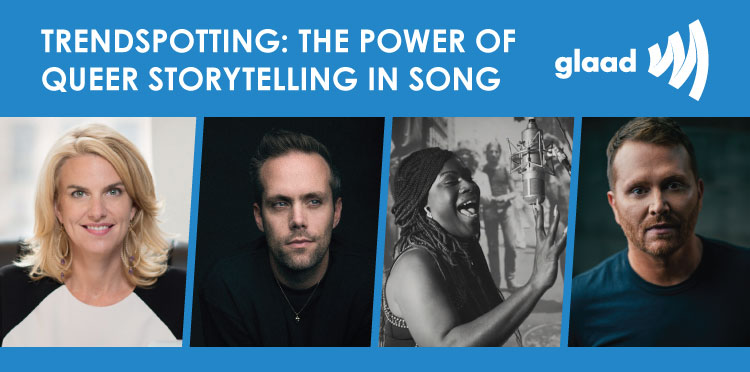 Artists, songwriters, and activists Justin Tranter, Shane McAnally, and Shea Diamond to discuss importance of inclusion with GLAAD President and CEO Sarah Kate Ellis
April 18, 2018 – The Music Business Association (Music Biz) is teaming with GLAAD, the nation's leading LGBTQ media advocacy group, to present the "Trendspotting: The Power of Queer Storytelling in Song" panel, which will be held May 17 at 9 a.m. CT during the Music Biz 2018 conference at the Omni Nashville Hotel in Nashville. Led by GLAAD President and CEO Sarah Kate Ellis, the panel will gather leading artists and songwriters to discuss the importance of LGBTQ representation in the music industry, both lyrically and behind the scenes. Panelists will include Justin Tranter, a GLAAD board member and award-winning songwriter, musician, and activist; Shane McAnally, CEO of SMACKSongs and an award-winning Country music songwriter and producer; and Shea Diamond, an up-and-coming singer and songwriter.
"I believe the sheer power of song has the ability to unite people through a shared, innate appreciation of words and melody," said James Donio, President of Music Biz. "It is our collective responsibility to ensure that the artistic and business contributions of those who are illuminating the full breadth of the human experience are nurtured and represented. We are thrilled to welcome GLAAD as a program partner again this year to help us highlight the work of LGBTQ individuals in our industry, and call for even more opportunities for participation as we move music, and the world, forward."
"Music has the power to move hearts and minds, and we are seeing a new level of inclusion take shape in the industry. I'm thrilled that GLAAD is partnering with Music Biz to bring this important conversation to the conference," said Ellis. "I am looking forward to hearing what these inspiring and groundbreaking creators have to say about the past, present, and future of LGBTQ inclusion in the music industry."
Sarah Kate Ellis is the President and CEO of GLAAD, where she refocused the organization's crucial advocacy to accelerate acceptance of the LGBTQ community through a variety of compelling and effective initiatives, campaigns, and programs. Ellis has used GLAAD's position as the world's leading media advocacy organization to demand fair and accurate coverage of the LGBTQ community. Prior to joining GLAAD, she led national media brands, notably growing Real Simple into one of Time Inc.'s most respected and successful magazines. Her vision also transformed and energized leading media outlets including Vogue, InStyle, New York, and House & Garden. Ellis served as SVP of Global Marketing at Martini Media, a digital firm specializing in online branding, public relations, and marketing.
Justin Tranter is a Golden Globe and GRAMMY Award-nominated songwriter, musician and activist.
He has written songs for Britney Spears, Gwen Stefani, Linkin Park, Kelly Clarkson, Selena Gomez, Justin Bieber, DNCE, Kesha, Fall Out Boy, Imagine Dragons, Julia Michaels, Janelle Monae, and many others. Formerly, Tranter was the lead singer of the rock band Semi Precious Weapons. He now lives and works in Los Angeles, and is an active board member of GLAAD.
Shane McAnally is a multiple CMA, ACM, and GRAMMY Award-winning Country music songwriter and producer who currently works with Kacey Musgraves, Sam Hunt, Thomas Rhett, and more. When he is not in the studio, he is serving as co-head of Monument Records and is the CEO and Co-Founder of SMACKSongs, a publishing, management, and artist development company. In 2017, Billboard ranked SMACKSongs #7 among Nashville music publishers, marking its fourth consecutive year in the Top 10.
In 2016, McAnally arranged and produced "Forever Country," which debuted at #1 on Billboard's Hot Country Songs chart, making it the third song to debut at #1 on the chart since it began in 1958.
He also co-wrote the 4x-Platinum hit "Body Like a Back Road," which broke the record for longest reigning #1 on the Hot Country Songs chart. McAnally has been named the 2014 ACM Songwriter
of the Year, 2015 Billboard Hot Country Songwriter of the Year, 2015 Music Row Songwriter of the Year, and 2016-2017 NMPA Songwriter of the Year.
ShaGasyia "Shea" Diamond is a singer/songwriter who wrote the song "I Am Her," while serving a 10-year sentence in a male prison. The song is an anthem for everyone who has ever felt shunned for simply being who they are, and empowers listeners to continue living as their true self. Diamond was discovered by Justin Tranter in 2016, who says about her, "It's been a long time since I've come across a real artist with a real story who is actually putting that story in their music, and Miss Diamond does that with every note she sings." She has received acclaim from Billboard, Time, OUT, GLAAD, Paper, and BULLETT. Her debut EP is set to release in 2018.
The Music Biz Conference is the music industry's premier event, giving the commerce and content sectors a place to meet with trading partners, network with new companies, learn about new trends and products impacting the music business, as well as music creatives a place to discuss their craft and learn more about the legal, metadata, financial, and other matters that impact their royalties. The 2018 event, which will celebrate the Association's 60th anniversary, will feature the presentation of the Presidential Award for Outstanding Executive Achievement to Cary Sherman, CEO of the Recording Industry Association of America (RIAA), who will be honored with a live performance from Country star Kelsea Ballerini; the Harry Chapin Memorial Humanitarian Award to Scooter Braun, who will also participate in a Keynote interview conducted by noted Washington, DC, Strategist and women's rights advocate Hilary Rosen; the Artist of the Year Award to Ed Sheeran; the Chairman's Award for Sustained Creative Achievement to Nile Rodgers; an Outstanding Achievement Award to record-breaking hit song "Despacito"; a Breakthrough Artist Award to Republic Records singer/songwriter Julia Michaels; and the Independent Spirit Award to the Radakovitz Family, owners of the iconic Sacramento, CA-based record store chain, Dimple Records. In addition, Wendy Goldstein, EVP of A&R at Republic Records, will Keynote the Music's Leading Ladies Speak Out program. The conference will also feature the launch of the Music Business Hall of Fame, with a tribute to first inductee and late Tower Records Founder Russ Solomon from acclaimed actor and director Colin Hanks, and the first-ever #NEXTGEN_NOW panel, featuring success stories from young industry executives. For the full Music Biz 2018 preliminary schedule, visit http://musicbiz2018.sched.com.
Registration for Music Biz 2018 is open now at http://musicbiz2018.eventbrite.com. For more information, visit www.musicbiz2018.com.
About the Music Business Association
The Music Business Association (Music Biz) is a membership organization that advances and promotes music commerce — a community committed to the full spectrum of monetization models in the industry. It provides common ground by offering thought leadership, resources, and unparalleled networking opportunities, all geared to the specific needs of its membership. Music Biz brings a unique perspective and valuable insight into the trends and changes that innovation brings. Today, we put our collective experience to work across all delivery models: physical, digital, mobile, and more. Music Biz and its members are committed to building the future of music commerce — together.
About GLAAD
GLAAD rewrites the script for LGBTQ acceptance. As a dynamic media force, GLAAD tackles tough issues to shape the narrative and provoke dialogue that leads to cultural change. GLAAD protects all that has been accomplished and creates a world where everyone can live the life they love. For more information, please visit www.glaad.org or connect with GLAAD on Facebook and Twitter.
Music Biz Media Contact
Laurie Jakobsen, Jaybird Communications — laurie@jaybirdcom.com, 646.484.6764
GLAAD Media Contact
Sue Yacka-Bible, GLAAD Director of Communications — syacka-bible@glaad.org