Nile Rodgers to Be Honored with Chairman's Award at 60th Anniversary Music Biz 2018 Conference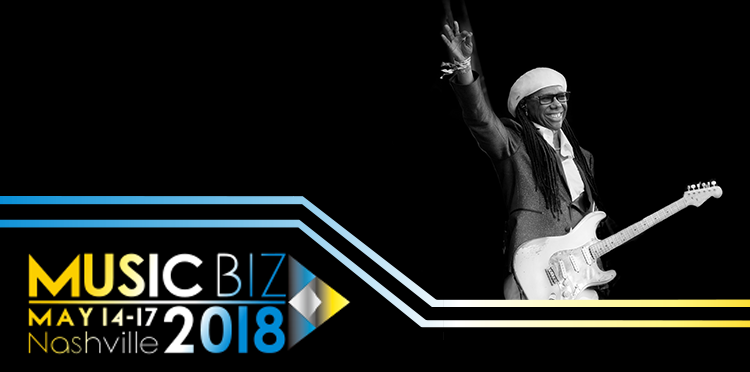 The Music Business Association (Music Biz) will present its Chairman's Award for Sustained Creative Achievement to multiple GRAMMY Award-winning composer, producer, arranger, and guitarist Nile Rodgers during the 60th anniversary Music Biz 2018 conference's Awards Luncheon on May 17 at 12:15 p.m. CT at the Omni Nashville Hotel.
Over the last four decades, Rodgers has sold over 300 million albums and 50 million singles worldwide as both a member of CHIC and the producer of iconic albums from David Bowie, Madonna, Diana Ross, Sister Sledge, Duran Duran, and more. He also collaborated with Daft Punk on their multi-Platinum smash single "Get Lucky" and album Random Access Memories, which won three GRAMMY Awards in 2014 for Album of the Year, Record of the Year, and Best Pop Duo/Group Performance. Rodgers has been inducted into the Rock and Roll Hall of Fame, the Songwriters Hall of Fame, and the Dance Music Hall of Fame; received the EBONY Icon Award at the 2017 EBONY Power 100 Gala; was awarded the "Ordre des Arts et des Lettres" by the French Embassy in New York; was elected to the Recording Academy's Board of Governors and received the organization's President's Merit Award during the 8th Annual GRAMMY Week Celebration for the Producers & Engineers Wing; and had CHIC's Platinum-selling single "Le Freak" inducted into the GRAMMY Hall of Fame. Rodgers is currently recording It's About Time, the first new CHIC album in over 25 years. "I'll Be There," the album's first single, went to #1 on the Billboard Dance Charts, while the accompanying video generated nearly 3 million views in less than a week.
"Nile's music truly stands the test of time. He not only helped define the sound of Pop, Disco, and Hip-Hop in the 1970s, '80s, and '90s but also continues his prolific work on hits with modern artists such as Daft Punk, Avicii, Disclosure, and Sam Smith, not to mention his own upcoming album with CHIC," said Music Biz Chairman Fred Beteille of Facebook. "His longevity and repeated successes make him the ideal candidate for our Chairman's Award. I'm honored and excited to recognize him for his important contributions to music over the past four decades."
A native New Yorker, Rodgers established CHIC after partnering with bassist Bernard Edwards in the Big Apple Band. Between 1977 and 1983, CHIC's blend of Jazz, Funk, and Disco dominated the airwaves and has since influenced a range of Hip-Hop and EDM acts, leading The Guardian to declare them the "most sampled band in history." CHIC's top hits include "Everybody Dance," "Dance, Dance, Dance (Yowsah, Yowsah, Yowsah)," "I Want Your Love," "Good Times," and "Le Freak" — the biggest-selling single in Atlantic Records history. Rodgers and Edwards then helped revamp Sister Sledge by writing and producing their chart-topping 1979 album We Are Family, which included "Lost in Music," "He's the Greatest Dancer," and the GRAMMY-nominated title track. They also wrote and produced the best-selling album of Diana Ross' career, Diana, which spawned hits like "I'm Coming Out" and the chart-topping "Upside Down."
Beyond CHIC, Rodgers has helped many legendary artists score commercial and critical triumphs, including David Bowie, Madonna, Duran Duran, Michael Jackson, Bob Dylan, Steve Winwood, Grace Jones, Bryan Ferry, Peter Gabriel, and Eric Clapton. He has also scored music for films such as the classic Coming to America and distributed video game soundtracks through his national distribution company and record label, Sumthing Distribution and Sumthing Else Music Works. He has also spoken at industry conferences such as SXSW and Google Zeitgeist as well as events for media companies such as FremantleMedia. Rodgers is also Chairman and Founder of the We Are Family Foundation (WAFF), a non-profit organization he launched in 2002 dedicated to the vision of a global family by creating and supporting programs that promote cultural diversity while nurturing the vision, talents, and ideas of young people who are changing the world.
The Chairman's Award for Sustained Creative Achievement, which recognizes superior and continuing artistic achievement within the industry, is Music Biz's longest standing honor, dating back to 1964. Past winners include Reba McEntire, Cheap Trick, The Doobie Brothers, Paul Rodgers, Buddy Guy, Lionel Richie, Brian Wilson, Cyndi Lauper, Daryl Hall & John Oates, Chicago, Kool & The Gang, Quincy Jones, Carlos Santana, Rod Stewart, Liza Minnelli, Kenny Rogers, Dionne Warwick, Fleetwood Mac, Stevie Wonder, Elton John, Garth Brooks, Lena Horne, Billy Joel, Nat King Cole, Leonard Bernstein, Benny Goodman, Isaac Stern, Michael Jackson, Barbra Streisand, Frank Sinatra, and many more.
The Music Biz conference is the music industry's premier event, giving the commerce and content sectors a place to meet with trading partners, network with new companies, and learn about new trends and products impacting the music business, as well as music creatives a place to discuss their craft and learn more about the legal, metadata, financial, and other matters that impact their royalties. The 2018 event, which will celebrate the Association's 60th anniversary, will feature the presentation of the Presidential Award for Outstanding Executive Achievement to Cary Sherman, CEO of the Recording Industry Association of America (RIAA); the Harry Chapin Memorial Humanitarian Award to Scooter Braun, who will also participate in a Keynote interview; an Outstanding Achievement Award to record-breaking hit song "Despacito"; a Breakthrough Artist Award to Republic Records singer/songwriter Julia Michaels, and the Independent Spirit Award to the Radakovitz Family, owners of the iconic Sacramento, CA-based record store chain Dimple Records. In addition, music industry veteran Lyor Cohen, Global Head of Music at YouTube/Google and Founder of music content company 300, will Keynote a Featured Presentation and Wendy Goldstein, EVP of A&R at Republic Records, will Keynote the Music's Leading Ladies Speak Out sessions. For the full Music Biz 2018 preliminary schedule, visit musicbiz2018.sched.com.
Registration for Music Biz 2018 is open now at www.musicbiz2018.eventbrite.com, with special early bird rates available through March 2, 2018. For more information, visit www.musicbiz2018.com.
About the Music Business Association
The Music Business Association (Music Biz) is a membership organization that advances and promotes music commerce — a community committed to the full spectrum of monetization models in the industry. It provides common ground by offering thought leadership, resources, and unparalleled networking opportunities, all geared to the specific needs of its membership. Music Biz brings a unique perspective and valuable insight into the trends and changes that innovation brings. Today, we put our collective experience to work across all delivery models: physical, digital, mobile, and more. Music Biz and its members are committed to building the future of music commerce — together.
Music Biz Media Contact
Laurie Jakobsen, Jaybird Communications — laurie@jaybirdcom.com, 646.484.6764