Ed Sheeran to Be Honored with Artist of the Year Award at Music Biz 2018 Conference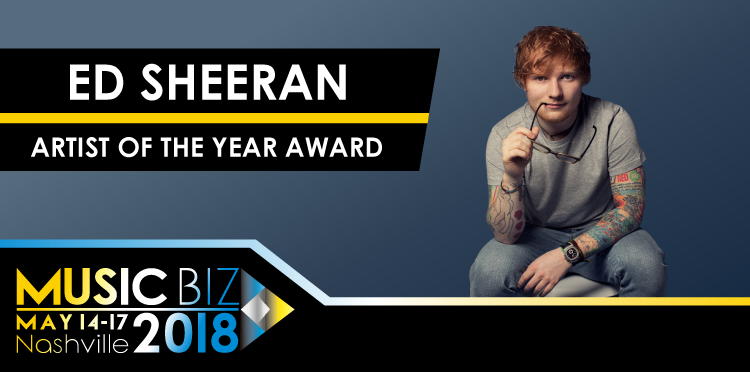 Multi-Platinum singer-songwriter smashed chart and streaming records in 2017
The Music Business Association (Music Biz) will honor Atlantic Records' multi-Platinum, multiple GRAMMY Award-winning singer-songwriter Ed Sheeran with its Artist of the Year Award at the Music Biz 2018 conference's Awards Luncheon on Thursday, May 17 at 12 noon CT at the Omni Nashville Hotel.
Sheeran has established himself as one of the world's biggest musical artists with over 38 million albums sold and more than 16 billion streams. His third studio album "÷" (pronounced divide) entered the Billboard 200 at #1 upon its March 2017 release, and went on to be the year's biggest album in the U.S., according to Nielsen Music, with sales equivalents exceeding 2.764 million units. "Shape of You" — the album's 8x-Platinum lead single — debuted at #1 on the Billboard Hot 100 in January 2017, held the top spot for a remarkable 12 weeks, and remained in the Top 10 for 33 consecutive weeks, the most ever in the chart's 59-year history. Sheeran dominated Billboard's Year in Review, standing at #1 on 16 of their year-end charts including Top Artist of the Year and Hot 100 Song of the Year for "Shape of You," taking the honor for the second consecutive year (Sheeran co-wrote Justin Bieber's "Love Yourself," 2016's Hot 100 Song of the Year). With his 2x-Platinum certified single "Castle on the Hill" also debuting at #6 on the Hot 100 after being released in tandem with "Shape of You," Sheeran also became the only artist in chart history to have two singles simultaneously debut in the Top 10. Sheeran's latest single "Perfect" — already 3x-Platinum certified — is currently #1 on the Hot AC radio chart for the 10th week, and after topping the Top 40 radio chart for two weeks, remains at #6. "Perfect" also stands at #2 on Billboard's Hot 100 this week, after going to #1 in December (and holding the spot for six consecutive weeks), making "÷" the only album of 2017 to have two of its singles top the chart. This week, "÷" stands tall at #8 on the Billboard 200, over a year after its release, further illustrating Sheeran's continuing domination of the charts. Last year, all 60 dates of the North American leg of his world arena tour in support of "÷" sold out in a matter of minutes. Sheeran returns this summer for the North American leg of his world stadium tour.
"Ed Sheeran has had a remarkable year that few artists will ever achieve, helping to push streaming even further into the mainstream with the record-breaking success of '÷' on these platforms, while also making history on the Billboard Hot 100," said James Donio, President of Music Biz. "While he has been a strong presence in the industry for several years, 2017 proved to be extraordinary. We are thrilled to have him join the ranks of previous Music Biz Artist of the Year winners Adele, Little Big Town, Katy Perry, Taylor Swift, Coldplay, and Green Day."
"This past year has been absolutely unbelievable, and I really appreciate this amazing recognition from Music Biz," said Sheeran. "Of course, none of it would be possible without all of my incredible fans and the fantastic team behind me."
"÷" follows the British singer-songwriter's second full length album "x" (pronounced multiply) — released in 2014 — which proved to be both a critical and commercial phenomenon. After debuting at #1 on the Billboard 200 upon its release, the album has since been certified 4x-Platinum in the U.S. and earned two GRAMMY nominations, including the prestigious "Album of the Year." Additionally, "x" spawned four consecutive multi-Platinum singles in "Sing," "Don't," "Photograph," and his global smash and biggest single to date "Thinking Out Loud," which has been certified Diamond for sales and streams exceeding 10 million, marked his first #1 at Top 40 radio, and won a pair of GRAMMY awards, including the highly coveted "Song of the Year." Sheeran first broke through to the mainstream in 2012 with his debut album "+" (pronounced plus), which was a Top 5 debut in the U.S. and spent three weeks at #1 in the U.K. The 2x-Platinum "+" features "The A Team," an international smash that earned Ed his first GRAMMY nomination ("Song of the Year") and has been certified 3x-Platinum in the US.
The Music Biz conference is the music industry's premier event, giving the commerce and content sectors a place to meet with trading partners, network with new companies, and learn about new trends and products impacting the music business, as well as music creatives a place to discuss their craft and learn more about the legal, metadata, financial, and other matters that impact their royalties. The 2018 event, which will celebrate the Association's 60th anniversary, will feature the presentation of the Presidential Award for Outstanding Executive Achievement to Cary Sherman, CEO of the Recording Industry Association of America (RIAA); the Harry Chapin Memorial Humanitarian Award to Scooter Braun, who will also participate in a Keynote interview conducted by Hilary Rosen; the Chairman's Award for Sustained Creative Achievement to Nile Rodgers; an Outstanding Achievement Award to record-breaking hit song "Despacito"; a Breakthrough Artist Award to Republic Records singer/songwriter Julia Michaels, and the Independent Spirit Award to the Radakovitz Family, owners of the iconic Sacramento, CA-based record store chain Dimple Records. In addition, music industry veteran Lyor Cohen, Global Head of Music at YouTube/Google and Founder of music content company 300, will Keynote a Featured Presentation and Wendy Goldstein, EVP of A&R at Republic Records, will Keynote the Music's Leading Ladies Speak Out sessions. For the full Music Biz 2018 preliminary schedule, visit musicbiz2018.sched.com.
Registration for Music Biz 2018 is open now at www.musicbiz2018.eventbrite.com. For more information, visit www.musicbiz2018.com.
About the Music Business Association
The Music Business Association (Music Biz) is a membership organization that advances and promotes music commerce — a community committed to the full spectrum of monetization models in the industry. It provides common ground by offering thought leadership, resources, and unparalleled networking opportunities, all geared to the specific needs of its membership. Music Biz brings a unique perspective and valuable insight into the trends and changes that innovation brings. Today, we put our collective experience to work across all delivery models: physical, digital, mobile, and more. Music Biz and its members are committed to building the future of music commerce — together.
Music Biz Media Contact
Laurie Jakobsen, Jaybird Communications — laurie@jaybirdcom.com, 646.484.6764
Ed Sheeran Media Contact
Glenn Fukushima, Atlantic Records – glenn.fukushima@atlanticrecords.com, 818.238.6833