Podcasting Summit at Music Biz 2018 Conference to Feature Foo Fighters' Chris Shiflett, Keynote from Edison Research's Tom Webster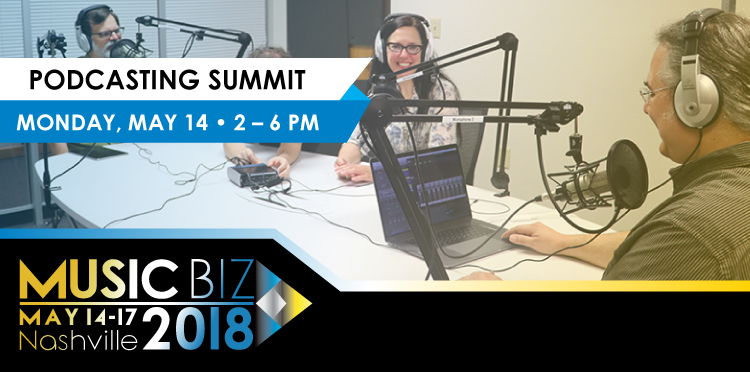 May 2 2018 – The Music Business Association (Music Biz) will host the inaugural Podcasting Summit on Monday, May 14, from 2 p.m. to 6 p.m. CT at the Omni Nashville Hotel during the Association's 60th anniversary Music Biz 2018 conference. Focused on the increasing growth and popularity of podcasts, "Podcasting: Licensing and Monetizing This New Success" will cover podcasting, webcasting, music licensing, advertising, sponsorships, and more.
Co-organized by Tom Truitt of WHO KNEW and Jim Griffin of Hazen LLC/OneHouse alongside Music Biz, the Podcasting Summit will kick off with a keynote presentation from Tom Webster of Edison Research, who will review the history, present, and future of podcasting; discuss the shift from download-and-manage to clicking and streaming; and explain how podcasters can make money through licensing and promoting music. Foo Fighters guitarist Chris Shiflett, who hosts the "Walking the Floor" podcast, will also discuss his path to podcasting success during the event.
Additional panels will feature a roster of top podcasters and industry experts, including moderators Jim Griffin of Hazen LLC/OneHouse and Stacie Griffin of Lockn' Music Festival, along with Sheena Barnett and Savannah Faircloth of Elvis Presley Enterprises; Abby North of North Music Group; Tom Rettig of Gracenote; Greg Riggle of STORYCULT; Lauren Spahn of Shackelford, Bowen, McKinley & Norton, LLP; Kevin Twitchell of DataArt; and Hunter Williams of Source Audio. These sessions will cover the stories of top podcasters' journeys from their first episodes to success, licensing and legal issues around podcasting, how the industry is tripling revenues annually, and much more.
"With podcasting having grown into such a huge industry in terms of revenue and influence in the broader pop culture landscape, it's the right time to give the medium its own time to shine at Music Biz," said James Donio, President of Music Biz. "More and more Americans every day are spending time with a podcast that they used to spend with an album, book, or TV show, and we've gathered an accomplished line-up of panelists and moderators to discuss why – and what the business side of it looks like. We're looking forward to making this a key part of the Music Biz event going forward."
The currently confirmed schedule for the Podcasting Summit can be found below.
Part 1:
Podcasting Summit Keynote
Tom Webster, SVP of Edison Research reviews the history, present, and future of podcasting, noting that it was invented to serve the iPod and is now thriving after the demise of its namesake. Tom will talk about how podcasts have shifted from download-and-manage to clicking and streaming, a parallel to the shift music is experiencing. He will share data on international growth and changes in the medium and its many formats, which include subscriptions and sponsorships.
Tom has specific ideas on how podcasters can legally work music into their shows, allowing the industry to make money through licensing music and promoting music through podcasts.
Part 2:
View from the Top — Successful Podcasters Tell Their Stories
Top podcasters share their journey from recording their first episode to earning a living behind the digital microphone. A particular shout-out to Nashville and Country podcasters who use networks to deliver programming with audio and sometimes video.
Moderator: Stacie Seifrit Griffin, Marketing, Partnerships, Tourism, LOCKN' Music Festival
Sheena Barnet, Web Content Specialist, Elvis Presley Enterprises & Co-host/Exec. Producer, McFly Media Group
Savannah Faircloth, Special Events Facilitator, Elvis Presley Enterprises
Chris Shiflett, Guitarist, Foo Fighters and Host, Walking the Floor
Part 3:
Podcast Licensing — How Podcasts and Music Can Get Along
Top attorneys working with podcasters discuss the issues that face podcasting, along with a conversation on licensing with copyright lawyers.
Kelly Donahue, Wilkinson, Barker, Knauer
Daniel Novick, Novick Law
Lauren Spahn, Associate Attorney, Shackelford, Bowen, McKinley & Norton, LLP
Part 4:
Share of Wallet — Money and Podcasts
How is podcasting tripling revenues annually? Is targeting the answer? Personalization and sponsorship go hand in hand.
Moderator: Jim Griffin, Owner, Hazen LLC/OneHouse
Abby North, North Music Group, Co-Owner, Music Publisher & Rights Administrator
Tom Rettig, VP of Product for Music, Gracenote
Greg Riggle, Founder, STORYCULT
Kevin Twitchell, DataArt, Head of Business Development
Hunter Williams, EVP of IP & Business Development, Source Audio
The Music Biz Conference is the music industry's premier event, giving the commerce and content sectors a place to meet with trading partners, network with new companies, learn about new trends and products impacting the music business, as well as music creatives a place to discuss their craft and learn more about the legal, metadata, financial, and other matters that impact their royalties. The 2018 event, which will celebrate the Association's 60th anniversary, will feature the presentation of the Presidential Award for Outstanding Executive Achievement to Cary Sherman, CEO of the Recording Industry Association of America (RIAA), who will be honored with a live performance from Country star Kelsea Ballerini; the Harry Chapin Memorial Humanitarian Award to Scooter Braun, who will also participate in a Keynote interview conducted by noted Washington, DC, Strategist and women's rights advocate Hilary Rosen; the Artist of the Year Award to Ed Sheeran; the Chairman's Award for Sustained Creative Achievement to Nile Rodgers; an Outstanding Achievement Award to record-breaking hit song "Despacito"; a Breakthrough Artist Award to Republic Records singer/songwriter Julia Michaels; and the Independent Spirit Award to the Radakovitz Family, owners of the iconic Sacramento, CA-based record store chain, Dimple Records. In addition, Roger Lynch, President and CEO of Pandora, will keynote a Featured Presentation where he will be joined by Randy Goodman, Chairman and CEO of Sony Music Nashville, and Wendy Goldstein, EVP of A&R at Republic Records, will Keynote the Music's Leading Ladies Speak Out program. The conference will also feature the launch of the Music Business Hall of Fame, with a tribute to first inductee and late Tower Records Founder Russ Solomon from acclaimed actor and director Colin Hanks; the first-ever #NEXTGEN_NOW panel, featuring success stories from young industry executives; and "Trendspotting: The Power of Queer Storytelling in Song," a panel produced in partnership with GLAAD. For the full Music Biz 2018 preliminary schedule, visit http://musicbiz2018.sched.com.
Registration for Music Biz 2018 is open now at http://musicbiz2018.eventbrite.com. For more information, visit www.musicbiz2018.com.
About the Music Business Association
The Music Business Association (Music Biz) is a membership organization that advances and promotes music commerce — a community committed to the full spectrum of monetization models in the industry. It provides common ground by offering thought leadership, resources, and unparalleled networking opportunities, all geared to the specific needs of its membership. Music Biz brings a unique perspective and valuable insight into the trends and changes that innovation brings. Today, we put our collective experience to work across all delivery models: physical, digital, mobile, and more. Music Biz and its members are committed to building the future of music commerce — together.
Music Biz Media Contact
Laurie Jakobsen, Jaybird Communications — laurie@jaybirdcom.com, 646.484.6764