Pandora President & CEO Roger Lynch 
to Keynote Featured Presentation at Music Biz 2018 Conference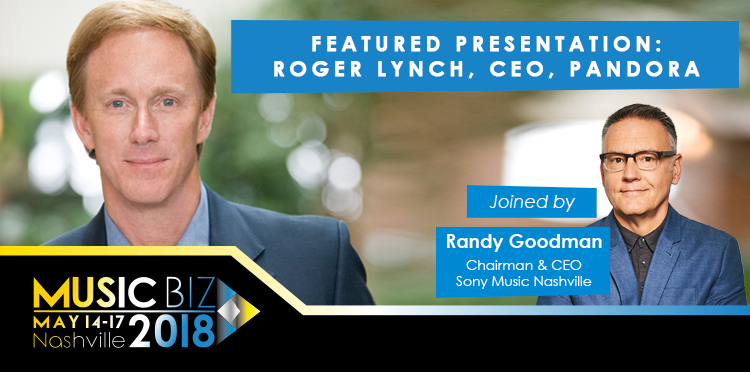 Sony Music Nashville Chairman & CEO Randy Goodman to join in candid conversation
about music streaming
April 25, 2018 – The music industry is growing again, driven in part by digital audio streams. At the same time, explosive growth in connected and voice-activated devices means that access to audio content will soon be ubiquitous. At the Music Business Association's Music Biz 2018 conference, Pandora CEO Roger Lynch will keynote a Featured Presentation on May 16 at 5 p.m. CT at the Omni Nashville Hotel and discuss the impact that this shift will have on listeners, brands, artists, and the industry at large. He will also share key perspectives coming out of his first six months at Pandora, his vision for the company's future, and his predictions of what the increase in music streaming means for the future of the music business.
"Roger has consistently had his finger on the pulse of what's next throughout his career, having founded and grown multiple companies in the online TV space," said James Donio, President of Music Biz. "We're interested to hear how his experiences as a leader and entrepreneur in adjacent industries have informed his vision for Pandora and what he sees ahead for the future of the music business."
Prior to joining Pandora in September 2017, Lynch served as the founding CEO of Sling TV, where he led the creation and launch of the over-the-top streaming television service that delivers live sports, news, and entertainment to broadband-connected devices. He joined DISH in 2009, where he led the launch of DishWorld (now Sling International).
Prior to joining DISH, Lynch served as Chairman and CEO of Video Networks International, Ltd., an IPTV technology company in the U.K. While at Video Networks, he won an Emmy Award for Scamp, an on-demand children's channel, and a BAFTA (British Academy of Film and The Arts) Award for V:MX, a collection of on-demand music video channels. He also previously served as President and CEO of Chello Broadband N.V., a broadband internet service provider with operations in 10 European countries. Prior to Chello, Roger was a technology investment banker with Morgan Stanley in New York, Silicon Valley, and London. He began his career as a Member of the Technical Staff-Physics at the Hughes Aircraft Company, where he did R&D on infrared imaging and missile guidance systems.
Sony Music Nashville Chairman and CEO Randy Goodman will join Roger on stage to drill into how changes in the streaming space are impacting music labels, how they will benefit emerging artists, and how they are influencing the future of Country.
A 33-year industry veteran and a Nashville native, Goodman is responsible for overseeing all of Sony Music Nashville's operations, including its three country recording imprints — Arista Nashville, Columbia Nashville, and RCA Nashville — as well as Provident Music Group, a Christian music and film enterprise.
While at the helm since July 2015, Sony Music Nashville has experienced a surge in consumption and accomplishments from its roster, the spectrum including superstars like Miranda Lambert, Brad Paisley and Chris Young, as well as breakthrough debut artists including Maren Morris, Kane Brown, Luke Combs, Old Dominion, LANCO, and Cam, among others.
His extensive career includes 16 years with RCA Records. During that time, he served as Executive Vice President/General Manager of the RCA Label Group in Nashville, the forerunner of what is now Sony Music Nashville. Over the course of his career at RCA, he also spent five years as Senior Vice President/Marketing worldwide for RCA in New York prior to returning to Nashville. While at RCA, he worked with such superstars as Waylon Jennings, Alabama, Kenny Chesney, Dave Matthews Band, Wu-Tang Clan, Martina McBride, Clint Black, Keith Whitley, and The Judds.
In 1997, Goodman opened Lyric Street Records for the Walt Disney Co., overseeing the label as President through 2010 and enjoying multi-Platinum success with Rascal Flatts and SHeDAISY, as well as Platinum-sellers Aaron Tippin and American Idol finalist Josh Gracin.
The Music Biz Conference is the music industry's premier event, giving the commerce and content sectors a place to meet with trading partners, network with new companies, learn about new trends and products impacting the music business, as well as music creatives a place to discuss their craft and learn more about the legal, metadata, financial, and other matters that impact their royalties. The 2018 event, which will celebrate the Association's 60th anniversary, will feature the presentation of the Presidential Award for Outstanding Executive Achievement to Cary Sherman, CEO of the Recording Industry Association of America (RIAA), who will be honored with a live performance from Country star Kelsea Ballerini; the Harry Chapin Memorial Humanitarian Award to Scooter Braun, who will also participate in a Keynote interview conducted by noted Washington, DC, Strategist and women's rights advocate Hilary Rosen; the Artist of the Year Award to Ed Sheeran; the Chairman's Award for Sustained Creative Achievement to Nile Rodgers; an Outstanding Achievement Award to record-breaking hit song "Despacito"; a Breakthrough Artist Award to Republic Records singer/songwriter Julia Michaels; and the Independent Spirit Award to the Radakovitz Family, owners of the iconic Sacramento, CA-based record store chain, Dimple Records. In addition, Wendy Goldstein, EVP of A&R at Republic Records, will Keynote the Music's Leading Ladies Speak Out program. The conference will also feature the launch of the Music Business Hall of Fame, with a tribute to first inductee and late Tower Records Founder Russ Solomon from acclaimed actor and director Colin Hanks; the first-ever #NEXTGEN_NOW panel, featuring success stories from young industry executives; and "Trendspotting: The Power of Queer Storytelling in Song," a panel produced in partnership with GLAAD. YouTube's Lyor Cohen is no longer speaking at the Featured Presentation on May 16. For the full Music Biz 2018 preliminary schedule, visit http://musicbiz2018.sched.com.
Registration for Music Biz 2018 is open now at http://musicbiz2018.eventbrite.com. For more information, visit www.musicbiz2018.com.
About the Music Business Association
The Music Business Association (Music Biz) is a membership organization that advances and promotes music commerce — a community committed to the full spectrum of monetization models in the industry. It provides common ground by offering thought leadership, resources, and unparalleled networking opportunities, all geared to the specific needs of its membership. Music Biz brings a unique perspective and valuable insight into the trends and changes that innovation brings. Today, we put our collective experience to work across all delivery models: physical, digital, mobile, and more. Music Biz and its members are committed to building the future of music commerce — together.
Music Biz Media Contact
Laurie Jakobsen, Jaybird Communications — laurie@jaybirdcom.com, 646.484.6764