Music Modernization Act and Other Timely Legal Issues Take Center Stage at Music Biz 2018 Entertainment & Technology Law Conference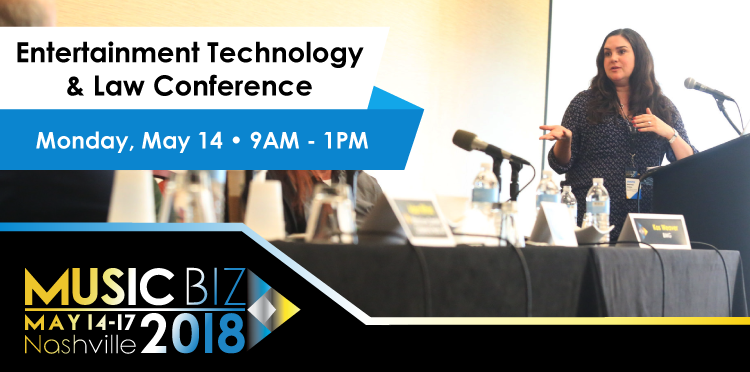 U.S. Congressman Ted Deutch to join discussion on Act, which passed unanimously in the House
May 1, 2018 – The Music Business Association (Music Biz) will tackle some of the most important legal issues facing the music industry at its latest Entertainment & Technology Law Conference, which will be held Monday, May 14, from 9 a.m. to 1 p.m. CT during the Music Biz 2018 conference at the Omni Nashville Hotel.
Sponsored by law firms Dickinson Wright and Leavens, Strand & Glover, the event will feature an in-depth discussion of modern artist development; the Music Modernization Act, which was recently passed unanimously in the U.S. House of Representatives; collective management of rights; and trademark protection for bands. Attendees will be able to interact with advocates and influencers such as U.S. Congressman Ted Deutch (D-FL), John Johnson of ASCAP, Rick Carnes of the Songwriters Guild of America (SGA), Ted Goldthorpe of Sony/ATV Music Publishing, Colin Rushing of SoundExchange, and a variety of prominent attorneys.
"2018 is shaping up to be a huge year for legislation in the music space, and our goal for this year's Law Conference is to give our attendees a road map to navigate the legal path ahead," said James Donio, President of Music Biz. "Our multi-faceted program will bring law experts together with major music industry players to discuss a range of issues faced by everyone from major and independent labels to publishers, artists, managers, entrepreneurs, startups, and attorneys. We're looking forward to a lively discussion."
Admission to the Law Conference is included with registration for the full Music Biz 2018 conference, which is available at http://musicbiz2018.eventbrite.com with special student rates of $169 for Music Biz members and $219 for non-members. Those who only wish to attend the Law Conference can also sign up at a rate of $199 for members and $249 for non-members. Four CLE credits have been approved by the Tennessee State Bar Association.
The currently confirmed agenda for the Law Conference can be found below.
9 – 9:50 AM
The Modern Approach to Artist Development: 
From Self-Release to Major Label and Everywhere In-Between
With user-friendly technology evolving, new and innovative artist platforms streamlining distribution, and fans consuming music at an increasingly higher rate, the opportunities for artist development have grown exponentially in recent years. Music industry executives will shed light on what artist development means in today's music industry, and discuss the legal rights and agreements associated with such development.
Moderator: Austen Adams, Entertainment Lawyer, Dickinson Wright
Moderator: Noah McPike, Of Counsel, Dickinson Wright
Martha Earls, EFG Management
Robert Femia, Vice President of Business & Legal Affairs, Universal Music Group Nashville
Kerry O'Neil, Co-Founder, O'Neil Hagaman, PLLC
Jeremy Stover, Founder, Red Creative Group
10 – 10:50 AM
The Music Modernization Act: How Does It Affect You?
Since enactment of the current Copyright Act more than 40 years ago, various interest groups have debated proposals to keep the law up-to-date in light of constant changes in the music industry and the related technology. Topics of on-going debate have included ensuring fairness in royalty payments to music creators from new digital music platforms, streamlining statutory music licensing schemes, and the creation of a comprehensive music database to benefit those creators and the new online platforms that provide music to the public.
Although controversy continues, the Music Modernization Act, or HR577, was passed unanimously with 415 votes in the U.S. House of Representatives and is headed to the Senate for review. HR577 is supported by a large number of industry groups representing both music creators and digital service providers who believe the Act presents true and constructive change and, ultimately, a victory for our industry. Our panel will explore this legislation and discuss how it will affect not only music creators and DSPs, but other entrepreneurs and entities that use music to enhance their business.
Moderator: John Beiter, Partner, Leavens, Strand & Glover, LLC
Rick Carnes, President, Songwriters Guild of America
Jacqueline Charlesworth, Of Counsel, Covington & Burling, LLP
Ted Deutch, US Congressman, 22nd District of Florida
Ted Goldthorpe, Supervisor of North American Publishing Administration, Sony/ATV Music Publishing
11 – 11:50 AM
Collective Management of Rights: Do We Need More or Less?
In recent years, collective management of rights has expanded with the addition of SoundExchange administering a brand new right; GMR entering the already crowded field of performance rights; and additional organizations challenging HFA's long-time control over mechanical rights in the U.S. At the same time, user organizations have struck some direct deals, avoiding collecting societies.
Now, there is a proposal to create another massive collecting society to cure the problems created by the Section 115 on-demand streaming mechanical. This panel will examine collective management, the issues surrounding collective management, and discuss solutions and obstacles to solutions going forward.
Moderator: John Simson, Executive-in-Residence/Program Director, American University/Fox Rothschild
Cindy Charles, Music Licensing Consultant
John Johnson, SVP of Licensing, ASCAP
Colin Rushing, SVP & General Counsel, SoundExchange
12 – 12:50 PM
Bands and Brands: Trademark Protection in the Music Business
A band is a business, and that band's name is its brand. It is how fans can be certain whose music they just heard on the radio, whose track they are streaming, whose merchandise they are purchasing, or whose concert is coming to town. Disputes between bands with identical or similar names are common. This crash course panel will cover:
1. Choosing the most "trademarkable" name
2. Performing initial clearance research and evaluating likelihood of confusion with existing band names
3. Common law trademark rights for unregistered marks
4. The process of obtaining federal trademark registrations, including special requirements for musical artists
5. How songwriters can benefit from trademark (hint: you can't copyright a song title!)
Moderator: Daniel Novick, Principal Attorney, Novick Law PLLC
Jonah Grossbardt, Attorney, Schneider Rothman Intellectual Property Law Group PLLC
Charles Lew, Managing Partner, The Lew Firm
Louis Smoller, Attorney, Schlackman Intellectual Property Law, PLLC
Lauren Spahn, Attorney, Shackelford, Bowen, McKinley & Norton, LLP
The Music Biz Conference is the music industry's premier event, giving the commerce and content sectors a place to meet with trading partners, network with new companies, learn about new trends and products impacting the music business, as well as music creatives a place to discuss their craft and learn more about the legal, metadata, financial, and other matters that impact their royalties. The 2018 event, which will celebrate the Association's 60th anniversary, will feature the presentation of the Presidential Award for Outstanding Executive Achievement to Cary Sherman, CEO of the Recording Industry Association of America (RIAA), who will be honored with a live performance from Country star Kelsea Ballerini; the Harry Chapin Memorial Humanitarian Award to Scooter Braun, who will also participate in a Keynote interview conducted by noted Washington, DC, Strategist and women's rights advocate Hilary Rosen; the Artist of the Year Award to Ed Sheeran; the Chairman's Award for Sustained Creative Achievement to Nile Rodgers; an Outstanding Achievement Award to record-breaking hit song "Despacito"; a Breakthrough Artist Award to Republic Records singer/songwriter Julia Michaels; and the Independent Spirit Award to the Radakovitz Family, owners of the iconic Sacramento, CA-based record store chain, Dimple Records. In addition, Roger Lynch, President and CEO of Pandora, will keynote a Featured Presentation where he will be joined by Randy Goodman, Chairman and CEO of Sony Music Nashville, and  Wendy Goldstein, EVP of A&R at Republic Records, will Keynote the Music's Leading Ladies Speak Out program. The conference will also feature the launch of the Music Business Hall of Fame, with a tribute to first inductee and late Tower Records Founder Russ Solomon from acclaimed actor and director Colin Hanks, and the first-ever #NEXTGEN_NOW panel, featuring success stories from young industry executives. For the full Music Biz 2018 preliminary schedule, visit http://musicbiz2018.sched.com. For more information, visit www.musicbiz2018.com.
About the Music Business Association
The Music Business Association (Music Biz) is a membership organization that advances and promotes music commerce — a community committed to the full spectrum of monetization models in the industry. It provides common ground by offering thought leadership, resources, and unparalleled networking opportunities, all geared to the specific needs of its membership. Music Biz brings a unique perspective and valuable insight into the trends and changes that innovation brings. Today, we put our collective experience to work across all delivery models: physical, digital, mobile, and more. Music Biz and its members are committed to building the future of music commerce — together.
Music Biz Media Contact
Laurie Jakobsen, Jaybird Communications — laurie@jaybirdcom.com, 646.484.676