MUSIC BIZ ATTENDEE ALL-ACCESS — Three Ways That Conferences Help Artists Succeed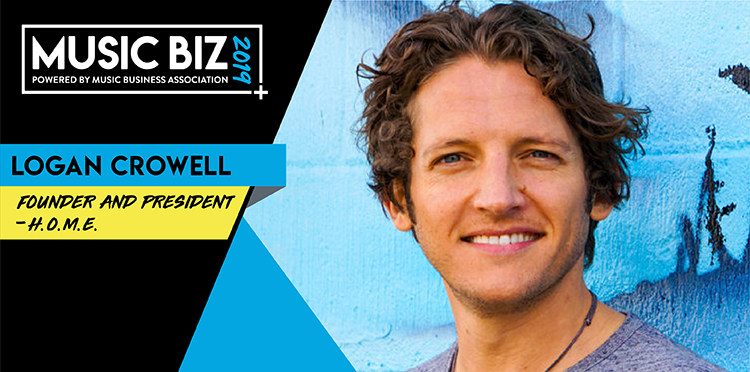 Logan Crowell spent years developing his craft as a songwriter, multi-instrumentalist, and recording artist. When he moved to Nashville in 2015 to study music business at Belmont University, he began to see opportunities for innovation in the industry. He's since devoted his life to rethinking artist development by creating new business models while wearing hats as a producer, manager, talent buyer, and festival promoter. Logan is also the Founder and President of HOME – Helping Our Music Evolve. HOME is Nashville's 24/7 coworking, production, and event space for musicians, producers, and music business professionals. Find out more at helpingmusic.org.
In this Attendee All-Access interview, Logan discusses the importance of artists treating themselves as a business and making conscious investments to better their brand.
As artists are often creatives first, why is it important for them to have a business mindset as well? What does the "Artist as a Music Business" mean to you?
In my experience as both an artist and an artist manager, there is a huge disconnect and knowledge gap between making great art and understanding how it fits into the marketplace. It may still be possible that an incredible talent will somehow magically form a team or get a deal, but for 99.999% of cases, that's not how it happens.
So, first, I think they need to understand the business, how it works, and how many moving parts have to develop in tandem for sustainable career growth to happen. Once you understand that, you also understand the necessity of having a great team, or even building a great company in order to successfully execute a long-term music career.
That leads us into the "mindset." Modern day artists need the mindset of an entrepreneur focused on building a multi-million dollar company if that is how big they intend to get. Alternatively, they could choose to find a niche and make music from their home with a solid business plan to grow that operation into a sustainable business.
Either way, the fact remains that artists are now entrepreneurs. That realization is one of the reasons I started HOME and one of the reasons I believe artists should attend conferences. Entrepreneurs need to be in environments that facilitate the ongoing development of their products, projects, and relationships while keeping them informed of advancements in the industry.
Businesses often attend the Music Biz Conference, and conferences in general, to network and find new business. How can an artist apply this to their business and grow?
Once artists have clear business goals, they can analyze their strengths, weaknesses, opportunities, and threats. Then it becomes clear that the benefits of finding new opportunities or strengthening their business strategy far outweigh the costs associated with attending a conference.
What we are talking about here is opportunity cost. What is it costing you to keep doing things the way that you have been doing them? What is the cost of not connecting with the people who have relationships and skills that will help you get to the next level?
Networking is extremely important, but you have to be choosy about who you spend time building relationships with. There are plenty of people at conferences that can help artists get to where they want to go, but the artist needs to have a very clear picture of where they are headed and how they intend to get there. Go into a conference with some specific intentions about the type of people you want to meet, why you want to meet them, what you want to learn, and why. Make sure it is leading you toward your ultimate goal and not distracting you from it. That is what business people respond to: a clear plan of action and swift execution.
What advice would you give an artist about attacking a conference's panel schedule and making the most of their time there – from an education perspective?
First of all, be aware that many of the panels fill up quickly so use the Music Biz online schedule to set your schedule ahead of time. Do a little bit of research on the panelists — who are they and what have they accomplished? Often a nugget of wisdom from a very experienced professional will save you thousands of dollars or more over the course of your career.
Music Biz uses the philosophy that when more artists attend conferences, the companies in attendance learn more about the industry from their creative perspective – often helping that company (whether it be a label, streaming service, etc.) to grow. Can you share your thoughts on this?
There is a term that was coined a few years ago – "the pull economy." To sum up the idea, companies no longer "push" themselves into the marketplace. Instead, they "pull" customers and clients to them with their reputation, authenticity and transparency.
I think that concept is slowly being embraced by the music industry as well. Many large music companies such as labels and DSPs are beginning to take a creative-friendly stance. They know that their function is to connect the end user with great music, content and experiences. The user is in control, and the companies have to give them what they want.
Consumers now have too many choices to be forced into liking a certain thing. If your music is great, great music companies will find a way to get it into the hands of people who love it, while providing both parties with a pleasant experience of their service or technology. Artists who understand the music business have an opportunity to add value to that process through their feedback and participation.
As an artist and a business owner, how have conferences helped you personally succeed? Any personal Music Biz Conference stories?
To be quite honest, last year was the first year I was able to attend. I had just opened HOME, and I was pretty deep in the weeds. When I got there, I ran into so many industry friends that I had not seen since the HOME startup phase got so intense. Of course, I had some of my own promo material with me, and I was able to tell them personally how much I would appreciate if they came by and checked out the space. That definitely turned into a few members and helped cultivate long term business development.
What would you tell an artist who may be on the fence about investing in attending a conference?
Conferences help you understand the playing field on a business level, learn who the players are, and get yourself into the game. The sooner you invest in yourself, the sooner other people are going to invest in you.This goes for artists who are on the fence about joining HOME as well — if you don't understand the cost of enhancing your personal brand as a business, it is hard to understand the value of something like a conference, a trade organization, or a professional community.
You need more opportunities for your music. What opportunities? Live? Licensing? Publishing? You name it, and they're all at the Music Biz Conference looking to make connections. What are you going to tell them when you meet them? Are you going to sound like an artist who is well informed and has SMART business goals? What value are you going to be able to add to their business?
---
Our Attendee All-Access Series checks in with previous Music Biz Conference attendees to discuss their past Conference experiences and give first-timers a taste of what they can expect at Music Biz 2019. You can also read previous All-Access articles from IMMF Advisor Jake Beaumont-Nesbitt, SB Projects' Jackie Augustus, Codiscos/Tropisounds' Dennis Murcia, and Sodatone's Jerry Zhang.
Music Biz 2019 will return to Nashville May 5-8 at the elegant JW Marriott in the heart of downtown Nashville. The music industry's premier event, Music Biz offers a platform for the commerce, content, and creative sectors to network, get on the cutting edge of the latest trends, and meet with trading partners. For the most up-to-date Conference information, visit musicbiz2019.com. To register for the 2019 event, go to musicbiz2019.eventbrite.com.