MUSIC BIZ ATTENDEE ALL-ACCESS — The World Comes to Nashville: How Music Biz Serves the Industry on a Global Level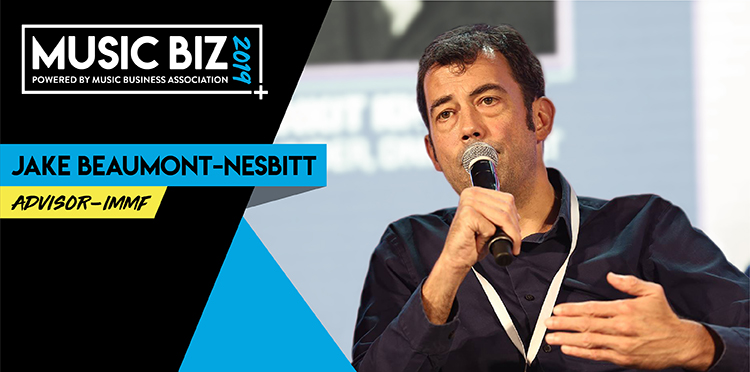 Each year, the Annual Music Biz Conference offers a wealth of knowledge and perspective from the industry at large, united under one roof for four days of insightful conversations and presentations. Our Attendee All-Access Series checks in with previous Music Biz Conference attendees to discuss their past Conference experiences and give first-timers a taste of what they can expect at Music Biz 2019.
In the first installment of our series, IMMF advisor Jake Beaumont-Nesbitt offers an overview of why the global breadth of the industry attends the Music Biz Conference.
A Global Perspective
The Music Biz Conference has grown organically year over year, proving to be a leading indicator of returning confidence in the industry. In an increasingly interconnected world, it's important for music business representatives across the globe to share their successes, failures and innovations with one another to drive sustained growth industry-wide. Thankfully, the Music Business Association (Music Biz) truly provides a global forum to facilitate this at their Annual Conference.
Every industry is now global — automotive, tech, and even food & beverage, to name a few. The music industry is no different, with artists Arijit Singh, Aya Nakamura, BTS, Rosalía, and Wizkid currently making a huge global impact. Music Biz's board brings together key labels and distributors like Big Machine, INgrooves, Sony, Warner, Universal, with platforms and stores like Amazon, Apple, Facebook, Pandora, Spotify, and YouTube. While they may be headquartered in the US, these companies, and many more, have a global agenda. By extension, these companies bring that international perspective to all conversations at the event by exploring best practice and through networking at the Annual Conference.
Always Innovating
Part of the Conference's sustained success is due to always remaining ahead of the curve. For example, the Conference has run its Metadata Summit for the past seven years, and ideas first discussed on the Music Biz stage are now ubiquitous at other conferences. 2018 industry newsletters and conferences included some buzz around the future of integrated entertainment systems in driverless cars, a topic first discussed at Music Biz 2013 that came to life through high-end audio in-car demos at Music Biz 2018. On a global level, the story behind the Latin music explosion was tracked at the Music Biz Conference long before the eventual boom began. The Conference has always promoted global innovation through networking and programming, and by featuring industry pioneers from across the globe such as Nashville locals Exactuals, Australia's Jaxsta, and Finland's Teosto.
One of many impactful conversations I witnessed at Music Biz 2018 was a presentation by Bernie Cho of DFSB Kollective on how the South Korean music industry had focused on metadata and B2B supply chains that digitally connect artists with global audiences. The South Koreans had acted locally to implement research and metadata standardization to think globally. Their system pays careful attention to multiple technical specifications, including languages, character sets, literal translations, and translations that accurately convey a phrase's artistic sentiment. Some amusing, if not alarming, examples showed how the assumption, "its digital, I upload it here, it magically appears there" is true, but how that sentiment abandons responsibility for what the audience "discovers" on their local platforms. The presentation was a masterclass in best practice for acting globally.
To ensure that the global music business conversation remains current, this year's Conference offers the strongest international representation yet. Hamburg, Germany's Reeperbahn Festival (a leading European conference) will be in attendance to discuss the most pressing topics facing the global market. Artist strategy wizards like mtheory, Sandbox and Big Loud will offer their insights alongside publishing developments from SongTrust and BMG. And in the "Beyond Borders" segments, global monitoring and research service Nielsen will present their latest insights on global audiences alongside expert speakers from China, India and Latin America.
All Roads Lead to Nashville
Many cities are musical, but Nashville is "Music City." And while Country music has never been stronger, the local Hip-Hop and Rock scenes are also thriving, including Jack White's Third Man Label and Studios which past Music Biz delegates have visited. Last year, Dolly Parton gave a keynote, and in 2019 speakers will include Paul Rosenberg, CEO of Def Jam and Eminem's manager. Across multiple continents and multiple genres, Music Biz serves as a uniting force for the industry and fosters inspiration to guide its shared future.
The Music Biz Conference has become the leading annual music industry event for global business development, and a melting pot of ideas informing the international music community. If you want access to the key decision makers, and to stay up-to-date on key developments both behind the scenes and consumer-facing, you go to the Music Biz Conference every year.
And when you're overloaded with ideas, sneak down to Nashville's Broadway, the home of the Honky Tonks. You'll find me at the bar in Robert's Western Lounge soaking up the sounds of the best guitarists and singers in the world. If it's anything like last year, I'll be sat next to industry experts from Norway, Japan, Mexico, and, of course, Nashville.
---
Music Biz 2019 will return to Nashville May 5-8 at the elegant JW Marriott in the heart of downtown Nashville. The music industry's premier event, Music Biz offers a platform for the commerce, content, and creative sectors to network, get on the cutting edge of the latest trends, and meet with trading partners. For the most up-to-date Conference information, visit musicbiz2019.com. To register for the 2019 event, go to musicbiz2019.eventbrite.com. Early bird rates are available through March 22, 2019.