MUSIC BIZ ATTENDEE ALL-ACCESS — Music Biz 2019 and the Latin & Miami Markets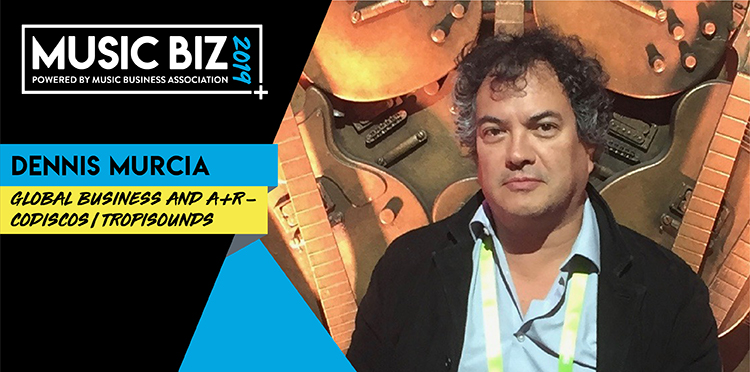 In this installment of our Attendee All-Access Series, Dennis Murcia, Global Business and A&R for Codiscos/Tropisounds, discusses the growing global influence of genres including Latin and K-Pop, and what international music professionals can benefit from specifically by attending Music Biz 2019!
What are your thoughts on the rise of Latin music in the mainstream? What does this mean longterm for the U.S. market, as well as global territories?
I'm not sure it is a rise. Latin music has always been part of the US and Global Market.  I can speak with direct experience from the "Latin boom" of 1998 since I was working in A&R at the time with a then up-and-coming Shakira. The goal was to get her regional exposure, and she just blew up beyond that. That was also the year of Ricky Martin, Jennifer Lopez and other artists that were pushing all things Latin into the mainstream. What helps is if American audiences can relate. Many songs originally sung in Spanish were automatically translated to English for American audiences. I never agreed with that, since the songs don't always work. That's because in Latin America, Spanish translations of English songs don't go over well at all, but the opposite seems to work for the American market for some reason.
Today we have another Latin music boom, but things are very different. I also experienced things first-hand this time around since our label signed, developed and saw the meteoric rise of Nicky Jam around 2013. He is perfect for the US market, since he lived in NY and can switch between Spanish and English naturally, relating to both American and Latin markets. But now, it's not imperative to sing in English — everybody learned a new word with "Despacito." And look at Bad Bunny: he sings entirely in Spanish, and American audiences dig it. The accessibility of streaming and YouTube have leveled the playing field for international artists, and globalized music more than ever before.
As a professional in the Latin music space, what do you specifically get out of the Music Biz Conference? How is the Music Biz Conference different from others?
I have worked in the music industry in both the US and in Latin America, and feel comfortable in both regions. At the Music Biz Conference, I can talk to top-level executives for business development purposes, not just the person in charge of Latin. At Codiscos/Tropisounds, we are a local operation with a global mentality, so to me it is a no-brainer to be around the top execs in the industry.
What obstacles could the Latin music market look to overcome by attending more conference such as Music Biz?
If Latin music continues to be in the mainstream, there is no obstacle. The problem is when the Latin industry focuses solely on the Latin market. If you think small, you get small results. Things are changing with technology, making global exposure so much easier to achieve. Everybody needs to think global — the K-Pop boom is a great example of this.
What would you say to someone based in Miami, or another Latin music hub elsewhere in the world, who's not sure they want to make the financial commitment of attending Music Biz?
Think out of the box and get out of your comfort zone. Get the American market to know you, not just the Latin market. If you look for it, you will find the opportunity.  
People from all walks of the industry attend the Music Biz Conference. Are there any connections that you've made in years past that stand out to you, either personally or professionally?
Yes, many. Not only on a professional level, but on a friendship level. I have also closed a few deals at Music Biz (Facebook and Amazon come to mind).
What are you most looking forward to experiencing at this year's Conference?
In addition to the networking, I am always looking to meet with services and tech companies that may help me market our catalog to the world. And I always attend panels because I am a big believer of constantly learning to stay on top of things. I'm an information nerd.
---
Our Attendee All-Access Series checks in with previous Music Biz Conference attendees to discuss their past Conference experiences and give first-timers a taste of what they can expect at Music Biz 2019. You can also read previous All-Access articles from IMMF Advisor Jake Beaumont-Nesbitt and SB Projects' Jackie Augustus.
Music Biz 2019 will return to Nashville May 5-8 at the elegant JW Marriott in the heart of downtown Nashville. The music industry's premier event, Music Biz offers a platform for the commerce, content, and creative sectors to network, get on the cutting edge of the latest trends, and meet with trading partners. For the most up-to-date Conference information, visit musicbiz2019.com. To register for the 2019 event, go to musicbiz2019.eventbrite.com. Early bird rates are available through March 22, 2019.