MUSIC BIZ ATTENDEE ALL-ACCESS — My First Time at the Music Biz Conference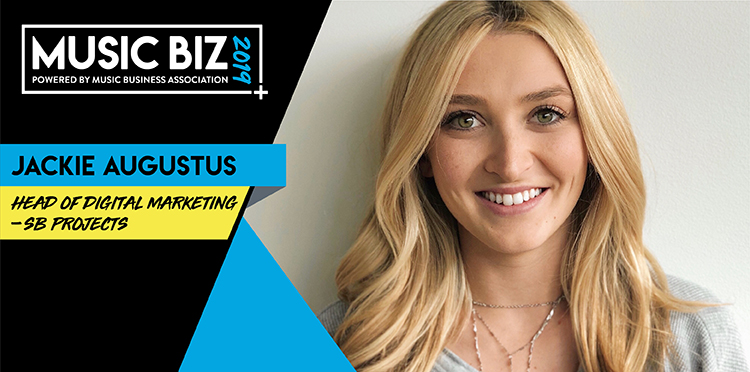 In this installment of our Attendee All-Access Series, SB Projects' Head of Digital Marketing Jackie Augustus gives us an exclusive look at her first Music Biz experience at last year's Annual Conference, and how first-time attendees should prepare for Music Biz 2019!
What was your first impression upon entering the Music Biz Conference last year?
"I was a tad nervous considering it was my first time speaking on a panel (also lost, because, you know, conference rooms), but the Music Biz staff was extremely accommodating. They were so friendly and made sure to properly introduce me to the other panelists, who are now actually friends of mine."
From your perspective, what sets Music Biz apart from other music conferences?
"I love that the audience was a mix of industry legends and college students. This made the environment feel less stiff and easier to speak to which made me more comfortable in my speaking role. It felt like we were all talking amongst ourselves as peers, and I was learning just as much from them as they were, hopefully, learning from me."
You spoke on #NEXTGEN_NOW last year which was all about the increasingly important role young people are playing in today's music marketplace. In your opinion, why is it important for young people to be present in the industry and at music conferences in general?
"No matter what field of the music industry you work in, you are likely marketing to a younger audience – they're the ones streaming your music, buying tickets to your shows, purchasing merchandise, etc., so why not include them in the conversation? It's so important to engage them in what you're doing, because the outcome will likely be more tailored to your target fan base. It's not only handy, but also arguably necessary in today's industry landscape, to have someone who is up to date on trending topics, memes, etc."
Besides speaking, what was the most memorable moment from your first Music Biz Conference?
"I absolutely adored everyone I had the chance to speak with on the #NEXTGEN_NOW panel. Even though we all had just met, I immediately went to lunch with Anna, I see Phil around all of the time, Devin is obviously still crushing it, and Amber is doing big things at Capitol! It's so cool that we still keep in touch and that I get to cheer them on in their achievements while watching them thrive in their careers."
How important is networking at music conferences? Were there any companies or individuals in particular you met at Music Biz that led to a cool partnership?
"I got to meet a lot of young, eager, and super talented students who would be great interns or assistants / juniors for companies looking to hire. I still see people from last year's conference and they're like, "we met at Music Biz!" and when I ask what they're doing now, a lot of them tell me about the amazing opportunities they've had in the industry since I last saw them. I also got to see a lot of our New York based partners who are not often in LA, where I was previously based."
Overall, what did you get out of attending Music Biz? What could a manager or management company employee look to get out of attending Music Biz?
"The digital workshops are helpful as there are usually just a few key music people at the digital platforms, vs a million of us managers / employees. This makes it a great place to stay up to date with everything they've got going on, make sure your artists are all on board / optimized, that they can understand where they're going or what they've got coming up so you can adjust your release plans accordingly, and prioritize where you may not already be."
Is there anything in particular you're looking forward to at Music Biz 2019?
"Last year, I was always in and out because I was not based there, which left little time for me to take full advantage of everything Music Biz has to offer. This year, however, I actually live in Nashville, so I'm looking forward to being able to spend more time attending more panels and meeting more people within the local industry scene."
What advice would you give to first-time Music Biz attendees?
"Take advantage of having the entire music industry in one place. Absorb as much information as possible, and most importantly, meet as many key partners as you can. Arrive to each panel prepared with questions, and keep your mind open to learning about subjects / topics which may be outside your area of expertise. There's no such thing as knowing too much!"

---
Our Attendee All-Access Series checks in with previous Music Biz Conference attendees to discuss their past Conference experiences and give first-timers a taste of what they can expect at Music Biz 2019. Click here to read our first All-Access piece written by IMMF Advisor Jake Beaumont-Nesbitt.
Music Biz 2019 will return to Nashville May 5-8 at the elegant JW Marriott in the heart of downtown Nashville. The music industry's premier event, Music Biz offers a platform for the commerce, content, and creative sectors to network, get on the cutting edge of the latest trends, and meet with trading partners. For the most up-to-date Conference information, visit musicbiz2019.com. To register for the 2019 event, go to musicbiz2019.eventbrite.com. Early bird rates are available through March 22, 2019.