MUSIC BIZ ATTENDEE ALL-ACCESS — Why Startups MUST Attend the Music Biz Conference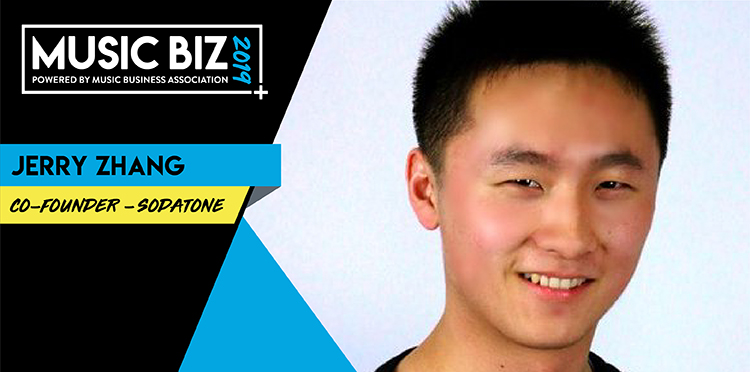 In this Attendee All-Access interview, Sodatone Co-Founder Jerry Zhang talks about his experience as a startup owner at the Music Biz Conference led to his company meeting with and ultimately becoming acquired by Warner Music Group. His story is a must-read for startups on the fence attending our flagship Annual Conference.
When was your first Music Biz Conference? What drew you to attending? How was it?
Music Biz 2017 was actually my first Conference. Our product was ramping up and we wanted to get it out into the world. I started looking for some industry conferences that would be helpful for this and after some Googling, I of course found quite a few options. The Music Biz Conference was the one that drew me because I could see that it was "the" industry conference, especially in North America.
This was an incredible experience because, not coming from the music industry, it was a chance to immerse myself in a community of industry folks with the experience, pedigree, and expertise that I could absorb and learn from. The sessions paint the most comprehensive picture of what it's actually like in the music industry, covering topics that rarely get proper coverage.
The crowd is truly a community, many of whom have been coming to this Conference for decades. I found them to be willing to give advice and listen to my pitch. And I think being in Nashville, you get a little bit of a Nashville music industry flavor, which I found to be an amazing way to get an understanding of the global industry as a whole.
What was your vision when founding your startup, and what functions did it serve for the music industry?
Sodatone is a platform that helps the music industry discover and understand artists using online data. We marry advanced analytics with streaming/social data to drive insights on unsigned artists and signed roster. You can find out more at our website: http://sodatone.com
Our vision for Sodatone was to support the creative process for labels, managers, agents, etc. by using data to tell the story of what's going on in any artist's career, while benchmarking that against other artists.
More than that, we wanted to make sure that the music industry could identify, support, and work with the artists that fans were truly loving and resonating with. We wanted to use technology to help sift through the millions of artists around the world who didn't have the right connections to be discovered the traditional way.
Tell us the story of how attending the Music Biz Conference ultimately led to your company being acquired by Warner Music Group?
The Music Biz Conference was the first time I had met anyone at WMG. I attended a panel of WMG A&Rs and met a director of A&R Research at Atlantic Records. We connected over email after the Conference and a few months later, I reached out to Atlantic about becoming a client. We ended up doing a pilot with WMG A&R teams around the world and moved quickly to acquisition talks after that. That same person I had met at the Music Biz Conference gave us a ton of support in the organization and amazing feedback that made the Sodatone platform better.  
How has your startup grown and evolved since being acquired by Warner Music Group?
One of the things that the WMG senior leadership emphasized throughout the acquisition process was that they wanted us to keep our entrepreneurial spirit. They wanted us to continue to operate quite independently and be a hub of technological innovation within WMG. We've further built out our platform and team, while working on strategic initiatives for WMG outside our original scope as a startup.
This has been an unbelievable opportunity to be able to work side-by-side with the incredible creatives at WMG, integrating their insights and feedback directly into everything we do. We've always emphasized that we're a music-first data platform and it's been amazing to be around the creative process across WMG's labels around the world, from the US to Germany to Indonesia.
What tips and advice would you give other startups on 1) attending the Music Biz Conference at all and 2) How to tackle the Conference once they make the decision to attend?
One of the most important parts of starting a company is deeply understanding the industry at an intuitive level. I believe in getting a feel for not only the precise problem you're trying to solve, but also challenges and trends adjacent to what you're tackling. Through the people you meet and the sessions you attend, the Music Biz Conference gives you an understanding of facets of the industry that most conferences barely touch.
If you end up attending, don't be afraid of any part of the Conference. You could be walking amongst industry legends at any time, but oftentimes, they're willing to help people just getting started. Just be humble and do way more listening that you do talking; you'll learn way more and earn way more respect by doing that.
How has your Music Biz experience changed from year to year – from startup founder to WMG employee?  What keeps you coming back?
There's an amazing community around the Music Biz Conference and from year to year, you recognize more familiar faces and spend more time hanging out with friends. What doesn't change is that you learn new things every hour you spend there, especially when you make an effort to look into things you aren't that familiar with.
What are you most looking forward to at Music Biz 2019?
Seeing old faces and meeting new ones! And just being in Nashville!
---
Our Attendee All-Access Series checks in with previous Music Biz Conference attendees to discuss their past Conference experiences and give first-timers a taste of what they can expect at Music Biz 2019. You can also read previous All-Access articles from IMMF Advisor Jake Beaumont-Nesbitt, SB Projects' Jackie Augustus, and Codiscos/Tropisounds' Dennis Murcia.
Music Biz 2019 will return to Nashville May 5-8 at the elegant JW Marriott in the heart of downtown Nashville. The music industry's premier event, Music Biz offers a platform for the commerce, content, and creative sectors to network, get on the cutting edge of the latest trends, and meet with trading partners. For the most up-to-date Conference information, visit musicbiz2019.com. To register for the 2019 event, go to musicbiz2019.eventbrite.com.