MUSIC BIZ 2019 SPEAKER SPOTLIGHT — Tommy Stalknecht, Single Music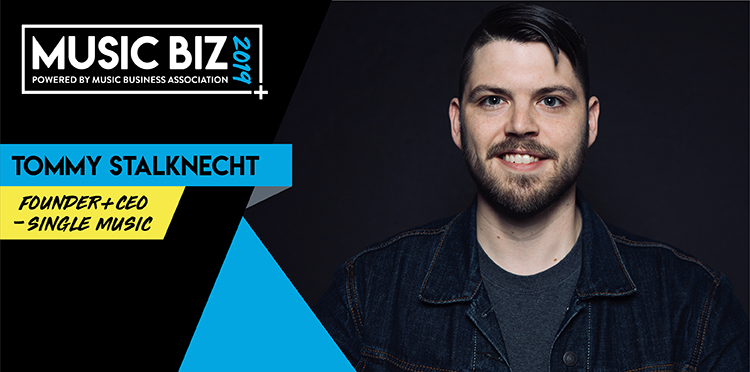 Music Biz is excited to welcome Tommy Stalknecht, Founder and CEO of Single Music, to the Music Biz 2019 Program! He will be speaking on the panel "Automate Your D2C: Selling Music and Merch on a Budget," set for Tuesday, May 7 at 5 pm. Check out the Speaker Spotlight profile below to learn more about Tommy before his panel next week! You can also keep tabs on the latest featured speakers on our Speaker Spotlight Portal.
What is your favorite Music Biz Conference memory from years past?
The idea for Single came from a conversation I had while attending the first Music Biz Conference here in Nashville – that's a pretty good memory.
Besides attending the Music Biz Conference, what is your favorite thing about Nashville?
Nashville is my home. I went to MTSU for college in 2006 and never looked back. My friends from school are the same people I get to work with on a daily basis.
What do you foresee being the most impactful trend for the industry in the coming year?
There's an overarching trend in every industry, not just music, to focus more on direct-to-consumer sales and marketing. We're working to be at the front of that trend.
When did you know you wanted to work in the music business? If there was no specific "Aha!" moment, what led you to working in music?
I had a high school teacher that knew I wanted to be involved in music – I'll never forget the words, "You should check out my alma mater!" in his thick southern accent.
What music-focused app or tech could you not live without?
Does Single count? Ha ha!
Aside from speaking, what are you most excited to experience at this year's Conference?
We've grown pretty quickly in our first year and have had the pleasure of working with clients from across the globe – it will be nice to finally meet some of them face-to-face.
What are your Album of the Year for 2018?
I listen to an unhealthy amount of 80's music, but Kacey Musgraves' Golden Hour took 2018 for me.
How do you discover new music?
I'll passively listen to Spotify and Pandora radio stations of random artists and save throughout the day. Tons of sharing with the other guys in the office.

What was your first concert OR the best concert you've ever attended? What about the show sticks with you the most?
The Budos Band at Exit/In a few years ago was probably the most I've danced in my life. I left with a sombrero that I didn't walk in with.
What is your dream industry project? Is there an artist or power player you'd give anything to work with?
I'm fortunate enough to work with some of my favorite bands of all time already. There's so many that I respect and my tastes vary widely. I just like making things that are useful to artists and help them advance their career goals.
---
Music Biz 2019, the industry's premier business-focused event, takes place Sunday, May 5 through Wednesday, May 8 at the JW Marriott Nashville. Attendees can look forward to keynote presentations from influential industry trailblazers including Apple Music's Zane Lowe, Capitol Records' Amber Grimes, RIAA Chairman and CEO Mitch Glazier, Motown Records President/Capitol Records EVP Ethiopia Habetemariam, Caroline President Jacqueline Saturn, and CEO of Def Jam Recordings Paul Rosenberg. The event will also feature our Awards & Hall of Fame Dinner, a celebration of artistic & executive achievement sponsored by BuzzAngle Music, City National Bank, Cracker Barrel, Jammber, and TiVo. Announced thus far, Bebe Rexha and Kane Brown will receive Breakthrough Artist Awards; Darius Rucker will accept the Harry Chapin Memorial Humanitarian Award; Sony Music Nashville Chairman and CEO Randy Goodman will receive the Presidential Award for Outstanding Executive Achievement; Record Archive owners Richard Storms and Alayna Alderman will accept the Independent Spirit Award; The Orchard Co-Founder Richard Gottehrer will receive the Outstanding Achievement Award; and Peter Frampton will receive the Chairman's Award for Sustained Creative Achievement. This year's ceremony will also see the induction of the late Sir George Martin into the Music Business Hall of Fame by his son Giles Martin, along with 12 other notable industry executives, record labels, landmarks and media outlets.