Music Business Association Releases Music Biz 2019 Conference Schedule With Apple Music's Zane Lowe As Sunday Keynote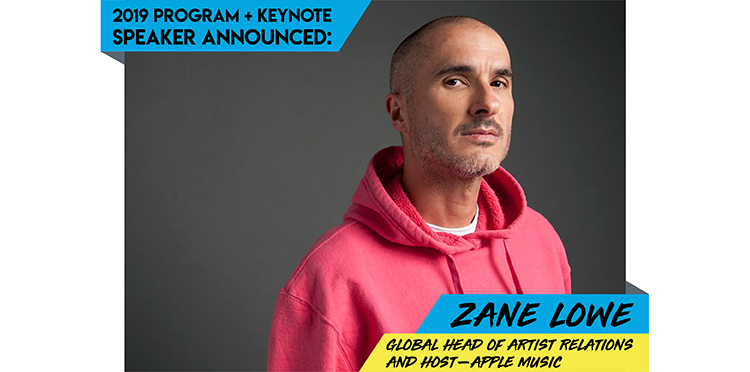 January 30, 2019 – Today, the Music Business Association (Music Biz) has announced the addition of Zane Lowe to the 2019 Music Biz Conference program. The GRAMMY-nominated producer, DJ, and Global Head of Artist Relations and Host for Apple Music will give a keynote interview on Sunday, May 5 at 5 PM. Music Biz 2019, the music industry's premier business Conference, will take place May 5-8 at the JW Marriott in the heart of downtown Nashville.
In addition to leading Apple Music's artist relations team for the world, Lowe oversees Beats 1, Apple Music's global livestream, where he serves as one of the anchor hosts, broadcasting his flagship show every Monday through Thursday to over 100 countries around the world. He also curates original programming for the service which includes feature shows hosted by Nicki Minaj, The Weeknd, Elton John, Virgil Abloh, Kendall Jenner, Mike D, Ezra Koenig, DJ Khaled, St. Vincent, Lars Ulrich, Charli XCX, Drake's OVOSOUND Radio, Frank Ocean, Pharrell Williams, Dr. Dre, and more. Lowe has an established career in music broadcasting, first at MTV UK and XFM, then heading to BBC Radio 1 where he hosted the New Music show for 13 years before moving to Los Angeles to join Apple Music in 2015.
"It is a huge honor to welcome Zane Lowe to this year's Conference program," says James Donio, President of Music Biz. "He is one of the most influential names in the broadcast industry today, and his vision and insight will be of great interest to our audience"
Alongside this announcement, Music Biz is giving the industry a first glance at the preliminary agenda for Music Biz 2019.
As in years past, Music Biz's Annual Conference will feature a diverse program of keynotes, panels and workshops, covering high-level topics affecting the music industry today. Attendees can look forward to keynote presentations from some of the most influential industry trailblazers including Apple Music's Zane Lowe, RIAA Chairman and CEO Mitch Glazier, CEO of Def Jam Recordings Paul Rosenberg, Co-Founder of The Orchard Richard Gottehrer, and more to be announced.
Each day of the Conference will also feature thought-provoking breakout programming set to cover playlisting, podcasting, voice discovery, fan clubs in the digital age, tour marketing, stems, today's ride-sharing economy, monetizing video, copyright terminations, social media best practices, physical product packaging, indie retail promotion, music merchandising, and more. A new three part-series named Beyond Borders, powered by Nielsen Music, will explore music markets across Europe, Latin American, China and India. Music Biz 2019 will also feature timely discussions on issues affecting the world at large, such as diversity and inclusion in the workplace, social concerns and activism, mental health, and motivating your team through emotional intelligence.
Returning to this year's event are favorites such as the seventh annual Metadata Summit; the Brand & Strategic Partnership Summit (powered this year by FlyteVu); the Entertainment & Technology Law Conference (presented by Fox Rothschild); the third annual Digital Music Workshops; the #NEXTGEN_NOW panel, highlighting young professionals making a mark on the industry; and Indie Artist & Songwriter Forum, sponsored for the second consecutive year by Songtrust.
To see the currently confirmed program, please visit: musicbiz2019.sched.com.
Music Biz 2019 will kick off on Sunday, May 5 by welcoming back a series of Digital Music Workshops hosted by Amazon, Apple Music, Pandora, Spotify, SoundCloud, and YouTube. Attendees also have the option to attend the Entertainment & Technology Law Conference, presented by Fox Rothschild, a multi-faceted program that brings law experts together with major music industry players to discuss a range of legislation affecting the entertainment space. Students and young professionals can learn the tools to achieve long-term success in the music business during the Career Development Workshops, with sessions that cover building a professional network, searching for music industry jobs, creating an entrepreneurial mindset, and more. The Conference's first day will conclude with Zane Lowe's keynote interview, followed by the WEA Cocktail Party.
Monday, May 6 will begin with the CMA Opening Breakfast & Music Biz Presentations. Longtime event sponsor CMA will present a special Country music-focused program following breakfast, and the session will wrap up with the annual address by Music Biz President James Donio. Registrants can then attend the 7th annual Metadata Summit, lively discussions that will amplify how the metadata landscape has improved as new technologies have entered the music space aiming to increase data accuracies, royalty collections, and more. The Metadata Summit is presented by Dataclef and supported by DataArt, Exactuals, and Nielsen Music. #NEXTGEN_NOW will showcase some of the industry youngest and brightest new executives with the discussion being led by Billboard/Forbes' Cherie Hu. The Indie Artist & Songwriter Forum, powered by Songtrust, will follow with tips on how to make it as an independent artist. CEO of Def Jam Recordings Paul Rosenberg will share his unique career journey in a keynote interview. A J.P. Morgan Securities Cocktail Party will close out the official daily schedule.
On Tuesday, May 7, the Brand & Strategic Marketing Summit, powered by FlyteVu, will bring together top music and brand executives to discuss the ever-changing landscape of the industry and how brands are successfully reaching their consumers through the power of music and entertainment. Back for its second year, the Financial Literacy Summit, powered by Lyric Financial, will feature an informative discussion on how those in the music business can achieve financial success and how to best manage income as it is earned. Tuesday's schedule culminates with Red Carpet festivities and the Music Biz Awards & Hall of Fame Dinner, sponsored by BuzzAngle Music, City National Bank, Cracker Barrel, Jammber, and TiVo. Receiving honors at the event will be Bebe Rexha and Kane Brown (Breakthrough Artist Awards); Sony Music Nashville Chairman and CEO Randy Goodman (Presidential Award for Outstanding Executive Achievement); industry innovator, songwriter, and Co-Founder of The Orchard Richard Gottehrer (Outstanding Achievement Award); and Record Archive owners Richard Storms and Alayna Alderman (Independent Spirit Award). Additional award recipients and this year's Music Biz Hall of Fame inductees will be announced in the coming weeks.
The final day of the Conference, Wednesday, May 8, will include a yet to be announced keynoted Featured Presentation. Music Biz continues its partnership with GLAAD to feature the importance of LGBTQ representation in the music industry and will hold a GLAAD-curated session during this morning's slate of programming. Held throughout the day, the Career Day Interviews will give students a chance to interview with today's top companies for internship and entry-level positions. Nashville's popular WHO KNEW event will close out the four-day program schedule.
Registration for Music Biz 2019 is open now at musicbiz2019.eventbrite.com, with special early bird rates available through March 22. For more information, visit musicbiz2019.com.
About the Music Business Association:
The Music Business Association is a not-for-profit membership organization that advances, promotes and invests in the future of the music business by providing a trusted forum where ideas and cooperation flourish. Through events, education and engagement, the Association brings together the full breadth of the industry for unparalleled access to networking, resources and thought leadership.
For Media Inquiries:  
Dawn Kamerling
The Press House
dawn@thepresshouse.com
646.322.4903