Music Business Association Announces Record Archive Owners Richard Storms and Alayna Alderman as Recipients of 2019 Independent Spirit Award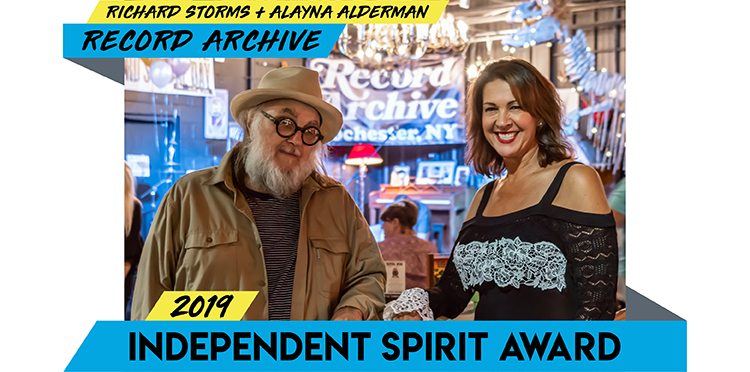 The Music Business Association (Music Biz) will present its 2019 Independent Spirit Award to Richard Storms and Alayna Alderman, owners of the Rochester-based independent record store Record Archive, during the Music Biz Awards & Hall of Fame Dinner set to take place on Tuesday, May 7 during the Music Biz 2019 Annual Conference at the JW Marriott Nashville. With their out-of-the-box thinking and love for all things music, the pair have grown Record Archive into an iconic brick-and-mortar destination.
The secret to Record Archive's success has been constant reinvention, and in order to thrive the business has undergone quite an evolution since it first opened. Storms initially kicked the business off in 1975 as a small flea market record booth. Over the next few years, he grew the store into a multi-level music archive where fans could find new, used, and exotic records. Alderman came on board as the store's office manager in 1985, and implemented a point-of-sale system that put Record Archive on par with larger chain stores. Because of her vision of growth for the business, she became co-owner in just nine years' time.
Since then, Storms and Alderman have seen the business through powerful ups and downs, most notably the advent of the downloadable music revolution that was the death of many independent record stores. In addition to thousands of vinyl records, scores of CDs and a selection of used movies, Record Archive added a selection of funky gifts, furniture and clothing to its expansive 13,000-square foot wonderland. Today, it also features a space for live music and a bar that serves local beer and wine.
As important figureheads in the music retail space, Storms and Alderman felt it necessary to share the strategies which resulted in Record Archive's success with the tight-knit community of independent retailers. In 1995, Record Archive came together with fellow record store owners to found The Coalition of Independent Record Stores, the first trade organization formed to support independent record stores. The CIMS network of stores helps simplify marketing efforts for independent music labels working to promote their developing and established bands.
With a love of their local community and the independent music community at large, Storms and Alderman exemplify the heart of the Independent Spirit Award. Established to distinguish those who embody the spirit of creative thinking and entrepreneurship, the award recognizes those who help grow and enhance the business of independent music for retailers and content providers.
Previous winners of the Independent Spirit Award include the Radakovitz family and Dimple Records; Terry Currier of Music Millennium; Glenn Dicker and Tor Hansen of Redeye USA; John Kunz of Waterloo Records & Video; Jonathan Poneman of Sub Pop Records; the organizers of Record Store Day; Brett Gurewitz of Epitaph Records; Joe and Rachelle Friedman of J&R Music & Computer World; Tom Silverman of Tommy Boy Entertainment; and Don VanCleave of The Artist Organization.
"I could not be more proud to present Richard and Alayna with our 2019 Independent Spirit Award, a well-deserved honor for two individuals who have kept the flame of independent music retailers and creators burning at 33 ⅓ Rockwood Street," commented Music Business Association President James Donio. "Thanks to their undying dedication, Record Archive has stood the test of time to become a must-see music landmark for music fans and serious collectors alike."
Music Biz 2019 will return to Nashville May 5-8 at the elegant JW Marriott in the heart of downtown Nashville. The music industry's premier event, Music Biz offers a platform for the commerce, content, and creative sectors to network, get on the cutting edge of the latest trends, and meet with trading partners. Announced thus far, singer/songwriter Bebe Rexha will accept a Breakthrough Artist Award and Sony Music Nashville Chairman and CEO Randy Goodman will be honored with the Presidential Award for Outstanding Executive Achievement during the Music Biz Awards & Hall of Fame Dinner on Tuesday, May 7. The dinner event is sponsored by BuzzAngle Music, City National Bank, Jammber and TiVo. More program and awards announcements will be made in the coming weeks.
For the most up-to-date conference information, visit musicbiz2019.com. To register for the 2019 event, go to musicbiz2019.eventbrite.com. Early bird rates are available through March 22, 2019. 
About the Music Business Association
The Music Business Association is a not-for-profit membership organization that advances, promotes and invests in the future of the music business by providing a trusted forum where ideas and cooperation flourish. Through events, education and engagement, the Association brings together the full breadth of the industry for unparalleled access to networking, resources and thought leadership. 
For  Media  Inquiries:
Dawn  Kamerling
The  Press  House
dawn@thepresshouse.com
646.322.4903