MUSIC BIZ 2019 SPEAKER SPOTLIGHT — Jennifer "T Bird" Gabriel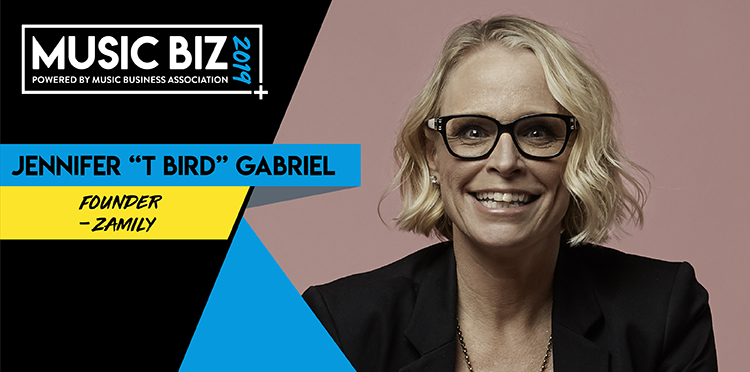 Music Biz is excited to welcome Jennifer "T Bird" Gabriel, Founder of the Zamily (the fan club for Zac Brown Band), to the Music Biz 2019 Program! She will be speaking on the panel "Finding Your Fanbase: Starting, Managing and Growing a Fan Club in the Digital Age," set for Monday, May 6 at 4 pm. Check out the Speaker Spotlight profile below to learn more about T Bird before her panel in May! You can also keep tabs on the latest featured speakers on our Speaker Spotlight Portal.
What is your favorite Music Biz memory from years past?
I loved the awards luncheon in 2018, as well as the keynote conversation with Scooter Braun (Humanitarian Award Winner). He was so inspiring, fearless, and passionate when he spoke about mental illness that at one point he actually had me moved to tears.
What is your favorite thing about Nashville — besides attending the Music Biz Conference, of course?
It seems that every time I visit Nashville, there's a new and unique restaurant, bar, or shopping complex to explore. It's like the city is ever-growing. I love supporting small businesses by spending my money at local establishments, which are everywhere in Nashville, so it's perfect for me! I also have a large group of extremely talented friends who live here, which makes it an even bigger treat when I get to come out and catch up with them.
When did you know you wanted to work in the music business? If there was no specific "Aha!" moment, what led you to working in music?
In 2009, Zac Brown asked if I wanted to run the ZBB Fan Club. At that point, neither one of us knew anything about running a fan club, but we knew the main thing we wanted to do was treat the fans exactly how we would want to be treated if we belonged to a fan club. So we decided to go our own route. We weren't going to follow the traditional model of a fan club, and for 10 years I toured with ZBB going out and connecting personally with the fans at every show – giving them an experience no other fan club offered.
What music-focused app or tech could you not live without?
I LOVE my Apple Music!
Aside from speaking, what are you most excited to experience at this year's Conference?  
My hope for this year's Conference is to meet other industry professionals who have maybe seen ZBB's fan club model as one to aspire towards, people who have seen the importance of connecting with an artist's fans on an intimate basis.
How do you discover new music?
My favorite and most reliable way to discover new music is through my friends and other artists on social media, especially Instagram.
What was your first concert OR the best concert you've ever attended? What about the show sticks with you the most?
My favorite concerts are actually Zac Brown Band! Every time those eight men hit the stage, they outright kill it. I've danced. I've gotten chills. I've even cried. Their talent is so real! I always told new fans before their first ZBB show that once they see them, they will never want to miss another one! If you haven't seen Zac Brown Band in concert, do it.
What is your dream industry project? Is there an artist or power player you'd give anything to work with?
It was already a dream industry project with the Zac Brown Band Fan Club, The Zamily! I would love to work with Kelly Clarkson though, or any artist who, like her and Zac Brown Band, feels a deep love and appreciation for their fans and who would see my team as a way to help them deepen that appreciation even further.
---
Music Biz 2019, the industry's premier business-focused event, takes place Sunday, May 5 through Wednesday, May 8 at the JW Marriott Nashville. Attendees can look forward to keynote presentations from influential industry trailblazers including Apple Music's Zane Lowe, Capitol Records' Amber Grimes, RIAA Chairman and CEO Mitch Glazier, Motown Records President/Capitol Records EVP Ethiopia Habetemariam, Caroline President Jacqueline Saturn, and CEO of Def Jam Recordings Paul Rosenberg. The event will also feature our Awards & Hall of Fame Dinner, a celebration of artistic & executive achievement sponsored by BuzzAngle Music, City National Bank, Cracker Barrel, Jammber, and TiVo. Announced thus far, Bebe Rexha and Kane Brown will receive Breakthrough Artist Awards; Darius Rucker will accept the Harry Chapin Memorial Humanitarian Award; Sony Music Nashville Chairman and CEO Randy Goodman will receive the Presidential Award for Outstanding Executive Achievement; Record Archive owners Richard Storms and Alayna Alderman will accept the Independent Spirit Award; and The Orchard Co-Founder Richard Gottehrer will receive the Outstanding Achievement Award. This year's ceremony will also see the induction of the late Sir George Martin into the Music Business Hall of Fame by his son Giles Martin, along with 12 other notable industry executives, record labels, landmarks and media outlets.

More programming and awards announcements will be made in the coming weeks. Visit musicbiz2019.com for an up-to-date Program Schedule and to register today!