MUSIC BIZ 2019 SPEAKER SPOTLIGHT — Naomi Fabricant, Face The Music Foundation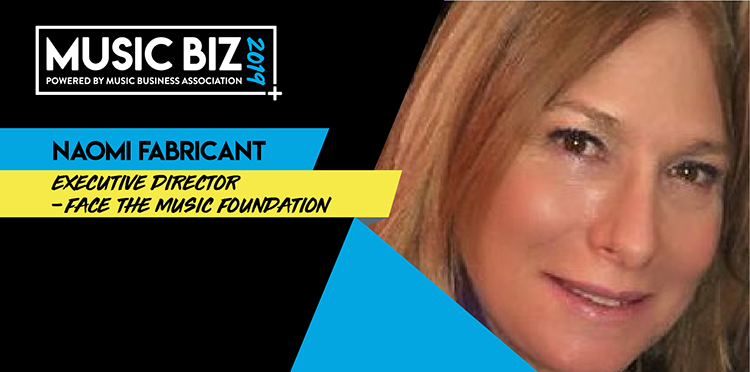 Music Biz is excited to welcome Naomi Fabricant, Executive Director of the Face The Music Foundation, to the Music Biz 2019 Program! She will be moderating the panel "Music Business and Addiction: How Music Hurts the Artist and How It Heals," set for Monday, May 6 at 3 pm. Check out the Speaker Spotlight profile below to learn more about Naomi before her panel in May! You can also keep tabs on the latest featured speakers on our Speaker Spotlight Portal.
What is your favorite Music Biz Conference memory from years past?
My favorite Music Biz Conference memory from years past is walking through the hall in the convention center and coming across a guy playing his guitar, singing and rapping – Saul Paul. He was so unique and charismatic that I needed to know him. After a conversation, a meal and attending his session, I can humbly say that we are friends and have been since that day. Saul Paul has worked with me on numerous events since our chance meeting.
Besides attending the Music Biz Conference, what is your favorite thing about Nashville?
I love Nashville so much that besides attending the Music Biz Conference I have a list of my favorite things. I enjoy the music, the food, specifically TreeHouse and Hattie B's, Leipers Fork and visiting with my friends.
What do you foresee being the most impactful trend for the industry in the coming year?
I feel that the most impactful trend for the industry is the attention that is being paid to mental health and how our industry can really make a difference using their platform.
When did you know you wanted to work in the music business? If there was no specific "Aha!" moment, what led you to working in music?
I was 15 years old, had a camera and was invited to shoot a live show at the Academy of Music in NYC. I got into the pit, looked through my camera at the lead singer of the band Hot Tuna, and as I captured the moments on film something changed forever inside of me. The rest is history.
What music-focused app or tech could you not live without?
I guess I am a bit old school; I listen to music on radio, CDs and vinyl. I realize that is not an app or the tech you're looking for, but that's where I'm at. If I really had to choose I would say I could not live without YouTube.
Aside from speaking, what are you most excited to experience at this year's Conference?
I always look forward to seeing people and catching up with those whom I haven't seen or spoken to in a year. Also, every year I look forward to meeting new people, hearing about new programs and attending amazing panels.
What are your Album of the Year and Song of the Year?
My Album of the Year is Godsmack's When Legends Rise and my Song of the Year is "Bulletproof" by Godsmack.
How do you discover new music?
I honestly discover new music through my daughter, radio, friends and television.
What was your first concert OR the best concert you've ever attended? What about the show sticks with you the most?
My first concert was Beck, Bogart and Appice, which really shows my age.
The best concert I've ever attended is a really hard one, but I will say Elton John at Madison Square Garden right after John Lennon was shot. He brought up Yoko Ono and Sean Lennon and the entire audience lit lighters while Elton sang. I honestly don't even remember what song it was because I was sobbing from the energy and the emotion.
What is your dream industry project? Is there an artist or power player you'd give anything to work with?
I am so blessed that at this time my dream has become a reality. I am currently working with Godsmack and have launched a non-profit called The Scars Foundation. I get to work with Sully Erna of whom I am a fan not only of his music, but of who he is as a person. I get to use my skill set and knowledge to help make a difference. I am certain that along the way I will meet people and power players that I didn't even know I wanted to work with and will get to work with them. This is a total dream come true!
---
Music Biz 2019, the industry's premier business-focused event, takes place Sunday, May 5 through Wednesday, May 8 at the JW Marriott Nashville. Attendees can look forward to keynote presentations from influential industry trailblazers including Apple Music's Zane Lowe, Capitol Records' Amber Grimes, RIAA Chairman and CEO Mitch Glazier, Motown Records President/Capitol Records EVP Ethiopia Habetemariam, Caroline President Jacqueline Saturn, and CEO of Def Jam Recordings Paul Rosenberg. The event will also feature our Awards & Hall of Fame Dinner, a celebration of artistic & executive achievement sponsored by BuzzAngle Music, City National Bank, Cracker Barrel, Jammber, and TiVo. Announced thus far, Bebe Rexha and Kane Brown will receive Breakthrough Artist Awards; Darius Rucker will accept the Harry Chapin Memorial Humanitarian Award; Sony Music Nashville Chairman and CEO Randy Goodman will receive the Presidential Award for Outstanding Executive Achievement; Record Archive owners Richard Storms and Alayna Alderman will accept the Independent Spirit Award; and The Orchard Co-Founder Richard Gottehrer will receive the Outstanding Achievement Award. This year's ceremony will also see the induction of the late Sir George Martin into the Music Business Hall of Fame by his son Giles Martin, along with 12 other notable industry executives, record labels, landmarks and media outlets.
More programming and awards announcements will be made in the coming weeks. Visit musicbiz2019.com for an up-to-date Program Schedule and to register today!