MUSIC BIZ 2019 SPEAKER SPOTLIGHT — Jacob Pace, Create Music Group/Flighthouse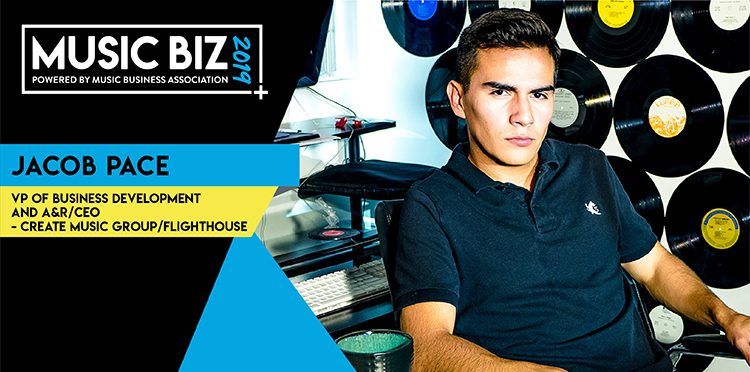 Music Biz is excited to welcome Jacob Pace, VP of Business Development & A&R for Create Music Group and CEO of Flighthouse, to the Music Biz 2019 Program! As part of this year's Career Development Workshops, he will be speaking on the panel "First Impressions Count: How a Teenager Became Create Music Group's Secret Weapon," set for Sunday, May 5 at 4 pm. Check out the Speaker Spotlight profile below to learn more about Jacob before his panel in May! You can also keep tabs on the latest featured speakers on our Speaker Spotlight Portal.
What is your favorite past Music Biz Conference memory from years past?
I've never actually been to the Music Biz Conference before but I'm looking forward to making some great memories this year!
Besides attending the Music Biz Conference, what is your favorite thing about Nashville?
This is my first time in Nashville. I've read that it's the music capital of the world so I guess its significance in music is pretty impressive. I am excited to be around the energy of this event!
What do you foresee being the most impactful trend for the industry in the coming year?
I would say just more and more artists continuing to be able to build fan bases on their own. The industry has seen a significant shift where before, in order to gain an audience you needed a major record label. Now, major record labels are starting to sign artists because they already have fanbases. In a nutshell, independent parties (management companies, artists, indie labels) are now able to do more on their own with the access and reach of the internet.
When did you know you wanted to work in the music business? If there was no specific "Aha!" moment, what led you to working in music?
I knew I wanted to work in music the day I started my first YouTube channel in 2012. It was just pure excitement to me and never felt like work. Prior to that, I wanted to be a famous musician, so if you count that, probably since I was about 12 years old.
What music-focused app or tech could you not live without?
I without a doubt couldn't live without Spotify. I've saved so much music on there that I'd be so lost without it. I have all my favorite songs, from throwbacks to newer music.
Aside from speaking, what are you most excited to experience at this year's Conference?
I am most excited about being in Nashville for the first time and connecting with all the cool people that make this city move!
What are your Album of the Year and Song of the Year for 2018?
Maybe it sounds cliche, but ASTROWORLD would be my Album of the Year — "Sicko Mode" is an undeniable hit and there's actually a lot of great tracks on the album! As for Song of the Year, I really like what BTS has been doing recently — "Fake Love" is a bop!
How do you discover new music?
I discover new music all kinds of ways. I use Spotify playlists, YouTube, word of mouth and Instagram.  
What was your first concert OR the best concert you've ever attended? What about the show sticks with you the most?
The best concert I've ever attended was my first time at Coachella in 2016. It was pretty amazing getting to experience such a wide lineup of different genres at one festival.
What is your dream industry project? Is there an artist or power player you'd give anything to work with?
A dream industry project would probably be producing a hit from the ground up. It could mean setting up a studio session that turns into a #1 song, or creating some kind of content series that is enjoyed by millions on a consistent basis.
---
Music Biz 2019, the industry's premier business-focused event, takes place Sunday, May 5 through Wednesday, May 8 at the JW Marriott Nashville. Attendees can look forward to keynote presentations from influential industry trailblazers including Apple Music's Zane Lowe, Capitol Records' Amber Grimes, RIAA Chairman and CEO Mitch Glazier, Motown Records President/Capitol Records EVP Ethiopia Habetemariam, Caroline President Jacqueline Saturn, and CEO of Def Jam Recordings Paul Rosenberg. The event will also feature our Awards & Hall of Fame Dinner, a celebration of artistic & executive achievement sponsored by BuzzAngle Music, City National Bank, Cracker Barrel, Jammber, and TiVo. Announced thus far, Bebe Rexha and Kane Brown will receive Breakthrough Artist Awards; Darius Rucker will accept the Harry Chapin Memorial Humanitarian Award; Sony Music Nashville Chairman and CEO Randy Goodman will receive the Presidential Award for Outstanding Executive Achievement; Record Archive owners Richard Storms and Alayna Alderman will accept the Independent Spirit Award; and The Orchard Co-Founder Richard Gottehrer will receive the Outstanding Achievement Award. This year's ceremony will also see the induction of the late Sir George Martin into the Music Business Hall of Fame by his son Giles Martin, along with 12 other notable industry executives, record labels, landmarks and media outlets.
More programming and awards announcements will be made in the coming weeks. Visit musicbiz2019.com for an up-to-date Program Schedule and to register today!