MUSIC BIZ 2019 SPEAKER SPOTLIGHT — J. Anthony Allen, Slam Academy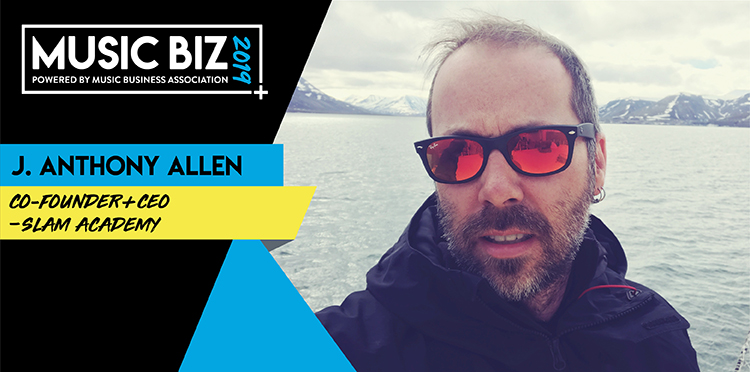 Music Biz is excited to welcome J. Anthony Allen, Co-Founder and CEO of Slam Academy, to the Music Biz 2019 Program! As part of this year's Career Development Workshops, he will be speaking on the panel "The Journey of a Music Entrepreneur," set for Sunday, May 5 at 3 pm. Check out the Speaker Spotlight profile below to learn more about him before his panel in May! You can also keep tabs on the latest featured speakers on our Speaker Spotlight Portal.
What do you foresee being the most impactful trend for the industry in the coming year?
I think the most impactful trend will be blockchain. We are already starting to see some streaming services trying to take advantage of the concept, and I can see it growing in a way that results in a lot of elegant solutions to the problems we face. It is an exciting technology for us.
How do you discover new music?
I discover new music through my students. I put as an extra-credit question on all of my university exams, "What music should I be listening to?" I usually generate a long list of things to check out from that. Otherwise, I just listen to what students are talking about. It seems that no matter how hard I try to stay in touch, they are always three steps ahead of me on new artists.
What is your dream industry project? Is there an artist or power player you'd give anything to work with?
I'm very interested in the moment at the intersection of online education, virtual reality, and music education. My dream project would be to develop online class content in a virtual reality space, where I can teach a topic and interact with students from all over the planet. I dream of being able to both teach and to take classes in a virtual world where everyone shares their music and we can see and hear each other in real time. I think it will happen in the next 10 years, maybe even five.
---
Music Biz 2019, the industry's premier business-focused event, takes place Sunday, May 5 through Wednesday, May 8 at the JW Marriott Nashville. Attendees can look forward to keynote presentations from influential industry trailblazers including Apple Music's Zane Lowe, Capitol Records' Amber Grimes, RIAA Chairman and CEO Mitch Glazier, Motown Records President/Capitol Records EVP Ethiopia Habetemariam, Caroline President Jacqueline Saturn, and CEO of Def Jam Recordings Paul Rosenberg. The event will also feature our Awards & Hall of Fame Dinner, a celebration of artistic & executive achievement sponsored by BuzzAngle Music, City National Bank, Cracker Barrel, Jammber, and TiVo. Announced thus far, Bebe Rexha and Kane Brown will receive Breakthrough Artist Awards; Darius Rucker will accept the Harry Chapin Memorial Humanitarian Award; Sony Music Nashville Chairman and CEO Randy Goodman will receive the Presidential Award for Outstanding Executive Achievement; Record Archive owners Richard Storms and Alayna Alderman will accept the Independent Spirit Award; and The Orchard Co-Founder Richard Gottehrer will receive the Outstanding Achievement Award. This year's ceremony will also see the induction of the late Sir George Martin into the Music Business Hall of Fame by his son Giles Martin, along with 12 other notable industry executives, record labels, landmarks and media outlets.
Visit musicbiz2019.com for an up-to-date Program Schedule and to register today!