MUSIC BIZ 2019 SPEAKER SPOTLIGHT — Erin Anderson, Olivia Management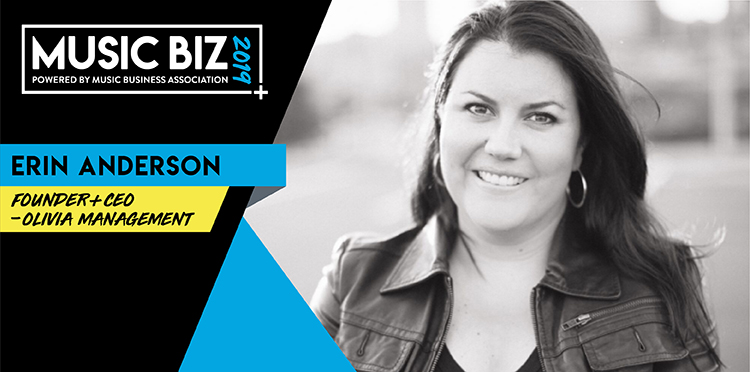 Music Biz is excited to welcome Erin Anderson, Founder and CEO of Olivia Management, to the Music Biz 2019 Program! As part of the Conference's Career Development Workshops, she will be speaking on the panel "Why In-Person Relationships Are More Important Than Your Follower Count," set for Sunday, May 5 at 11:30 am. Check out the Speaker Spotlight profile below to learn more about Erin before her panel in May!
Besides attending the Music Biz Conference, what is your favorite thing about Nashville?
I love the community here. Artists are friends, co-writers, and tour mates. Business people help each other out, send each other clients, and recommend interns. I feel like I have a great, encouraging community here of people who are all in this to spread great music. It's an honor to live here. Also, hot chicken.
When did you know you wanted to work in the music business? If there was no specific "Aha!"moment, what led you to working in music?
My father is a serial entrepreneur, so business was always part of my brain from a young age. I grew up watching his businesses grow. Then, as a high schooler I got a job in a record store and I realized that I could use my business brain to sell something I was more passionate about and work to grow artists that impacted the world with the beauty of their art. That started me on a path that led to a Music Business (and Entrepreneurship!) Degree from Belmont, a job at Universal Music Group Nashville, an MBA in Entrepreneurship and Strategy from Vanderbilt, a stint as a project manager on the music team at Amazon, and finally to start my own company managing musicians. I feel like it's in my blood and in my heart.
What music-focused app or tech could you not live without?
I am a big advocate of Artist Growth. We use their app for all of my artists and I can't imagine how I did this job before they existed! It's a great place to house all data about shows, and all of our artists' calendars are automatically updated when things change or are updated. Most of the time when an artist calls me, I find myself saying "Did you check Artist Growth? It's all in there!" The second piece of tech that I could not live without is followupthen.com. It's so simple and it helps me remember to follow up with people when I say I will.
What are your Album of the Year and Song of the Year?
This might be the first year ever that my album of the year matched up with the Grammy's: Kacey Musgraves forever!! Also, I love the music that I work on, and three of our artists put out records last year that I love. My favorite songs from those are Lydia Luce's song "Azalea," Matthew Perryman Jones' "Careless Man," and Hush Kids' "Morning is Made." Those three songs will stay on my playlists for years to come.
How do you discover new music?
I ask all of my employees and interns to send me the new music that they discover weekly; we make playlists and share them around the office. We have a Sonos system so I encourage our interns to put on the music that they love on the speakers in the office. I also teach a class as an adjunct at Belmont University and I ask all of my students to tell me three bands each semester that they love that they think I might not have heard about yet. It's incredibly enlightening.
What was your first concert OR the best concert you've ever attended? What about the show sticks with you the most?
My first concert was Creed. I'm not sure if I should brag about that or not, but it certainly makes me chuckle to think about it now. I just remember a lot of pyrotechnics and pleather. While I've been lucky enough to attend some amazing shows at the Ryman, and a few at Red Rocks, and a few at the Gorge, my favorite concert I've ever attended was Paul McCartney on his world tour in 2014 at an arena in Florida. I got to take my dad to see his hero, and it was very special. The power of music is incredible.
---
Music Biz 2019, the industry's premier business-focused event, takes place Sunday, May 5 through Wednesday, May 8 at the JW Marriott Nashville. Attendees can look forward to keynote presentations from influential industry trailblazers including Apple Music's Zane Lowe, Capitol Records' Amber Grimes, RIAA Chairman and CEO Mitch Glazier, and CEO of Def Jam Recordings Paul Rosenberg. The event will also feature our Awards & Hall of Fame Dinner, a celebration of artistic & executive achievement sponsored by BuzzAngle Music, City National Bank, Cracker Barrel, Jammber, and TiVo. Announced thus far, Bebe Rexha and Kane Brown will receive Breakthrough Artist Awards; Darius Rucker will accept the Harry Chapin Memorial Humanitarian Award; Sony Music Nashville Chairman and CEO Randy Goodman will receive the Presidential Award for Outstanding Executive Achievement; Record Archive owners Richard Storms and Alayna Alderman will accept the Independent Spirit Award; and The Orchard Co-Founder Richard Gottehrer will receive the Outstanding Achievement Award.

More programming and awards announcements will be made in the coming weeks. Visit musicbiz2019.com for an up-to-date Program Schedule and to register today!