MUSIC BIZ 2019 SPEAKER SPOTLIGHT — Chris Lakey, Kobalt Music Group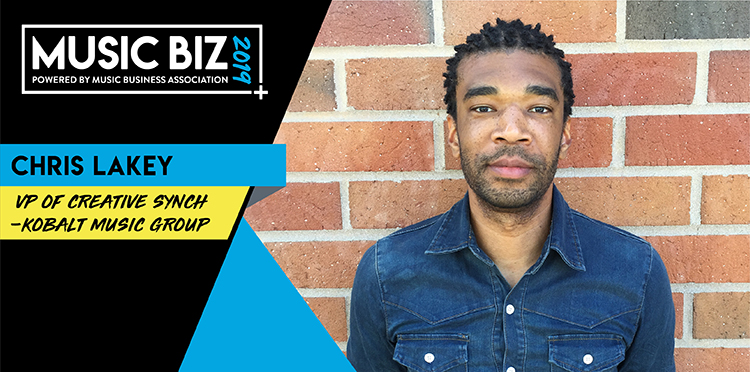 Music Biz is excited to welcome Chris Lakey, VP of Creative Synch for Kobalt Music Group, to the Music Biz 2019 Program! He will be speaking on the panel "The "Real Deal" On Getting Your Song Synced," set for Tuesday, May 7 at 4 pm. Check out the Speaker Spotlight profile below to learn more about Chris before his panel in May!
What is your favorite thing about Nashville — besides attending the Music Biz Conference, of course?
Well I've been coming to Nashville for many years, not only because of work but because my brother went to Vanderbilt. I always enjoy finding new food spots in Nashville. Be it some new pop-up restaurant or a hole in a wall spot, Nashville has a very underrated food scene.
What do you foresee being the most impactful trend for the industry in the coming year?
We are within the trend now, but I would say the enormous amount of content and content creators will be/is the most impactful trend in the industry. This applies to all media not just music. With this influx of content being created and/or acquired, there is much more opportunity for music placement.
When did you know you wanted to work in the music business? If there was no specific "Aha!" moment, what led you to working in music?
It was four weeks into college. I was a Business Major and a Music Industry minor. Once I discovered the litany of jobs and careers within the music industry, I set out to figure out what I wanted to do within the industry.
What music-focused app or tech could you not live without?
I personally can't live without Spotify, but I also love Soundcloud surfing.
Aside from speaking, what are you most excited to experience at this year's Conference?
Meeting creative individuals within different sects of the industry.  It is always interesting to hear others perspectives on their sliver of the industry or the industry in general.
What are your Album of the Year and Song of the Year?
The year is so young (it's March 2019 at the time of this interview) but it would either be Solange's new album or Toro Y Moi's newest album.  Song of the year, so far, for me is either Mahalia – "Do Not Disturb", Karen O x Danger Mouse – "Lux Prima", Toro Y Moi – "Freelance" or Solange – "Almeda"
How do you discover new music?
A number of ways, but the best is still word of mouth by either my friends or industry colleagues.  I also like to Soundcloud surf, use Spotify playlists and I frequently visit a number of music blogs that haven't let me down over the years.
What was your first concert OR the best concert you've ever attended? What about the show sticks with you the most?
It wasn't the best concert I've ever been to, but it definitely is in my Top 5 ever and that was Childish Gambino's second to last show at the LA Forum. It was performance art with every detail meticulously thought out, however it was also so free-flowing. Anytime you can get an LA crowd arena to put down their phones, be engaged the entire show and get me to stay out late on a Sunday night, that's awesome!
What is your dream industry project? Is there an artist or power player you'd give anything to work with?
It sounds cliché, but I get to work on my dream projects daily and yearly. I like the challenge and excitement of trying to plug music into film, TV, trailer and ad projects even into projects that usually wouldn't be my cup of tea. It is exciting, especially when something sticks. There really isn't anyone I'd give everything to work with as, again cliché, I get to work with some of my personal musical heroes and legends already. Wouldn't want to get too greedy!
---
Music Biz 2019, the industry's premier business-focused event, takes place Sunday, May 5 through Wednesday, May 8 at the JW Marriott Nashville. Attendees can look forward to keynote presentations from influential industry trailblazers including Apple Music's Zane Lowe, Capitol Records' Amber Grimes, RIAA Chairman and CEO Mitch Glazier, and CEO of Def Jam Recordings Paul Rosenberg. The event will also feature our Awards & Hall of Fame Dinner, a celebration of artistic & executive achievement sponsored by BuzzAngle Music, City National Bank, Cracker Barrel, Jammber, and TiVo. Announced thus far, Bebe Rexha and Kane Brown will receive Breakthrough Artist Awards; Darius Rucker will accept the Harry Chapin Memorial Humanitarian Award; Sony Music Nashville Chairman and CEO Randy Goodman will receive the Presidential Award for Outstanding Executive Achievement; Record Archive owners Richard Storms and Alayna Alderman will accept the Independent Spirit Award; and The Orchard Co-Founder Richard Gottehrer will receive the Outstanding Achievement Award.
More programming and awards announcements will be made in the coming weeks. Visit musicbiz2019.com for an up-to-date Program Schedule and to register today!