MUSIC BIZ 2019 SPEAKER SPOTLIGHT — Britnee Foreman, Songtrust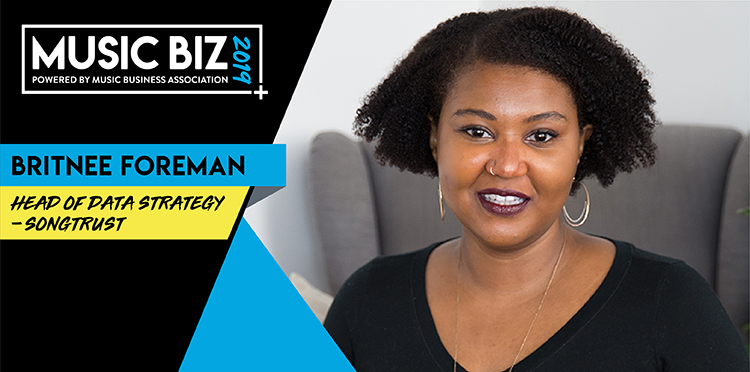 Music Biz is excited to welcome Britnee Foreman, Head of Data Strategy for Songtrust, to the Music Biz 2019 Program! As part of the Indie Artist & Songwriter Forum, powered by Songtrust, she will be interviewing Blockchain Music Artist Shelita Burke in a session called "Music Inside a Blockchain World: Why Artists Will Lead the Blockchain Revolution," set for Monday, May 6 at 3:30 pm. Check out the Speaker Spotlight profile below to learn more about Britnee before her panel in May!
Besides attending the Music Biz Conference, what is your favorite thing about Nashville?
The Southern hospitality!
What do you foresee being the most impactful trend for the industry in the coming year?
So many! We will start to see results from the passing of the MMA in the calendar year. There are also more companies expanding to Asian and African markets, so it'll be really interesting to see that unfold.
When did you know you wanted to work in the music business? If there was no specific "Aha!" moment, what led you to working in music?
In college, I was volunteering doing lights and sound at a church. That church was also incidentally the home base for the David Crowder Band. Being around that community that they had built and working with them inspired me to use my business degree to work with musicians.
What music-focused app or tech could you not live without?
Digital streaming. I am almost always listening to music.
Aside from speaking, what are you most excited to experience at this year's Conference?
I thoroughly enjoy all the meetings I'm able to take during Music Biz and meeting new people.
What are your Album of the Year and Song of the Year?
Please don't make me choose!
How do you discover new music?
Through Instagram, Twitter, The Genome, Discover Weekly, and of course friends.
---
Music Biz 2019, the industry's premier business-focused event, takes place Sunday, May 5 through Wednesday, May 8 at the JW Marriott Nashville. Attendees can look forward to keynote presentations from influential industry trailblazers including Apple Music's Zane Lowe, Capitol Records' Amber Grimes, RIAA Chairman and CEO Mitch Glazier, and CEO of Def Jam Recordings Paul Rosenberg. The event will also feature our Awards & Hall of Fame Dinner, a celebration of artistic & executive achievement sponsored by BuzzAngle Music, City National Bank, Cracker Barrel, Jammber, and TiVo. Announced thus far, Bebe Rexha and Kane Brown will receive Breakthrough Artist Awards; Darius Rucker will accept the Harry Chapin Memorial Humanitarian Award; Sony Music Nashville Chairman and CEO Randy Goodman will receive the Presidential Award for Outstanding Executive Achievement; Record Archive owners Richard Storms and Alayna Alderman will accept the Independent Spirit Award; and The Orchard Co-Founder Richard Gottehrer will receive the Outstanding Achievement Award.

More programming and awards announcements will be made in the coming weeks. Visit musicbiz2019.com for an up-to-date Program Schedule and to register today!