Dolly Parton and Linda Perry to Headline Grand Finale Segment of 'Music's Leading Ladies Speak Out' Program at Music Biz 2018 Conference in Nashville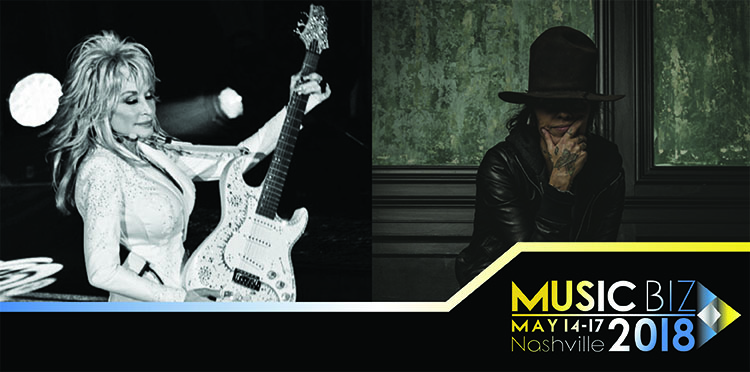 Powered by Nielsen Music, program will also feature Keynote Interview with Republic Records' Wendy Goldstein and Julia Michaels artist manager Beka Tischker conducted by Billboard's Melinda Newman; presentation from Nielsen Music's Erin Crawford; and panel featuring MAC Presents' Marcie Allen, CAA's Marlene Tsuchii, SESAC's Kelli Turner, and Maren Morris artist manager Janet Weir
May 10, 2018 – Renowned actress, author, producer, and Country music icon Dolly Parton will join artist, producer, label head, and Songwriters Hall of Fame member Linda Perry for the grand finale of the Music Business Association's (Music Biz) Music's Leading Ladies Speak Out program. Powered by Nielsen Music, the event will be held on Tuesday, May 15, at 4 p.m. CT during the Music Biz 2018 conference at the Omni Nashville Hotel. Parton and Perry, who recently collaborated on the upcoming Dumplin' soundtrack on Dolly Records/RCA Nashville (film directed by Anne Fletcher, starring Jennifer Aniston and Danielle MacDonald), will discuss their songwriting process, which between the two women has led to scores of gold, platinum, or multi-platinum-certified tracks and top 10 Country and Pop hits.
"Dolly and Linda are two of the most successful and influential artists, songwriters, producers, and businesswomen in the world, and we are honored to have them close out our third annual Music's Leading Ladies Speak Out program," said James Donio, President of Music Biz. "Their phenomenal work has broken down many barriers for women in the industry, and we can't wait to hear about their respective paths to music business success and advice for young women looking to reach the same heights they have attained."
Dolly Parton is the most honored female country performer of all time. Achieving 25 RIAA certified gold, platinum and multi-platinum awards, she has had 25 songs reach #1 on the Billboard Country charts, a record for a female artist. She has 41 career top 10 country albums, a record for any artist, and she has 110 career-charted singles over the past 40 years. All-inclusive sales of singles, albums, hits collections, paid digital downloads and compilation usage during her Hall of Fame career have reportedly topped a staggering 100 million records – which includes sales of her 2016 chart-topping disc Pure & Simple, her first number one album on the Billboard Country Album charts in twenty-five years. She has garnered eight Grammy Awards – including a 2017 win with Pentatonix in the Country Duo/Group Performance category for their collaboration on her iconic 1973 hit "Jolene" – 10 Country Music Association Awards, five Academy of Country Music Awards, three American Music Awards and is one of only five female artists to win the Country Music Association's Entertainer of the Year Award. In 1999 Parton was inducted as a member of the Country Music Hall of Fame. She has her own star on the Hollywood Walk of Fame and became a member of the National Academy of Popular Music Songwriters Hall of Fame in 2001. Broadcast Music Inc. honored Parton with their Icon Award in 2003, and in 2004 the U.S. Library of Congress presented her with their Living Legend Award for her contribution to the cultural heritage of the United States. This was followed in 2005 with the National Medal of Arts, the highest honor given by the U.S. government for excellence in the arts. The honors keep coming. The 2016 made for television movie, Dolly Parton's Christmas of Many Colors: Circle of Love is nominated in the "Television Movie" category for the 69th Annual Emmy Awards. The film also won in the TV and Cable category at the 68th Annual Christopher Awards, which also includes the Movieguide Epiphany Prize for Television. The film served as the follow-up to her highly rated 2015 film Coat Of Many Colors, also broadcast on NBC, which won the Academy of Country Music's Tex Ritter Award. In fall of 2017, Dolly released her first children's album, "I Believe In You," a collection of songs for the young and young at heart on Dolly Records through her partnership with Sony Music Nashville. Kicking off 2018 in a momentous way, in January Parton received her first two Emmy Awards  as the National Association of Television Arts & Sciences (NATAS) Midsouth recognized the legend's lifetime of giving back with the Governor's Award and also presented her the Best Community Service program trophy for her Smoky Mountains Rise telethon, which raised more than $13 million dollars for her My People Fund which provided financial assistance to victims of the massive wildfires that impacted the Gatlinburg, Tennessee area in late November 2016. Also in January, Dolly Parton was honored with two Guinness World Records for the most decades with a Top 20 hit on Billboard's Hot Country Songs chart and most hits on Billboard's Hot Country Songs chart by a female artist.
Songwriters Hall of Fame inductee Linda Perry is best known for her work as the lead singer and chief songwriter of 4 Non Blondes, writing and performing the Billboard Hot 100 Top 20 hit "What's Up?" Through her work as a multi-platinum producer and songwriter, she has had a profound impact on pop culture at large, and an especially resounding impact on female empowerment, supplying artists such as P!nk, Christina Aguilera, Alicia Keys, Britney Spears, and Adele with her uniquely creative services. This has resulted in Top 20 hits such as P!nk's "Get the Party Started," Christina Aguilera's "Beautiful" and "Keeps Gettin' Better," and Celine Dion's "My Love."
The Music's Leading Ladies Speak Out program will kick off with a presentation from Erin Crawford, Senior Vice President & General Manager of Nielsen Music, the industry's leading source of music data, insights, and analytics. Nielsen Music powers the official Billboard charts and provides the most comprehensive data-driven solutions in the business. Crawford will share exclusive insights and analytics on the growing influence of female fans in today's music industry, spotlighting the music habits of women across generations, key differences between male and female fans, and new ways to drive deeper engagement with these powerful consumers.
The presentation will be followed by an Executive Keynote with Wendy Goldstein, EVP of A&R at Republic Records, and Beka Tischker, manager of Music Biz 2018 Breakthrough Artist Julia Michaels, who will both be interviewed by Melinda Newman of Billboard. Goldstein will discuss her journey through the music industry, her work experiences and achievements, her thoughts on work/life balance, and her advice for those building their careers in the music business, after which she will be joined by Tischker to examine how they facilitated the evolution of Michaels from a behind-the-scenes hitmaking songwriter to a GRAMMY Award-nominated multi-platinum-certified artist.
A panel discussion will follow featuring Marcie Allen, President of MAC Presents, Marlene Tsuchii, Co-Head of International Touring & Music Agent at CAA; Kelli Turner, EVP of Operations, Corporate Development & CFO at SESAC; and Janet Weir, Manager of Maren Morris at 42 Entertainment/Red Light Management. They will discuss the challenges faced by women in music in 2018, reveal how they have broken the glass ceiling, and how they steer female artists through the competition and demands of today's music business. Parton and Perry will then bring the program to a close.
The Music Biz Conference is the music industry's premier event, giving the commerce and content sectors a place to meet with trading partners, network with new companies, learn about new trends and products impacting the music business, as well as music creatives a place to discuss their craft and learn more about the legal, metadata, financial, and other matters that impact their royalties. The 2018 event, which will celebrate the Association's 60th anniversary, will feature the presentation of the Presidential Award for Outstanding Executive Achievement to Cary Sherman, CEO of the Recording Industry Association of America (RIAA), who will be honored with a live performance from Country star Kelsea Ballerini; the Harry Chapin Memorial Humanitarian Award to Scooter Braun, who will also participate in a Keynote interview conducted by noted Washington, DC, Strategist and women's rights advocate Hilary Rosen; the Artist of the Year Award to Ed Sheeran; the Chairman's Award for Sustained Creative Achievement to Nile Rodgers; an Outstanding Achievement Award to record-breaking hit song "Despacito"; a Breakthrough Artist Award to Republic Records singer/songwriter Julia Michaels; and the Independent Spirit Award to the Radakovitz Family, owners of the iconic Sacramento, CA-based record store chain, Dimple Records. In addition, Roger Lynch, President and CEO of Pandora, will keynote a Featured Presentation where he will be joined by Randy Goodman, Chairman and CEO of Sony Music Nashville, and Wendy Goldstein, EVP of A&R at Republic Records, will Keynote the Music's Leading Ladies Speak Out program. The conference will also feature the launch of the Music Business Hall of Fame, with a tribute to first inductee and late Tower Records Founder Russ Solomon from acclaimed actor and director Colin Hanks; the first-ever #NEXTGEN_NOW panel, featuring success stories from young industry executives; and "Trendspotting: The Power of Queer Storytelling in Song," a panel produced in partnership with GLAAD. For the full Music Biz 2018 preliminary schedule, visit http://musicbiz2018.sched.com.
Registration for Music Biz 2018 is open now at http://musicbiz2018.eventbrite.com. For more information, visit www.musicbiz2018.com.