MUSIC BIZ SPEAKER SPOTLIGHT — Nathan Dohse, AGD Entertainment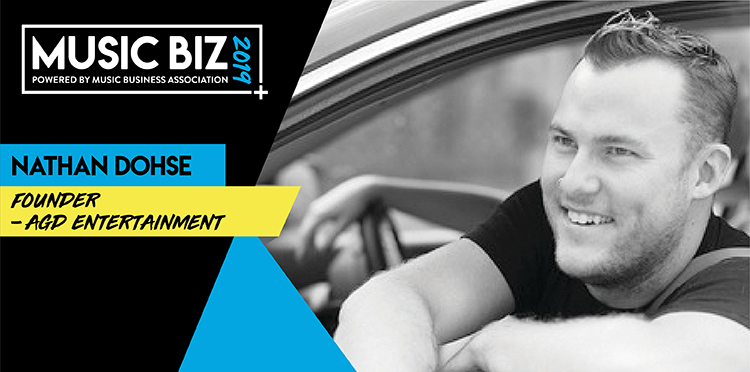 Music Biz is excited to welcome Nathan Dohse, Founder and COO of AGD Entertainment, to the Music Biz 2019 Program! As part of this year's Career Development Workshops, he will moderate the panel "Who Even Am I? Entrepreneur, Corporate, Freelancer?," set for Sunday, May 5 at 10:30 am. Check out the Speaker Spotlight profile below to learn more about Nathan before his panel in May! You can also keep tabs on the latest featured speakers on our Speaker Spotlight Portal.
What is your favorite Music Biz Conference memory from years past?
Last year was my first time speaking at the Conference, and when I got my schedule I saw plenty of amazing panels happening at the same time as my panel. I thought surely everyone would be at the BIG panels but our room ended up wall to wall. It just shows you how large of an audience attends the Conference and that everyone is looking for different things from the programming. The Music Biz team does a great job of providing variety for that purpose.
Besides attending the Music Biz Conference, what is your favorite thing about Nashville?
I moved to Nashville a little over seven years ago, and what has always struck me to this day about the city was the camaraderie. Like any industry, we can be very competitive, but the people in Nashville would rather see you succeed than fail and we help each other get ahead whenever possible.
What do you foresee being the most impactful trend for the industry in the coming year?
I come from a kind of Punk Rock background, so I'm always fascinated with how countercultures are affected by mainstream trends. While everyone is talking about algorithms, A.I. creating music, and other tech-based advances (which are all amazing and will definitely change everything), I foresee the counterculture focused on IRL (In Real Life) music activation. What's really exciting is where these two meet!
When did you know you wanted to work in the music business? If there was no specific "Aha!" moment, what led you to working in music?
My high school Punk band rented out a dance rehearsal studio to throw a DIY show and filled it with hundreds of kids on a Friday night. We kept doing that and eventually they kicked the dancers out and turned it into an official venue. HaHaHa!
How do you discover new music?
I discover new music primarily from going to shows and concerts. If a local group is getting buzz, I make sure to catch their album release show. Or, if I see someone doing well on socials and they're passing through town, I'll try to make it to see them. If it's a larger concert, I love to catch the opener and listen to their catalogue beforehand. Even if I can't make it to the show, if there's an opening band for a large name artists I haven't seen, I'll check them out. It's just fascinating to see who the up-and-comers are. Other than that, I discover new music just by talking with people or paying attention to our local radio station, Lightning 100.
What was your first concert OR the best concert you've ever attended? What about the show sticks with you the most?
The best concert I've ever attended was Jack's Mannequin at Summerfest. The show was nearly rained out, but the crowd stood waiting for two hours with no music happening just to see if they would call it or not. Finally, when the rain let up the band came out and, during their song "Dark Blue" (which was a pretty solid radio single), Andrew McMahon announced he had just officially beat leukemia — I mean, it doesn't get much better than that.  
What is your dream industry project? Is there an artist or power player you'd give anything to work with?
Our mission at AGD Entertainment is to build the foundation for developing artists. So I guess my dream has always been that one year we would be watching the GRAMMYs and half the artists nominated would have passed through our doors at one point in time and they'd be able to say it had all started with AGD.
---
Music Biz 2019, the industry's premier business-focused event, takes place Sunday, May 5 through Wednesday, May 8 at the JW Marriott Nashville. Attendees can look forward to keynote presentations from influential industry trailblazers including Apple Music's Zane Lowe, Capitol Records' Amber Grimes, RIAA Chairman and CEO Mitch Glazier, Motown Records President/Capitol Records EVP Ethiopia Habetemariam, Caroline President Jacqueline Saturn, and CEO of Def Jam Recordings Paul Rosenberg. The event will also feature our Awards & Hall of Fame Dinner, a celebration of artistic & executive achievement sponsored by BuzzAngle Music, City National Bank, Cracker Barrel, Jammber, and TiVo. Announced thus far, Bebe Rexha and Kane Brown will receive Breakthrough Artist Awards; Darius Rucker will accept the Harry Chapin Memorial Humanitarian Award; Sony Music Nashville Chairman and CEO Randy Goodman will receive the Presidential Award for Outstanding Executive Achievement; Record Archive owners Richard Storms and Alayna Alderman will accept the Independent Spirit Award; and The Orchard Co-Founder Richard Gottehrer will receive the Outstanding Achievement Award. This year's ceremony will also see the induction of the late Sir George Martin into the Music Business Hall of Fame by his son Giles Martin, along with 12 other notable industry executives, record labels, landmarks and media outlets.
More programming and awards announcements will be made in the coming weeks. Visit musicbiz2019.com for an up-to-date Program Schedule and to register today!