2019 Music Biz Awards & Hall of Fame Dinner Recap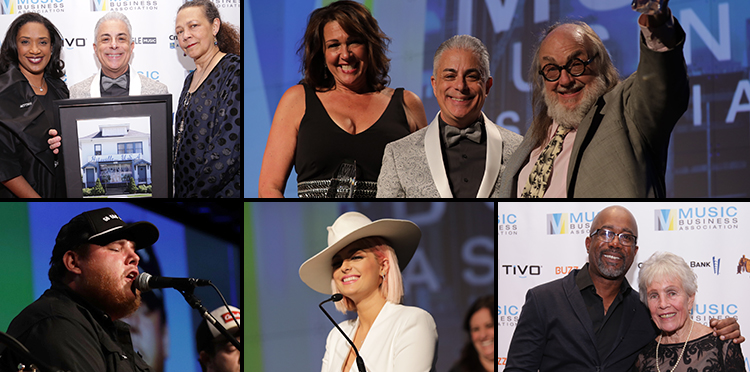 Music Biz's annual celebration of artistic and executive achievement, the Music Biz Awards & Hall of Fame Dinner, was held Tuesday, May 7, as part of the Music Biz 2019 Conference at the JW Marriott Nashville. This year's ceremony was sponsored by BuzzAngle Music, City National Bank, Cracker Barrel, Jammber, and TiVo.
The slate of 2019 Music Biz Award winners included:
To celebrate Randy Goodman's Presidential Award, CMA and ACM Award-winning Country Music artist Luke Combs performed a special acoustic set of his chart-topping hits "Beautiful Crazy" and "She Got The Best of Me."
This year also saw the expansion of the Music Biz Hall of Fame, which for the first time featured the induction media outlets, landmarks & venues, record labels, and industry executives. Most notably, the program honored industry legend and famed Beatles producer, the late Sir George Martin, presenting his Hall of Fame plaque to his son, GRAMMY-winning producer, composer and arranger, Giles Martin.
The rest of the night's Hall of Fame inductees included:
Media Outlets
Landmarks & Venues
Apollo Theatre
CBGB
Hitsville U.S.A. — The Birthplace of Motown
Sun Studio
Troubadour
Record Labels
Atlantic Records
Capitol Records
Sub Pop
Industry Executives
Ahmet Ertegun
Herb Abramson
Miriam Abramson (later Beinstock)
For a full recap of Music Biz 2019, including the acceptance speeches of this year's Award Winners, visit our Recap Page linked here.