[WEBINAR SERIES] – Become a Future Leader of Entertainment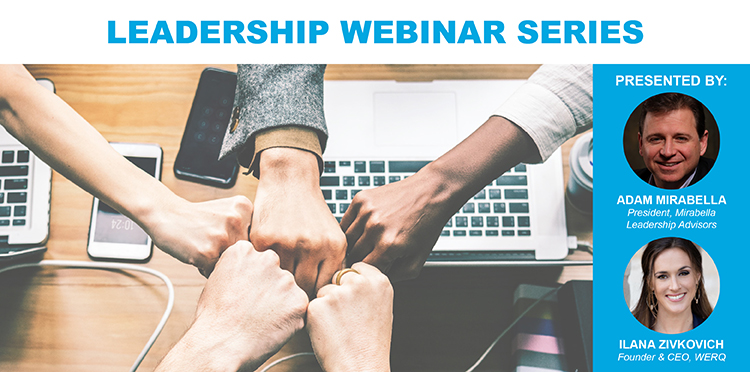 The entertainment space continues to evolve at an unprecedented pace. That's why it is important to evolve as an executive. While it is key to have functional expertise in a certain part of the music business (retail, label sales & marketing, A&R, music tech), that is not enough to ensure a long career in our industry.
Led by two Certified Executive Coaches, Adam Mirabella and Ilana Zivkovich, this four-part series will give you the insights and tools to become a leader that drives results across all parts of the business by understanding how to motivate the people you work with!
February 14  •  2-3 PM ET
Leadership Foundations
Every leader is different, but all great leaders know where they want to take their team. Create the environment that allows your people to succeed. Own the leadership space that will propel you, your company and your career.
March 7  •  2-3 PM ET
Creating Your Personal Brand
Being in the entertainment business, we deal with artists' brands all the time, but how many of us take time out to think about our professional brand? Learn ways to define and refine your brand to make an impression inside and outside of your organization. A strong personal brand will bring new opportunities for you and your company.
April 4  •  2-3 PM ET
Engage and Mobilize Your Team
Once you have a firm command of your leadership presence, explore powerful ideas to motivate and engage the people you interact with every day. Find ways to inspire creativity from the people you manage or partner with by understanding how best to reach them.
May 6   •  2:15-3 PM ET
(Offered both as a webinar and as a face-to-face event for those attending Music Biz 2019)
Emotional Intelligence: Your Ultimate Leadership Differentiator
People look for "Emotional Intelligence" in their leaders, but how do you actually embrace and model it? Start to understand why this leadership quality has a greater impact than anything else. Then, get a view of the steps to master this important trait to benefit the people you lead and your career.
About the Presenters:
Adam Mirabella is a 17-year music industry veteran, having led the digital revolution from inside formidable companies like Warner Music, Sony Music, Omnicom, and Nokia. An experienced leader and a Certified Executive Coach and trainer, he specializes in helping executive leaders galvanize their teams into focused, consumer-minded, winning organizations that build the fan-artist relationship and grow market share, revenue and profit.
Ilana Zivkovich is the founder & CEO of WERQ, a strategic leadership advisory firm headquartered in Austin, TX. An experienced executive leader and Certified Executive Coach, she is passionate about creating developmental experiences for top-level professionals that combine personal growth, professional empowerment and a high focus on tangible results.