[MUSIC BIZ LAW CONFERENCE RECAP] Panel 3 — Navigating the Dimensions of Metadata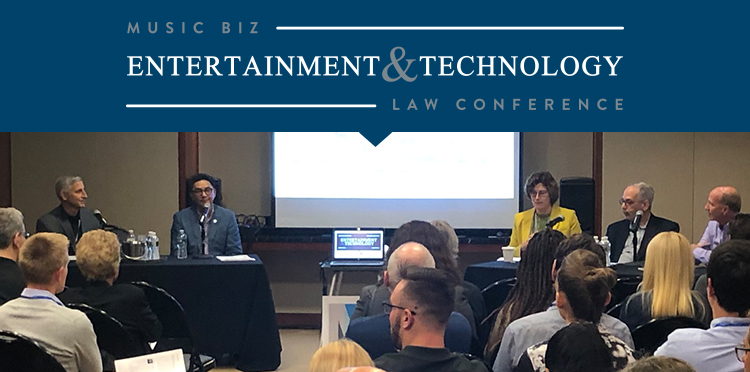 Music Biz continues its recap of last week's Entertainment & Technology Law Conference with a look at the day's third panel, "Navigating the Dimensions of Metadata!" In this session, experts representing Jaxsta, Songtrust, Universal Music Group and more to discuss the state of metadata processing and how technology can help clear up currently posed issues.
As on-demand music streaming continues to drive major growth for the music business, the industry has shifted from employing full-time individuals to manually enter information from CD liner notes to tech-based solutions of logging music metadata. This is essential in keeping up with the stark increase in content added to digital platforms every day, and as the songwriting process grows more complicated in an era of collaboration, stems and sampling. Unfortunately, the quality of music metadata has not yet risen to a level that ensures accurate logging of all parties responsible for the music we consume, leading to major issues in the compensation process for creatives. Panel moderator Laurie Jakobsen of Jaybird Communications stated that the goal of perfect metadata integration is akin to installing a jacuzzi in a house, and that right now the industry, "is working on fixing the pipes before the jacuzzi can even be delivered."

The melding of the music business and technology has opened many doors for both creatives and consumers to easily share and discover, respectively, music that may have gone by the wayside without major label promotion in decades past. However, gone is the expectation that consumers can receive specific, targeted recommendations for their favorite types of music ala speaking to a local record store guru. As UMG Special Technology Consultant Howie Singer put it, if a smart speaker user says, "I Love Glenn Campbell and I want to hear more like him," the speaker cannot give them artists similar in genre, sound, mood, and beyond. Jakobsen added that smart speakers can only answer questions that they have answers for. If a user wants to build a playlist of songs that a certain engineer worked on, that information needs to be available, even if it is not "mission critical" transactional data that labels require.
Metadata and music credits has even affected how industry professionals find jobs in the music business. Dick Huey of Jaxsta, an Australian company set on establishing the largest online database of music credits, stated that producers used to get new jobs based on being recognized in album liner notes — this experience is gone when a listener cannot see who produced the record on a digital format. Their database solution is a welcome change for music superfans and curious industry professionals looking for the right sound for their artist. But currently, issues still arise over what version of a song should be mentioned when crediting certain stakeholders — "a big ball of string to untangle," as Huey puts it.
So how can the industry best reorganize the metadata pipes? Recent pushes from platforms like Spotify, who recently added songwriter information to its platform, are a step in the right direction to recognizing songwriters and other stakeholders, and Jaxsta's mission looks to go even further. On the artist end, the panel agreed that there needs to be more education that explains to artists that they should pay attention to how their audiences consume music and what data is necessary for those formats. Songtrust's Brad Yuan offered that the priority in their conversations with artists is to navigate the blockages of money that is owed to them, but that they are beginning to discuss how proper data entry on their end can prevent said blockages. Instantaneous data entry is clearly necessary, which opened discussion on the promise of the blockchain. The group agreed that this system would help facilitate instant payments to artists based on streams as they happen, but Jakobsen pointed out that at some point there needs to be data input by a human user. 
Another side to the transparency issue is how much artists can expect to earn under the current streaming model, where money is pooled and distributed on a monthly basis to artists based on how many streams they amass in comparison to other artists. There has been talk of moving to a subscriber-based system, where whatever artists a subscriber listen to in a month receive a split of their monthly membership fee. But neither this nor the current model make it easy to develop a consistent spreadsheet of what an artist will be paid that still does not create accurate representation. Joe DeCanio of Backlash Solutions said that his clients use Backlash's software to create an accounting sheet for artists to give estimates as consistent as possible with their contracts, so they have a regular understanding of what they stand to make.
A lengthy discussion of data formats concluded the session. Given the vast variety of data needed for different online marketplaces, streaming services, and now smart speaker protocols, the industry has placed a great deal of faith in ISRC and ISWC codes from the RIAA and SESAC, respectively. Panelists remarked that the intention was for these codes to be seen as authoritative, but that has not turned out to be the case. Yuang posed that more publishers should concern themselves with ISWC codes, but the panel described wait times between four weeks to a full year to receive confirmation of registration. New metadata standards are also emerging which would implement information geared for both music commerce and user discovery experience, such as DDEX's MEAD format. In order to best engage consumers, especially those using voice search, algorithms need to have a correct response on the first try. With something like the MEAD standard, users theoretically would remain engaged because they have less trouble finding a specific song by giving any granular piece of information they know about it. And going forward, companies like Songtrust aim to educate their artists that if their metadata is not entered right at the outset, they may miss the chance to connect with a potential new fan.
For those looking for more information on the MEAD metadata standard, Music Biz is hosting a webinar on October 10 where the DDEX team will discuss what data the format encompasses and how it aims to improve user search and discovery experiences. Click here to learn more and register.
Written Materials:
---
Music Biz's Entertainment & Technology Law Conference brought together top players from the tech and startup, music business, and entertainment law communities at the NYC offices of Greenberg Traurig to hash out solutions to the high-profile issues facing the industry today. Be sure to check out the summaries of our Copyright Infringement and Podcast Licensing panels. And stay tuned throughout the week as we recap the rest of this year's Law Conference panels!