Music Biz Decodes Music Royalties In New Infographic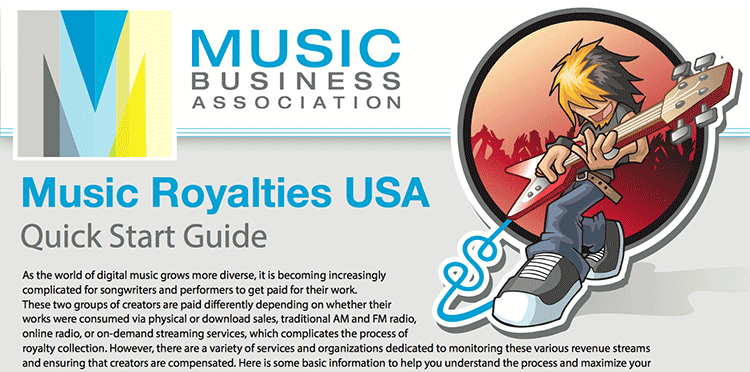 August 6, 2014 – The Music Business Association (Music Biz) today released its latest infographic, "Music Royalties USA Quick Start Guide," which gives songwriters and performing musicians a simple way to understand the complex framework they must navigate to receive proper payment for their work.
The document illustrates how royalties are handled for songwriters, publishers, and performers in various media, such as Physical Products and Download Sales, Radio & TV, Satellite & Cable Radio, Non-Interactive Streaming Radio, On-Demand Streaming Music Services, and Synchronization – Movies, TV, Games, Etc. The infographic also explains some of the more misunderstood jargon related to royalties and tells songwriters, publishers, and performers exactly which entities they need to register with
"Because the rules governing music royalties are so complex and differ so greatly from one medium to another, many artists are leaving a significant amount of money on the table without even knowing it," said Bill Wilson, Vice President of Digital Strategy and Business Development at Music Biz. "This infographic arms songwriters, publishers, and performers with the knowledge they need to ensure they get everything they are owed, allowing them to get back to what they do best: making music. We'd also like to thank our Affiliate Partners ASCAP, BMI, The Harry Fox Agency (HFA), The Recording Academy, SESAC, and SoundExchange, who all helped review the infographic to ensure it fully captured the process."
The "Music Royalties USA Quick Start Guide" is the latest in a series of informational infographics that affirm Music Biz's commitment to the artist community by providing vital information needed to understand how the music industry works and tips to get the most out of the services available to them. Previous entries include the "Global Music Licensing Quick Start Guide," "SEO for Music Websites," the "Artist Website Toolkit," and more.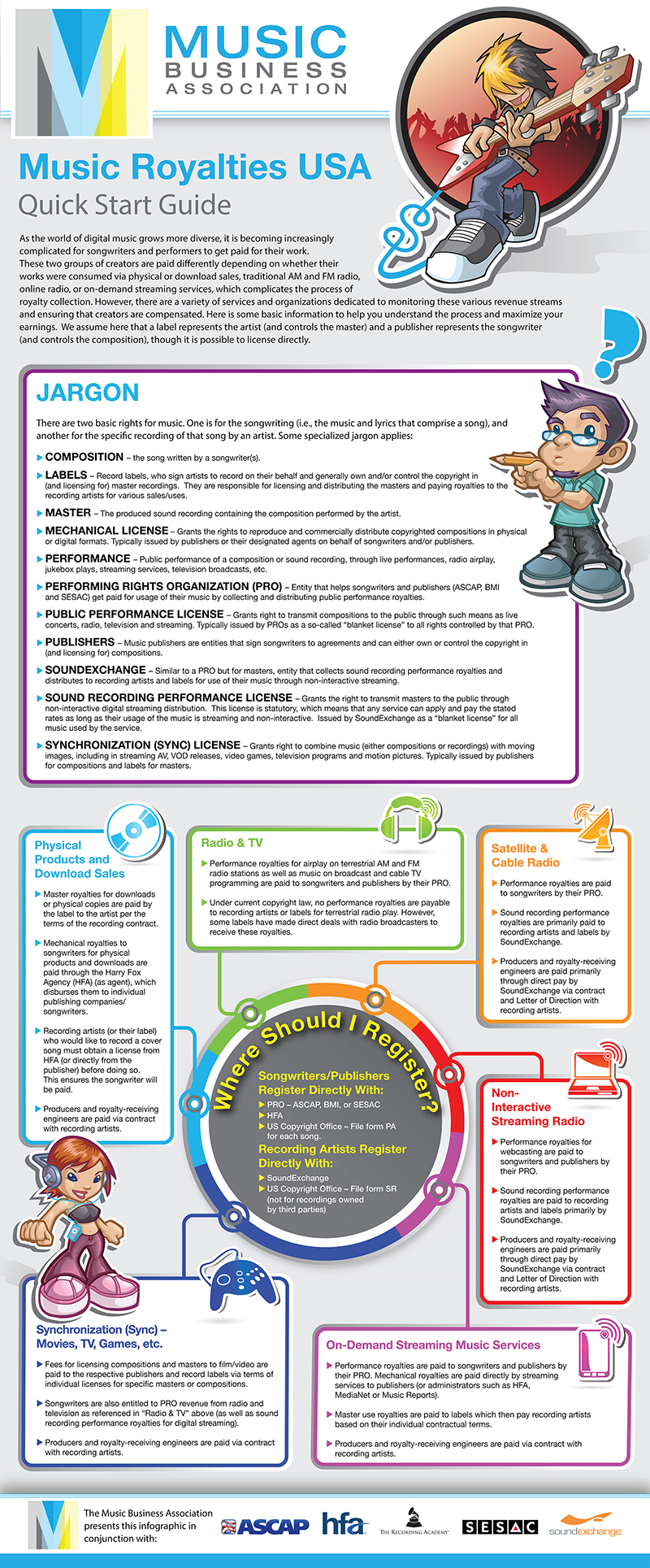 Embed This Infographic On Your Site (copy code below):