Music Biz Confirms 2022 Metadata Summit Agenda, Keynotes From Kim Beauchamp (UMG/DDEX) and ADA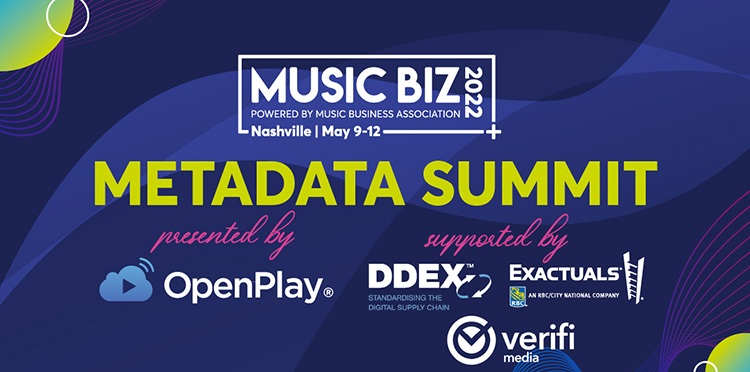 11th annual program presented by OpenPlay; Supported by DDEX, Exactuals and Verifi Media
April 25, 2022 — The Music Business Association (Music Biz) today confirms the makeup of its 11th annual Metadata Summit taking place 10 am – 3 pm CT on Wednesday, May 11 at the JW Marriott Nashville during the Music Biz 2022 Conference. The Metadata Summit will be available to attend live in-person during the Association's Annual Conference, as well as with a virtual ticket via the Socio online events platform.
The program will begin with a special keynote interview with Kim Beauchamp, SVP of Process Innovation & Advanced Operations for Universal Music Group and Chairperson of the Board for DDEX. Since joining the label in 1998, Beauchamp has been critical to establishing UMG's data supply chain, and continues to actively reimagine the company's internal tool set & processes to support the ever-changing business. She has been a long-time advocate for improved data management industry-wide, working with DDEX since 2008 as a leading voice in the standard-setting organization's working groups developing ERN and MEAD standards, as well as version 2.0 of the RIN standard. Beauchamp has been a member of DDEX's Executive Board for the past nine years, and was most recently named its first female Board Chair in August of 2021.
At the conclusion of the summit, attendees will hear reactions from the day's conversations from Cat Kreidich, President of ADA, who will then discuss with Samantha Juneman and Andrea Slobodien, ADA's SVP, Head of Marketing & Services and Head of Product & Integration, respectively, how the company's most recent initiatives will answer the calls for intra-industry collaboration.
"Our 11th annual Metadata Summit is taking place in a pivotal era for the music data supply chain, where the industry at large has made great strides in both addressing long-standing data issues and in future-proofing new digital revenue streams," said Nicole Hennessey, Music Biz's Vice President & Director of Communications. "We couldn't be happier with the selection of global music metadata experts set to discuss what work still needs to be done, and especially look forward to welcoming Kim, Cat, Samantha and Andrea to provide their guidance in solving tomorrow's problems today!"
The full agenda for the Metadata Summit at Music Biz 2022 is as follows:
10 – 10:35 AM CT
Opening Keynote: Kim Beauchamp, UMG and DDEX
moderated by Cameo Carlson of mtheory Nashville
10:35 – 11:25 AM CT
Whose Tag Is It Anyway? – Solving the Metadata Tagging Problem
Listen in as representatives from top DSPs and independent labels discuss how they are collaborating to resolve metadata tagging issues as they relate to context-based playlisting and AI search, and offer a blueprint for the most effective tagging practices.
Speakers:
Edward Ginis, Co-Founder and Head of Client Services, OpenPlay
Mike Rittberg, CMO, Big Machine Label Group
Niels Rump, Secretariat, DDEX
Additional speakers to be added
11:25 AM – 12:15 PM CT
Creator Metaverse Metadata
This panel will explore using music metadata to enable new experiences for platforms in the "Creator Metaverse," and how to link it to the extended "universe" of merch, NFTs and more.
Speakers:
Michael Jeffrey, VP, Business Development Music & Automotive, Xperi
Rich Cusick, Chief Product Officer, Global E-Commerce, Universal Music Group
Matt Henninger, Head of Sales and Business Development, Audible Magic/MediaNet
Additional speakers to be added
12:45 – 1:35 PM CT
Come Together: Fixing the Data Sharing Problem
In this panel, representatives from across the music value chain will discuss the value behind sharing organized and transparent metadata, and how they plan to work together to achieve this goal.
Speakers:
Allen Bargfrede, C-Founder & CSO, Verifi Media
Harmen Hemminga, Head of Partnerships & Strategic Projects, FUGA
Natalie Jacobs, VP of Publishing & Licensing Data Management – Global Data Operations, WMG
Chris Knight, GM of Artist Management, Roc Nation
Jordi Puy, CEO, Unison
Niels Rump, Secretariat, DDEX
1:35 – 2:25 PM CT
Metadata Means Money
Representatives from leading music companies will discuss what metadata they look for when assessing the value of music catalogs, what often is unaddressed, and how copyright owners can optimize their data now for future success.
Speakers:
Steven Ambers, VP of Corporate Development, SOCAN
David Boxenbaum, CEO, Newport Media Advisors
Britnee Foreman, Head of Data Operations & Digital Strategy, Exceleration Music
Doug Mitchell, Director of Customer Success, Music, Exactuals
Jeff Van Driel, GM of Global Administration, Concord Music Group
2:25 – 3 PM CT
Metadata Summit Closing Keynote
Speakers:
Cat Kreidich, President, ADA
Samantha Moore, Chief of Staff, ADA
Andrea Slobodien, Head of Product & Integration, ADA
Music Biz 2022 takes place May 9 – 12, 2022 at the JW Marriott Nashville, and is the first in-person Music Biz event to be held since January 2020. Attendees can expect four days of industry-defining conversations and connections, as well as important discussions on how the global music business may evolve to become more inclusive and better serve the needs of all industry professionals.
Previously confirmed, the Conference will feature the "Roadmap for Change" Music Biz LIVE keynote conversation on Monday, May 9 featuring Liliahn Majeed of Universal Music Group, Dr. Maurice A. Stinnett of Warner Music Group, and Tiffany R. Warren of Sony Music Group, as well as fellow industry advocates Noelle Scaggs, founder of Diversify The Stage; Jonathan Azu, founder of the Diversity in Music Initiative; and EMPIRE founder & CEO, Ghazi. Sony Music Publishing Chairman & CEO, Jon Platt will also take part in a keynote Music Biz LIVE conversation on ​​Tuesday, May 10.
The Association's annual awards dinner has been revamped as The Bizzy Awards and for the first time features crowd-nominated honorees from within Music Biz's global membership. The 2022 Bizzys ceremony will be hosted by country star Jimmie Allen, and is set for Wednesday, May 11. The 2022 Presidential Award for Outstanding Executive Achievement will be presented to Julie Swidler, EVP of Business Affairs and General Counsel for Sony Music Entertainment. A full list of finalists for the 2022 Bizzy Awards can be found here.
Visit musicbiz2022.com for the preliminary conference agenda, event registration & lodging information, COVID-19 protocols, and more.
About The Music Business Association
The Music Business Association (Music Biz) is a not-for-profit membership organization that advances, promotes and invests in the future of the music business by providing a trusted forum where ideas and cooperation flourish. Through events, education and engagement, the Association brings together the full breadth of the industry for unparalleled access to networking, resources and thought leadership.
Music Biz Media Contact
Nicole Hennessey, Vice President — nicole.hennessey@musicbiz.org