Music Biz Announces 2022 Bizzy Awards Finalists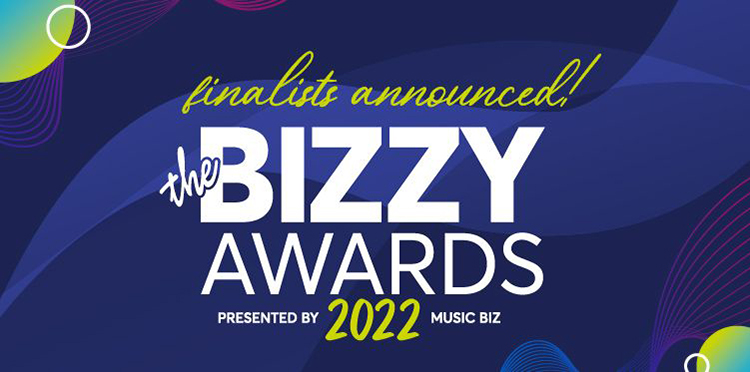 Winners will be announced during the Association's awards dinner on Wednesday, May 11;
Song Suffragettes set to perform courtesy of The LSS Group of RBC Wealth Management
March 31, 2022 — The Music Business Association (Music Biz) today announces the finalists for the organization's first-ever Bizzy Awards program, hosted by Country star Jimmie Allen on Wednesday, May 11 at the JW Marriott Nashville and sponsored by The LSS Group of RBC Wealth Management – U.S., City National Bank, SoundExchange and TiVo® Music. The introduction of the Bizzy Awards during the Association's Music Biz 2022 Conference marks the first time the organization's awards will be crowd-sourced, as nominations were made by Music Biz's members in recognition of their peer companies and professionals who are making a difference in the global music business.
"Congratulations to the Bizzy Awards finalists, as well as to all those who were nominated," said Music Biz President, Portia Sabin. "In establishing this new awards program it's been inspiring to find out about the positive work these people and companies are accomplishing in their day-to-day work lives, and also to see the community's eagerness to recognize them for their efforts. At Music Biz we're proud to shine a light on these leaders in our industry!"

Finalists for the 2022 Bizzys are as follows:
Leading Light Award — For a company or executive that has supported their staff via internal initiatives aimed at improving mental health & wellbeing and work/life balance.
Kevin Liles, 300 Entertainment
Monstercat
Warner Music Group
Agent of Change Award — For a company that exemplifies a commitment to diversity, equity and inclusion in their hiring practices, executive development, and promotion structure.
Made In Memphis Entertainment
Recording Academy
Spotify
#NEXTGEN_NOW One To Watch Award — For an executive under 40 whose work (professional and/or volunteer) has been exceptional, innovative, and stands out as a contribution to the industry.
Shauna Alexander, SoundCloud
Jenna Gaudio, Vydia
Tiffany Kerns, Country Music Association
Geoff Ogunlesi, 300 Entertainment
Jennifer Turnbow, NSAI
Master of Metadata Award — For a company or executive who has made a significant impact in the area of data processing, credit clarification, streamlining or otherwise promoting clean data and best practices.
Lindsay Conlin, Exactuals
Britnee Foreman, Exceleration Music
Jaxsta
Music Reports
SoundExchange
Frontline Innovator Award — For a retail store who showed exceptional inventiveness and ingenuity in their practices during the past year in their interactions with consumers.
Darkside Records (Poughkeepsie, NY)
Music Millennium (Portland, OR)
The Record Exchange (Boise, ID)
Seasick Records (Birmingham, AL)
The Sound Garden (Baltimore, MD; Syracuse, NY)
Marketing Superstar Award — For a marketing campaign that was innovative and thought provoking. Candidates can be from any sector of the industry, and campaigns can be physical or virtual.
All Time Low "It Was Never A Phase" Campaign — Hopeless Records
Cleopatrick's Debut Album Campaign — Thirty Tigers/The Orchard
Donny Osmond – "Puppy Love" 50 Year Anniversary Campaign — Crowd Surf
Tenille Arts Marketing Campaign — EMPIRE
WMX Black History Month Campaign

During the Bizzy Awards dinner, The LSS Group of RBC Wealth Management will present two performances by the Song Suffragettes. This collective of female singer-songwriters is vocally combatting wide-spread discrimination against women in the music industry by giving female talent a place to play, grow and evolve with fellow creatives. In just over eight years, Song Suffragettes has showcased almost 350 talented women, performing every Monday night at The Listening Room Café in Nashville, TN. Twenty-five Song Suffragettes women have gone on to receive record deals and more than 50 have landed music publishing deals since the initiative's inception. With more than 4.3 million views on their YouTube channel and wide praise from the likes of Billboard, Forbes, ELLE, Grammy.com and on PBS NewsHour and NPR, Song Suffragettes continues to fight for female talent to be heard throughout the country and beyond.
Previously announced, the Association's 2022 Presidential Award for Outstanding Executive Achievement will be presented to Julie Swidler, EVP of Business Affairs and General Counsel for Sony Music. Full details for the first-ever Bizzy Awards program can be found here.
Music Biz 2022 takes place May 9 – 12, 2022 at the JW Marriott Nashville, and is the first in-person Music Biz event to be held since January 2020. Attendees can expect four days of industry-defining conversations and connections, as well as important discussions on how the global music business may evolve to become more inclusive and better serve the needs of all industry professionals. Music Biz has confirmed that Sony Music Publishing Chairman & CEO, Jon Platt will take part in a keynote Music Biz LIVE conversation on ​​Tuesday, May 10 at 5 pm CT. Visit musicbiz2022.com for the preliminary conference agenda, event registration & lodging information, COVID-19 protocols, and more.


About The Music Business Association
The Music Business Association (Music Biz) is a not-for-profit membership organization that advances, promotes and invests in the future of the music business by providing a trusted forum where ideas and cooperation flourish. Through events, education and engagement, the Association brings together the full breadth of the industry for unparalleled access to networking, resources and thought leadership.


About RBC Wealth Management – U.S.
In the United States, RBC Wealth Management operates as a division of RBC Capital Markets, LLC. Founded in 1909, RBC Wealth Management is a member of the New York Stock Exchange, the Financial Industry Regulatory Authority, the Securities Investor Protection Corporation, and other major securities exchanges. RBC Wealth Management has $537 billion in total client assets with more than 2,100 financial advisors operating in 183 locations in 42 states.


About City National
With $91.5 billion in assets, City National Bank provides banking, investment and trust services through 73 branches, including 19 full-service regional centers, in Southern California, the San Francisco Bay Area, Nevada, New York City, Nashville, Atlanta, Washington, D.C. and Miami*. In addition, the company and its investment affiliates manage or administer $96.2 billion in client investment assets.
City National is a subsidiary of Royal Bank of Canada (RBC), one of the world's leading diversified financial services companies. RBC serves more than 17 million personal, business, public sector and institutional clients through offices in Canada, the United States and 27 other countries.
For more information about City National, visit the company's website at cnb.com.
*City National Bank does business in Miami and the state of Florida as CN Bank.


About SoundExchange
SoundExchange is the premier music tech organization on a mission to power the future of music. It was independently formed in 2003 to build a fairer, simpler, and more efficient music industry through technology, data, and advocacy. The only organization designated by the U.S. government to administer the Section 114 sound recording license, SoundExchange collects and distributes digital performance royalties on behalf of 560,000 music creators and growing. Through proprietary music tech solutions that turn data into accurate revenue, SoundExchange has paid more than $9 billion in distributions to date. For more information, visit soundexchange.com.


About TiVo
TiVo brings entertainment together, making it easy to find, watch and enjoy. We serve up the best movies, shows and videos from across live TV, on-demand, streaming services and countless apps, helping people to watch on their terms. For studios, networks and advertisers, TiVo delivers a passionate group of watchers to increase viewership and engagement across all screens. In June 2020, TiVo became a wholly-owned subsidiary of Xperi Holding Corporation. Go to tivo.com and enjoy watching.

Music Biz Media Contact
Nicole Hennessey, Vice President — nicole.hennessey@musicbiz.org