Music Business Association Announces "The Bizzy Awards" for Music Biz 2022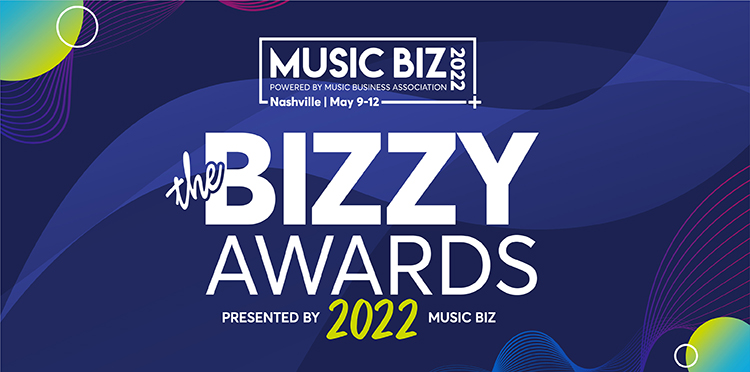 New awards will honor music industry
innovators & advocates for change on Wednesday, May 11
January 20, 2022 — The Music Business Association (Music Biz) announces that it has reimagined its annual awards presentation to honor the B2B nature of the organization and its membership. The Bizzy Awards (The Bizzys) will be held on Wednesday, May 11, 2022, during the association's upcoming Music Biz 2022 conference at the JW Marriott Nashville. An industry-focused revamp of past awards presentations, The Bizzys will celebrate the achievements of Music Biz member companies and executives.
"So many awards are about sales, which are great, but I wanted to create awards that recognize people in our industry for the work they do every day," said Music Biz President Portia Sabin. "After the last couple of years we've all been through, we need to do all we can to shine a spotlight on the people and companies in our industry who are lifting up others, being creative, and showing leadership & character in their business practices as well as selling music."
This is not Sabin's first experience with awards shows — she was instrumental in the creation of the Libera Awards for The American Association of Independent Music (A2IM). "I learned when I created the Libera Awards that recognizing the work people do on a daily basis can really bring a community together," Sabin said. "I wanted to do so for the Music Biz community as well, because we have so many great members doing so much good work to support artists, the industry, and each other. Highlighting what people are already doing can inspire others and give us all hope for the industry's future."
Awards that will be new in 2022 include:
Leading Light Award — For a company or executive that has supported their staff via internal initiatives aimed at improving mental health & wellbeing and work/life balance.

Agent of Change Award — For a company that exemplifies a commitment to diversity, equity and inclusion in their hiring practices, executive development, and promotion structure.

#NEXTGEN_NOW One To Watch Award — For an executive under 40 whose work (professional and/or volunteer) has been exceptional, innovative, and stands out as a contribution to the industry.

Master of Metadata Award — For a company or executive who has made a significant impact in the area of data processing, credit clarification, streamlining or otherwise promoting clean data and best practices.  

Frontline Innovator — For a retail store who showed exceptional inventiveness and ingenuity in their practices during the past year in their interactions with consumers.

Marketing Superstar — For a marketing campaign that was innovative and thought provoking. Candidates can be from any sector of the industry, and campaigns can be physical or virtual.
Nominations for the 2022 Bizzys are open now through February 25; click here to access the full set of submission guidelines and forms. Finalists from among the 2022 nominees will be selected by March 25, and winners will be announced at the awards dinner program on May 11.
Music Biz 2022 takes place May 9 – 12, 2022 at the JW Marriott Nashville, and is the first in-person Music Biz event to be held since January 2020. Attendees can expect four days of industry-defining conversations and connections, as well as important discussions on how our industry may evolve to become more inclusive and better serve the needs of all industry professionals. Music Biz has confirmed that Sony Music Publishing Chairman & CEO, Jon Platt will take part in a keynote Music Biz LIVE conversation on ​​Tuesday, May 10 at 5pm CT. Visit musicbiz2022.com for the preliminary conference agenda, event registration & lodging information, COVID-19 protocols, and more.
# # # #


About the Music Business Association
The Music Business Association (Music Biz) is a not-for-profit membership organization that advances, promotes and invests in the future of the music business by providing a trusted forum where ideas and cooperation flourish. Through events, education and engagement, the Association brings together the full breadth of the industry for unparalleled access to networking, resources and thought leadership.


Music Biz Media Contact
Nicole Hennessey, Vice President — nicole.hennessey@musicbiz.org