Music Biz Announces Fall 2019 Common Ground Webinar Schedule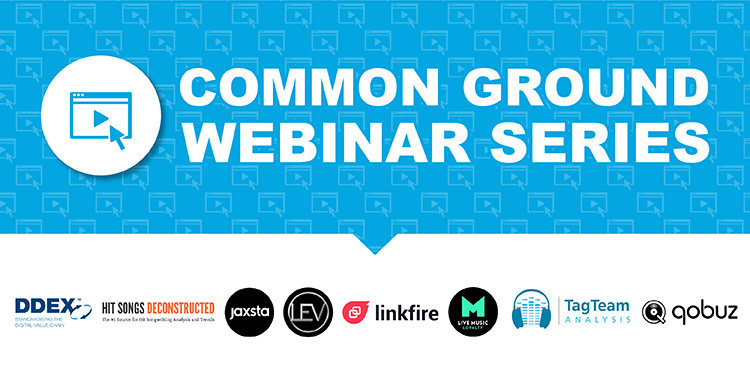 Music Biz is excited to announce the Fall 2019 schedule for our Common Ground Webinar Series! The only constant in today's music business is change — that is why it is our mission to keep our members up-to-date on the latest developments across all facets of the industry. With sessions covering a cross-section of industry hot topics including new standards for music metadata, live music fan engagement, songwriting trend analysis, new digital marketing tools, and more, we're sure you will find a webinar that will help take your business to the next level!
For full descriptions of each of this Fall's sessions, be sure to visit our Upcoming Webinars page.
Our Fall 2019 program features the following sessions:
Music Metadata Matters: Strategize Your Approach to Effective Keywording for Your Music Library
September 12  • 2 – 3 PM ET
Led by Marina Garza, founder of TagTeam Analysis and creator of the TuneTagger music tagging platform, this webinar will explore techniques, methods and solutions when creating descriptive keyword systems and categorizations for your music from a granular approach. 
---
What is Hi-Res Audio and Why Does It Matter in 2019?
October 3  • 2 – 3 PM ET
Today's discerning audiophiles agree that lossless and Hi-Res streaming & download service Qobuz is the best-in-class option for anybody that truly cares about the sound quality of their music. In this webinar, you will learn how Qobuz approaches streaming, why it still offers paid a la carte downloads, and how artists and labels get their music onto the platform.
---
Pleased to MEAD You: Introducing the New DDEX Standard 'Media Enrichment and Description'
October 10  • 2 – 3 PM ET
Digital Data Exchange (DDEX) is introducing a new music metadata standard, Media Enrichment and Description (MEAD), designed to enable the communication of data that does not appear in the Electronic Release Notification (ERN) message. This includes include more detailed information about the compositions (songs) on the releases, much richer contributor data (including such roles as producers and engineers), artist nicknames, historic chart positions, focus track data, journalistic material, and much more. In this session, DDEX Secretariat members Mark Isherwood and Niels Rump will discuss this new standard, and how it can help the music industry better reach consumers, especially as voice-activated search becomes more prevalent.
---
Linking Fans to Bands: Deepening Fan Engagement from Pre-Release through Post-Show
October 17  • 2 – 3 PM ET
Linkfire is a music marketing platform and smart link management company that connects fans to different audio, video, ticketing, and merch options with just one social-media-friendly smart link, customized by their location. Company co-founder and CCO Jeppe Faurfelt will show how indie bands, labels, and marketers can use Linkfire to maximize their release and touring promotion.
---
The State of the Hot 100 Top 10: 2018 x 2019
October 31  • 2 – 3 PM ET
Join Hit Songs Deconstructed co-founders Yael and David Penn to take a deep dive into current Billboard Hot 100 Top 10 compositional trends and get in tune with what's driving today's most successful songs at the compositional level.
---
Creating A Sustainable Brand
November 7  • 2 – 3 PM ET
Understanding how to build a genuine brand which organically aligns with your fans is one of the most important things an artist can do in today's music industry. Join serial music entrepreneur Brian Penick from Legacy Entertainment Ventures as he explores artists' brands from development to achieving sustainability.
---
Connect With Your Most Important Customer: Your Concert Attendees
November 14  • 2 – 3 PM ET
The music industry suffers from the inability to connect with its most important customer segment: concert-goers. Live Music Loyalty is a mobile app that solves this issue by helping fans discover, check in and share memories of their experiences. The LML platform verifies concert attendance and helps our partners build relationships with their core customers. In this webinar, LML Founder Jeffrey Warshauer will discuss Live Music Loyalty's summer pilot program and how they helped emerging artists in Asbury Park, NJ connect with and grow their audience.
---
Jaxsta's Innovative Approach to Music Credits: How It Could Help Your Career
November 21  • 2 – 3 PM ET
In the digital age, music makers can no longer rely on vinyl and CD liner notes to ensure they received credit for their work. To address this issue, Jaxsta Co-Founder and CEO Jacqui Louez Schoorl co-founded a ground-breaking database of official music credits which today has more than 30 million pages (and counting) of official credits covering artists, songwriters, producers and engineers. In this webinar, Jacqui will discuss the journey of Jaxsta since its inception in 2015, how its groundbreaking technology will assist artists in gaining more work, and the various ways in which Jaxsta Pro will benefit your business.