Music Biz Announces Brunch Program And Interview with O.N.E the Duo, Sponsored by CMA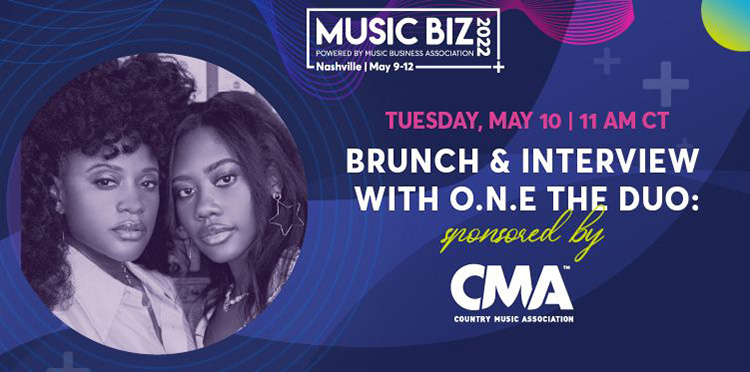 April 14, 2022 — The Music Business Association (Music Biz) today confirms the program for its Music Biz Brunch, taking place Tuesday, May 10 at 11 am CT during the Music Biz 2022 Conference at the JW Marriott Nashville. The ceremony will feature a conversation with and performance by mother-daughter singer-songwriter team, O.N.E the Duo, courtesy of brunch sponsor Country Music Association (CMA). Tennessean Nashville Country Music Reporter, Marcus K. Dowling will moderate the conversation.
O.N.E the Duo comprises Nashville-based mother Tekitha and daughter Prana Supreme, both with ties to Hip-Hop royalty — Prana's father is RZA, the founder, producer & de-facto leader of Wu-Tang Clan, and Tekitha is known for her work as the group's featured female vocalist. Despite this, the two have created their own, stripped-down musical style blending their Hip-Hop roots with the creative energy and storytellers of Nashville. As the duo moves forward, their goal is to tell their story through as many different mediums as possible — the written word, film, and of course, through music.
"CMA is excited to share our platform with these two extraordinary women who are challenging the status quo and pushing for authentic music making," said CMA Chief Executive Officer, Sarah Trahern. "It is delightful to see their stories woven throughout their music while simultaneously encouraging the business to recognize its diverse future on the horizon. We look forward to the amplification of their voices and music at Music Biz 2022."
"When CMA called me about participating in their Music Biz program I was thrilled," said Tekitha. "We are excited to be part of this community and look forward to sharing some of our musical and personal journeys."
"Thank you Music Biz and CMA for inviting us to be part of your conference," said Prana Supreme. "We can't wait to share a bit of where we've been and where we're going with you. We'll be debuting a few new songs that day as well. See you there!"
As in years past, the brunch will be opened by a speech delivered by Music Biz's President, Portia Sabin, her first since taking the helm as leader of the organization in September 2019. Sabin is set to discuss the Association's evolution, spurred at first by the tragic and challenging events of the COVID-19 pandemic's early days and renewed calls for swift action on issues of inclusion and social justice both in and out of the music business, as well as how the pandemic has allowed Music Biz to better meet the needs of its global member community and the industry at large.
"We'd like to thank CMA for their continued support of the Music Biz Annual Conference and our brunch program, as well as for hosting O.N.E the Duo for a conversation and performance I'm sure we all won't soon forget," said Sabin. "This year's brunch is shaping up to be an excellent representation of the overall mission for this year's Conference: blending elements new and old alike to create a special, inclusive experience where all who attend feel seen, heard and welcomed!"
Music Biz 2022 takes place May 9 – 12, 2022 at the JW Marriott Nashville, and is the first in-person Music Biz event to be held since January 2020. Attendees can expect four days of industry-defining conversations and connections, as well as important discussions on how the global music business may evolve to become more inclusive and better serve the needs of all industry professionals.
Previously confirmed, the Conference will feature the "Roadmap for Change" Music Biz LIVE keynote conversation on Monday, May 9 featuring Liliahn Majeed of Universal Music Group, Dr. Maurice A. Stinnett of Warner Music Group, and Tiffany R. Warren of Sony Music Group, as well as fellow industry advocates Noelle Scaggs, founder of Diversify The Stage; Jonathan Azu, founder of the Diversity in Music Initiative; and EMPIRE founder & CEO, Ghazi. Sony Music Publishing Chairman & CEO, Jon Platt will also take part in a keynote Music Biz LIVE conversation on ​​Tuesday, May 10.
The Association's annual awards dinner has been revamped as The Bizzy Awards and for the first time features crowd-nominated honorees from within Music Biz's global membership. The 2022 Bizzys ceremony will be hosted by country star Jimmie Allen, and is set for Wednesday, May 11. The 2022 Presidential Award for Outstanding Executive Achievement will be presented to Julie Swidler, EVP of Business Affairs and General Counsel for Sony Music Entertainment. A full list of finalists for the 2022 Bizzy Awards can be found here.
Visit musicbiz2022.com for the preliminary conference agenda, event registration & lodging information, COVID-19 protocols, and more.
About The Music Business Association
The Music Business Association (Music Biz) is a not-for-profit membership organization that advances, promotes and invests in the future of the music business by providing a trusted forum where ideas and cooperation flourish. Through events, education and engagement, the Association brings together the full breadth of the industry for unparalleled access to networking, resources and thought leadership.
Music Biz Media Contact
Nicole Hennessey, Vice President — nicole.hennessey@musicbiz.org