Music Biz 2014 Convention Gathers Industry Leaders May 6-8 In Los Angeles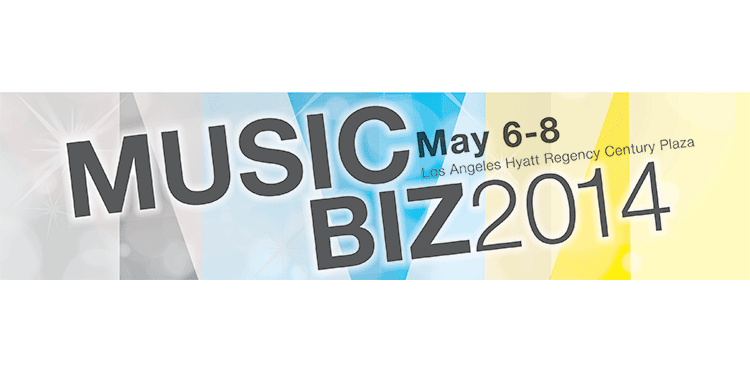 100 speakers set to address attendees at second annual Metadata Summit, Music Biz Academy, Entertainment and Technology Conference, and more
Ariana Grande, Frozen soundtrack, Dee Snider, Paul Rodgers, Jonathan Poneman, and Sylvia Rhone to receive awards
 May 1, 2014 – The Music Business Association (Music Biz), formerly NARM and digitalmusic.org, will return to Los Angeles for Music Biz 2014, the music industry's premier conference, on May 6-8 at the Hyatt Regency Century Plaza Hotel. The event will bring together representatives from all facets of the music industry – including retailers, record labels, artists, managers, startups, and more – to discuss key issues such as licensing and royalty payments, proper metadata standards, launching a music startup, and more. With a wide-ranging program appealing equally to those just starting out in the music business and those who have risen up the ranks to become high-powered decision makers, Music Biz 2014 offers a unique opportunity for everyone interested in music to unite, working together to shape the future of the industry.
Experts are set to address attendees throughout the three-day event at sessions such as the second annual Metadata Summit: Information and Technology in the Music Business. The first installment at Music Biz 2013 was instrumental in laying the groundwork for a serious discussion of metadata standards, resulting in the release of the Music Industry Style Guide. This year's event will continue that conversation, showing newcomers the importance of maintaining high-quality data and allowing industry executives to debate and refine solutions to key problems that are holding back the information systems of the future.
This year's Music Biz Academy educational sessions will be held concurrently with the Summit on Tuesday, expanding the focus of the popular Music Startup Academy traveling series to include information relevant to startups, independent labels, artists, managers, and students enrolled in music or technology programs. The Academy's morning sessions will feature content of interest to all groups, such as label and publishing basics, building a brand via social media, and using data to inform your online strategy. A variety of breakout sessions in the afternoon will then focus on each segment, providing targeted guidance on issues such as alternative revenue streams, the best tools for independent artists, implementing APIs, the evolving infrastructure of the music industry, and using YouTube to grow your audience.
The opening day will also include a live version of Cortney Harding and Kyle Bylin's Upward Spiral podcast. The sessions will feature representatives from Epitaph Records, Concord Music, BigChampagne, Billboard, Universal Music, BandPage, ATM Artists, and The Hollywood Reporter, discussing topics such as the future of streaming services, maximizing revenue from catalog albums, music sales reports, direct-to-fan marketing, and music's impact on film and TV.
The second day of Music Biz 2014 kicks off with the Opening Breakfast & Business Session Wednesday morning, when the Presidential Award for Sustained Executive Achievement will be presented to Epic Records President Sylvia Rhone, while the Independent Spirit Award will go to Sub Pop Records Co-Founder Jonathan Poneman. The event will also feature the President's Address from Music Biz President James Donio, the Chairman's Message from Music Biz Chairman Rachelle Friedman of J&R Music & Computer World, and the announcements of the Scholarship Foundation Class of 2014 and Music Biz 2014-2015 Board of Directors. Wednesday afternoon's program offers a number of different break-out sessions on topics including streaming live music, EDM, and social media.
Thursday begins with various Music Business Association Sector and Work Group meetings. At 12:30, all will reconvene for the Awards Luncheon, featuring the presentation of the Breakthrough Artist of the Year Award to chart-topping Pop star and actress Ariana Grande; the Outstanding Achievement Award to record-breaking animated film soundtrack Frozen; the Harry Chapin Memorial Humanitarian Award to Twisted Sister frontman and philanthropist Dee Snider; and the Chairman's Award for Sustained Creative Achievement to Bad Company and Free lead singer Paul Rodgers.
The Luncheon will be followed by the latest installment of Music Biz's Entertainment and Technology Law Conference series, at which attendees will receive CLE credits. The event will have a special focus on digital music models, with panels zeroing in on licensing and royalty payments as well as the intersection of technology and traditional views on copyright. Concurrently, the afternoon also includes the Country Music Meetup, sponsored by CMA, and additional breakout sessions on topics including Internet radio, high-quality audio, brand partnerships, and global expansion of digital music services.
Registration remains open. In addition to company pricing, tickets can be purchased for Music Biz 2014 at special rates for individuals ($349) and students ($69). A discounted rate of $199 is also available for first-time independent retail and label attendees.