Major Label Chief Diversity Officers, Jonathan Azu, Noelle Scaggs & EMPIRE's Ghazi to Speak at Music Biz 2022 Keynote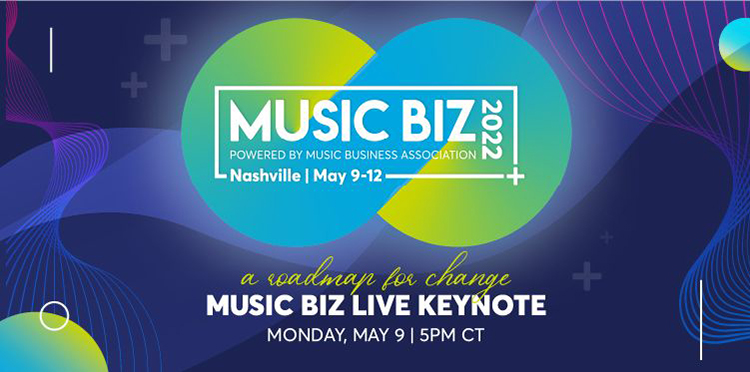 April 7, 2022 — The Music Business Association (Music Biz) will host a special Music Biz LIVE keynote conversation titled, "A Roadmap for Change," taking place Monday, May 9 at 5 pm CT, as part of the organization's Music Biz 2022 Conference at the JW Marriott Nashville.
Participants in this important keynote discussion include:
Jonathan Azu, CEO and Founder, Culture Collective; Founder, Diversity in Music
Ghazi, Founder & CEO, EMPIRE
Liliahn Majeed, SVP & Chief Diversity, Inclusion and Belonging Officer, Universal Music Group
Noelle Scaggs, Founder, Diversify The Stage; Elektra recording artist; Co-Lead vocalist, Fitz and the Tantrums
Dr. Maurice A. Stinnett, Global Head of DEI, Warner Music Group
Tiffany R. Warren, EVP & Chief Diversity and Inclusion Officer, Sony Music Group
Held under the Music Biz LIVE banner and led by Association President, Portia Sabin, this hour-long conversation will cover the actions for positive change that are currently happening in the music industry with key players who are engaged in those efforts.
"Throughout the past two years, Music Biz has been committed to highlighting the ongoing work of promoting diversity, equity and inclusion in the music industry for all who work and will work here," said Sabin. "The people we've secured to speak on this panel are well positioned to discuss these issues, and I look forward to hearing their perspectives on both the successes we've seen and the steps we still must take to move forward."
In addition to the vital perspectives offered by the keynote speakers, event sponsors Chartmetric & TuneCore will be an integral part of the LIVE program. Chartmetric Founder & CEO Sung Cho and TuneCore CEO Andreea Gleeson will take the stage to discuss the important research projects they have each undertaken to advance DEI initiatives in the industry.
Music Biz 2022 takes place May 9 – 12, 2022 at the JW Marriott Nashville, and is the first in-person Music Biz event to be held since January 2020. Attendees can expect four days of industry-defining conversations and connections, as well as important discussions on how the global music business may evolve to become more inclusive and better serve the needs of all industry professionals. Previously confirmed, Sony Music Publishing Chairman & CEO, Jon Platt will take part in a keynote Music Biz LIVE conversation on ​​Tuesday, May 10 at 5 pm CT.
The Association's annual awards dinner has been revamped as The Bizzy Awards, and for the first time features crowd-nominated honorees from within Music Biz's global membership. The 2022 Bizzys ceremony will be hosted by Country star, Jimmie Allen, and is set for Wednesday, May 11. The 2022 Presidential Award for Outstanding Executive Achievement will be presented to Julie Swidler, EVP of Business Affairs and General Counsel for Sony Music Entertainment. A full list of finalists for the other 2022 Bizzy Awards can be found here. Visit musicbiz2022.com for the preliminary conference agenda, event registration & lodging information, COVID-19 protocols, and more.


About The Music Business Association
The Music Business Association (Music Biz) is a not-for-profit membership organization that advances, promotes and invests in the future of the music business by providing a trusted forum where ideas and cooperation flourish. Through events, education and engagement, the Association brings together the full breadth of the industry for unparalleled access to networking, resources and thought leadership.
Music Biz Media Contact
Nicole Hennessey, Vice President — nicole.hennessey@musicbiz.org