LU KALA, TikTok and Prescription Songs Confirmed For Music Biz LIVE Keynote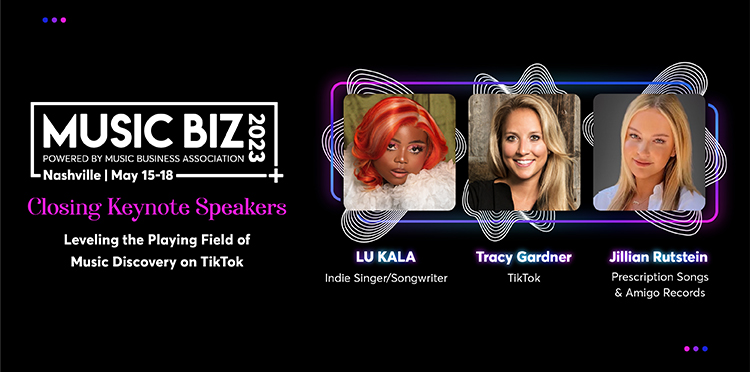 President Portia Sabin to host conversation on Thursday, May 18 during Music Biz 2023 Conference
April 5, 2023 — The Music Business Association (Music Biz) today announces that indie artist, LU KALA; Jillian Rutstein, Director, Digital & Creative Synch for Prescription Songs and Amigo Records; and Tracy Gardner, Head of Label Licensing & Partnerships for TikTok will participate in the final Music BIz LIVE keynote interview during the Music Biz 2023 conference on Thursday, May 18 at the JW Marriott Nashville.

Full details for the interview — which will be led by Music Biz President, Portia Sabin — can be found below:
Leveling the Playing Field of Music Discovery on TikTok
Thursday, May 18 | 10:45 — 11:45 am CT
In the closing Music Biz 2023 keynote interview, we'll deep-dive on how artists from various genres and stages of their career are using TikTok to command industry attention. The morning's conversation will also cover how the TikTok community plays a critical role in building a solid foundation of both new and existing fans for artists to grow, or often relaunch, their careers.
"A major hallmark of the Music Biz Conference is how we use our platform to highlight new tools & technologies that help artists at all levels reach new fans and create lasting relationships that allow them the freedom to authentically express themselves," said Music Biz President, Portia Sabin. "I'm very excited to have this conversation with LU, Tracy, and Jillian as they showcase how TikTok and artist teams are working together to leverage the platform in the service of boosting artists' careers."
About The Keynote Speakers
Congolese-Canadian singer/songwriter, LU KALA is redefining what a Pop star sounds like both through her own tracks and those she has written for artists like Jennifer Hudson. With over 19 million streams, LU has also found great success on TikTok, recently surpassing 271,000 followers with viral snippets from her songs including "Love Sh*t," highlighted by fellow songstress SZA. Her most recent single "Pretty Girl Era," which was shown organic love by the likes of Meghan Trainor and Toni Braxton, currently has 22,000+ UGC videos and more than 88 million views. Her next EP is set for release in summer 2023.
Tracy Gardner is Head of Label Licensing & Partnerships for TikTok, where she is charged with driving commercial relationships with TikTok's label partners, and leading music strategy & business development across various cross-functional Bytedance teams. Since joining TikTok in 2019, Gardner has been instrumental in building a powerhouse music team that has solidified music industry relations, secured global license renewals with record labels, and supported important music initiatives such as the SoundOn and TikTok Shop. Prior to joining TikTok, Gardner was SVP of Global Business Development & Strategy at Warner Music Group (WMG), where she negotiated and drafted ground-breaking deals with the industry's premier digital players including YouTube, Spotify and Apple. She joined WMG in 2011 as part of the Digital Legal Affairs team in New York. Before WMG, Gardner served two and a half years with Skadden Arps Slate Meagher & Flom as part of the firm's Intellectual Property, Information Technology and E-Commerce Group.
Jillian Rutstein is Director, Digital & Creative Synch for Prescription Songs and their label counterpart, Amigo Records (LU KALA, Big Boss Vette, Kim Petras, Lourdiz, Ethel Cain, LunchMoney Lewis, A1 LaFlare, Quinn Lewis, Ivy Adara). In this role, she works on creative pitches for sync opportunities across all media, while also handling license requests and negotiating deal terms. She additionally oversees best practices for digital strategy & social media platforms for both the Prescription and Amigo rosters. Rutstein's recent sync placement projects include The Super Bowl, Frito Lay, Sephora, Apple, and BMW, "Generation" from HBO, "Dark" and "Lucifer" from Netflix; most recently, she led and helped execute all digital marketing strategy for LU KALA's single, "Pretty Girl Era."
# # # #


About Music Biz 2023
After its highly successful return to an in-person format in 2022, Music Biz 2023 will take place May 15 – 18, 2023 at the JW Marriott Nashville. The organization's flagship event will once again deliver four days of industry-defining conversations and connections, plus important discussions on how our industry may evolve to better serve the needs of all music professionals. Music Biz has confirmed that Kobalt Founder & Chairman, Willard Ahdritz will participate in a keynote conversation on Tuesday, May 16th. Visit musicbiz2023.com for an up-to-date conference agenda, event registration & lodging information, and more.
Also returning in 2023 is the second edition of the Bizzy Awards program, honoring music companies & individuals who are advancing commerce in the music industry and making a difference in diversity, equity & inclusion efforts. The 2nd Annual Bizzy Awards dinner, sponsored by The LSS Group at RBC Wealth Management, will take place on Wednesday, May 17 and be hosted by Noelle Scaggs (Fitz and the Tantrums, Elektra solo recording artist, Diversify the Stage). Music Biz's 2023 Presidential Award for Outstanding Executive Achievement will be presented to Gina Miller of MNRK Music Group. Finalists for the seven crowd-nominated 2023 Bizzys Awards have also been confirmed, with winners to be announced during the May 17th Bizzys Dinner — click here for the full list of finalists.


About The Music Business Association
The Music Business Association (Music Biz) is a not-for-profit membership organization that advances, promotes and invests in the future of the music business by providing a trusted forum where ideas and cooperation flourish. Through events, education and engagement, the Association brings together the full breadth of the industry for unparalleled access to networking, resources and thought leadership.


About TikTok
TikTok is the leading destination for short-form mobile video. Our mission is to inspire creativity and bring joy. TikTok has global offices including Los Angeles, New York, London, Paris, Berlin, Dubai, Singapore, Jakarta, Seoul, and Tokyo. www.tiktok.com.


Music Biz Media Contact
Nicole Hennessey, Vice President — nicole.hennessey@musicbiz.org
TikTok Media Contact
Leah Linder, TikTok US – leahlinder@tiktok.com