MNRK Music Group's Gina Miller To Receive Music Business Association's 2023 Presidential Award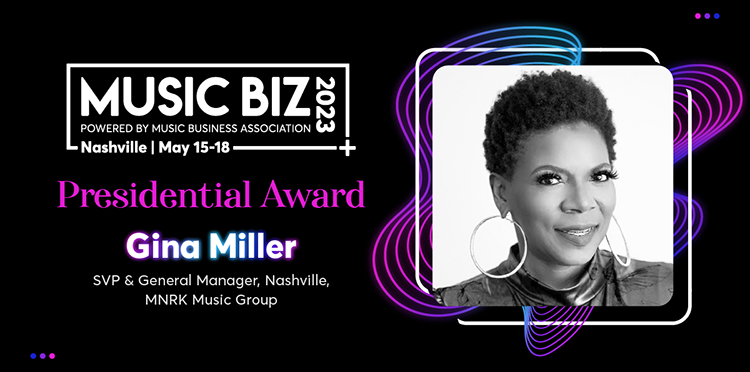 March 8, 2023 — The Music Business Association (Music Biz) today announces that Gina Miller, SVP and General Manager, Nashville for MNRK Music Group, will receive the organization's Presidential Award for Outstanding Executive Achievement, in recognition of her career-spanning leadership and commitment to bolstering diversity and inclusion across the music industry. Miller will receive this honor during the 2nd Annual Bizzy Awards dinner, taking place Wednesday, May 17th as part of the Association's Music Biz 2023 Conference at the JW Marriott Nashville.
Having spent nearly two decades with MNRK Music Group (formerly Entertainment One), Miller's current role as the label's SVP and General Manager for Nashville has her overseeing day-to-day operations and creative output for Nashville, including MNRK subsidiaries Light Records and IndieBlu Music. Throughout her career, she has used her platform and voice to both improve the ways the music business operates and create opportunities for those who are marginalized in our industry. Miller is a Governor of the Recording Academy's Nashville Chapter, and serves on the boards of Nashville Music Equality (which she helped found), The National Association of Black Female Executives in Media & Entertainment™ (NABFEME), The Americana Music Association, Creatives Day, Music Biz and Harmonic South. She was most recently named to Leadership Music Nashville's Class of 2022, as well as Billboard's Women in Music executive class in 2018 & 2020 and the Nashville Business Journal's Women Of Influence 2021 Class.
"Those who know Gina know that she's a powerhouse, someone who has an infectious passion for making our industry and our world a better place," shares Music Biz President, Portia Sabin. "I'm lucky to call her a friend first and foremost, not to mention a distinguished colleague and professional inspiration, and I couldn't be happier to present her with this well-deserved award!"
The Music Biz Presidential Award is one of the Association's highest and longest-standing honors, presented to individuals or organizations who have contributed greatly to the overall success of the music industry. Past recipients have included Sony Music Entertainment's Julie Swidler, Sony Music Nashville's Randy Goodman, Cary Sherman of the RIAA, Universal Music Group Nashville's Mike Dugan, Epic Records' Sylvia Rhone, the Country Music Association, the Recording Academy, and Dick Clark. The 2nd Annual Bizzy Awards ceremony will take place on the evening of Wednesday, May 17 and will be hosted by Fitz and the Tantrums co-lead vocalist, Elektra solo recording artist, and founder of Diversify the Stage, Noelle Scaggs.
# # # #
About Music Biz 2023
After its highly successful return to an in-person format in 2022, Music Biz 2023 will take place May 15 – 18, 2023 at the JW Marriott Nashville. The organization's flagship event will once again deliver four days of industry-defining conversations and connections, plus important discussions on how our industry may evolve to better serve the needs of all music professionals. Also returning in 2023 is the second edition of the Association's crowd-sourced Bizzy Awards program, honoring music companies & individuals who are advancing commerce in the music industry and making a difference in diversity, equity & inclusion efforts. Visit musicbiz2023.com for the preliminary conference agenda, event registration & lodging information, and more.


About the Music Business Association
The Music Business Association (Music Biz) is a not-for-profit membership organization that advances, promotes and invests in the future of the music business by providing a trusted forum where ideas and cooperation flourish. Through events, education and engagement, the Association brings together the full breadth of the industry for unparalleled access to networking, resources and thought leadership.


Media Contacts
For Music Business Association:
Nicole Hennessey, Vice President — nicole.hennessey@musicbiz.org
For MNRK:
Giovanna Melchiorre – gmelchiorre@mnrk.com
For Gina Miller:
Vaughn Alvarez – CR8 Agency – vaughn@cr8agency.com