[Keeping Tempo With Music Biz] — The Value of TV For Music Video In 2023: Interview with Jordan Glickson of Vevo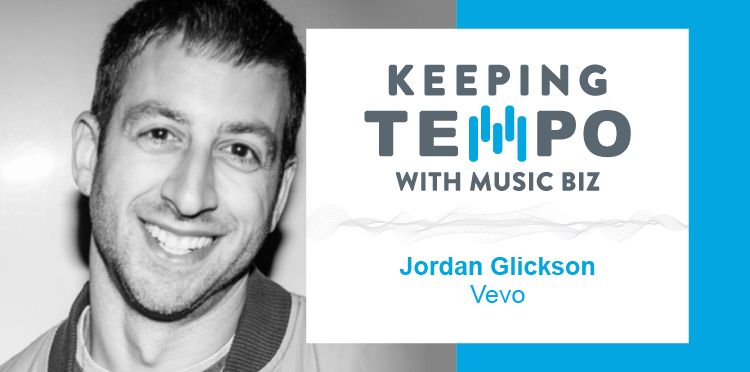 Music videos, both as an art form and as a promotional tool, have seen significant evolution in the ways they are created and consumed since the early days of MTV. And while the trending rise in user-generated content and short-form video platforms might seem like a blow to the format's popularity, the adoption of smart TVs and availability of videos in different formats across connected devices has actually lended to increased music video consumption. To sort through all this and discuss what's next for the music video, we sat down for a discussion with Vevo's VP, Music & Talent, Jordan Glickson.
---
Music Biz: Can you start things off by giving us a sense of the "state of the music video" thus far in the 2020s?
Jordan Glickson: Technology has really changed the way we make, consume, release and market music videos today. From social media to streaming, the music video is more accessible than ever, and therefore, has more commercial and promotional value than ever before.
Firstly, all of the technology that we have seen since the early 2000s, most importantly, the creation and rise of YouTube, has made an impact on formats and lengths – and still does to this day, especially with the launch of Shorts and social media. Today, music videos come in many variations, including lyric videos, live performances and extended cuts.
Subsequently, the nature in which music videos are consumed is one of the biggest evolutions. From social media to smartphones to gaming consoles, with so many internet-enabled, connected devices at our disposal, we can watch music videos whenever, wherever, and however we want to.
Music video viewership is currently highest on mobile, but we've also seen music videos come full circle since the early MTV days. More and more music videos are being enjoyed on the biggest screen in the home again, because of the proliferation of smart TVs (aka connected TVs) over the last few years. Last quarter, in fact, we saw over 4.5 billion views in the U.S. through the TV screen.
Before the 2000s, videos had huge production costs often due to the larger-than-life sets, choreography, costume changes and more. So music videos have seen another fundamental shift, with cutting-edge technology meaning that music videos can be made from the palm of your hand.


Music Biz: What effects did the COVID-19 pandemic have on music video production, release and consumption, given the challenges it has presented over the last two years both on the live music infrastructure and halting in-person video production?
JG: The pandemic affected all aspects of the music industry, and its effect on music videos was definitely an adjustment. We were lucky enough to have the resources to switch over to recording our original content remotely for a time – an advantage that we certainly don't take for granted. We're so thankful that we were able to keep the music coming for our franchises like DSCVR and Ctrl before in-person tapings came back.
When it comes to the consumption of music videos: with people staying home and needing entertainment and yearning for connection more than ever, we saw viewing times naturally increase. It also had an interesting effect on the devices that people were watching – music videos came back to the living room, with more and more people watching on their smart TVs and connected devices, a trend that continues to grow to this day. 


Music Biz: The ubiquitous nature of short-form video platforms today might make one think that longer music videos don't captivate audiences like they used to — however given the cultural impact music videos still have, do these two video formats actually exist more in harmony with one another?
JG: Yes, these two formats can work together – and we recommend having both, because each format serves a different function and way for artists to connect with fans. The more variety the better, which is especially true on platforms that have algorithms rewarding consistency and frequency. Artists need to think about releasing a number of formats for each song – from a promotional Short, to lyric video, to official music video, as well as an extended version if they wish. 
Also, remember that everyone has their own viewing preference and music videos are enjoyed on more screens than ever before. For example, short form content will likely work better for mobile, where there is more competition for attention. And in those cases, music videos that, let's say, have extended intros might see drop-offs in views early on. Long form content, on the other hand, will be better received on a smart TV at home, a larger screen that inherently offers that cinematic, lean-back viewing experience.


Music Biz: 2022 began with a revamp of the Vevo TV app to include new features, and appear on more smart TV platforms. What types of updates did Vevo feel were necessary to best cater to the modern music video viewer?
JG: Vevo is really leading the charge to bring music videos back to the TV screen – think of the peak MTV days of the '80s and '90s. Having our TVs connected to our home wi-fi has unlocked a variety of viewing environments on the biggest screen in the home, and it goes beyond subscription on-demand apps like Netflix and Disney+. There is a massive, untapped revenue opportunity on TV. 
Thanks to the internet, you can watch TV channels for free today, in the same way you would watch cable (but without the price of cable) – either by downloading apps (like Pluto TV) or via built-in services by TV manufacturers (like Samsung TV Plus or The Roku Channel). The trade-off for these free services and apps are that you'll have commercial breaks (again, just like regular cable TV) – hence the nickname: Free Ad Supported Streaming TV (FAST). More and more people are watching FAST, especially as subscription costs pile up, so we saw a lucrative opportunity to deliver music videos to more audiences in this way.
On FAST, you can also surf channels just like on a cable TV guide. It's afforded us the opportunity to program live TV channels featuring 24/7 music video programming – each of them dedicated to a specific genre (such as Pop, Hip-Hop, or Country) or decade ('80s, '90s, etc.), as well as holiday.
Then, within each channel, you can find specially programmed viewing blocks curated by mood, time of day, anniversary, pop culture moments and more. For example, on the Vevo Retro Rock channel, we had a special Alice Cooper-inspired hour for Halloween. Our programming team is really creative in how they program and stays on the pulse of trends, news, and emerging talent to make these channels a useful discovery tool.
FAST has been such a critical growth area for Vevo, that we have launched over 130 TV channels playing around the world in just a few years. This makes Vevo the largest FAST network in the world.


Music Biz: Outside of subscription-supported streaming apps or traditional cable TV, Free Ad Supported Streaming TV (FAST) streaming has gained popularity in recent years. Where does Vevo fit into the FAST space at this time?
JG: We wanted to carry over the successes from FAST to optimize our on-demand TV app. Previously, our app was purely on-demand, meaning you had to actively search and choose which music videos you wanted to watch. After several years of monitoring and understanding viewership behaviors and trends, however, we've learned that fans also enjoy arriving at live programming, especially at a time when we are overwhelmed with content. So much choice can seem daunting! In other words, while there is convenience in watching a music video on demand (instantly, when we want to), consumers also like to kick back and be served relevant, curated content. 
The new Vevo TV app integrates both of these viewing environments, on-demand and live linear programming, so that fans can have more options in how they watch and discover music videos on their TV screen. Now, alongside the already existing on-demand features, like search and skip, Vevo app users can access a feed of our TV channels. Each of these channels on the app are programmed just like our FAST channels on services like The Roku Channel and Samsung TV Plus, so there is a consistent feel to the Vevo viewing experience across all our endpoints.
The app enhancement has been a big success. Within the first two weeks of the upgrade, we've seen average watch time on the app across all the platforms we are on double!


Music Biz: That brings up an interesting point — outside of music videos, pro-shot live performances feature prominently among Vevo's offerings. Can you speak to the strength of performance videos, and how does consumption of these compare to that of traditional music videos?
JG: I think what stands out the most for live performances is the enhanced connection between artist and fan. People are looking for a bond with their favorite artists now more than ever, and these live performances allow people to see the music in a different way – they may not be able to go see these artists in person, but they can still see them live.
Outside of artist to fan connection, these videos are a valuable promotional tool for artists of all genres. They help expand the lifespan of official videos by being another asset to give to fans around the globe, generating more and more interest for the original track.


Music Biz: In recent months Vevo has undertaken a number of content & ad initiatives that support and recognize both artists & consumers alike marginalized communities — would you discuss these and their importance to Vevo's company strategy?
JG: People actively seek out and watch music video content that reflects their cultural heritage and/or personal identity – and that trend is significantly higher among demographics, such as Black Americans, AAPI and the LGBTQ+ community. As such, we have bundled some of our music videos by artists from these communities as various programming blocks and advertising packages for brands looking to reach these diverse audiences. For example, on National Coming Out Day, we launched our Vevo Out Loud ad product, featuring music videos by LGBTQ+ artists.
Ad dollars are how we monetize our network and generate revenue for artists and their teams, so these ad packages support and give back to each of these artists from these historically marginalized communities.


Music Biz: You just launched the 2023 edition of Vevo's DSCVR Artists to Watch program, which helps break promising young artists into the mainstream by partnering with them to release exclusive live performance videos. Can you discuss the origins of this project and the impact it's had for artists with whom you've partnered?
JG: Our Artists to Watch program has been running for an amazing nine years now, and it's something that the entire team takes great pride in. At its core, Vevo is a team of passionate music lovers, and we wanted a program that reflected the team's love for emerging artists, all while helping them get valuable exposure. While a ton of companies do predictive lists each year, we're one of the only companies that make original content with our selections, and promote them through our extensive network, and that's one of the biggest things that sets it apart from others.
All Artists to Watch get a full promotional and editorial push on our network, along with custom assets, playlisting and bespoke content for socials. More often than not, this program is the start of long relationships with these artists, and we work with them many many more times. We're so proud of how these artists have grown over the years – from Billie Eilish, to Sam Smith, Lewis Capaldi, Flo Milli, AJ Tracey, Jorja Smith, Aitch and Wet Leg, we're honored to be even a small part of their journey.


Music Biz: There's plenty of avenues currently where the music video format is alive and thriving — based on evolving trends, do you have any insights on how you think the format will evolve in the near future?
JG: When I think about the future of the industry, I think of the globalization of sound, and how that's going to happen through artist collaborations. Artists are going to continue to grow and experiment with different genres, sounds and languages, and that will be reflected through the visual creativity of their music videos. We've seen some super successful cross-genre collaborations these past couple of years – everyone from Tiesto and Karol G, to J Balvin and Dua Lipa, Billy Ray Cyrus and Lil Nas X has gone in this direction, and I think more of this is definitely to come!
---
You can read past "Keeping Tempo" articles via the portal linked here. And, stay tuned for more insightful discussions from our members and partners from across the industry!