[Keeping Tempo With Music Biz] — Building an Artist's Foundation: A Look Into Artist Development in 2020 with AGD Entertainment's Chelsea Cressman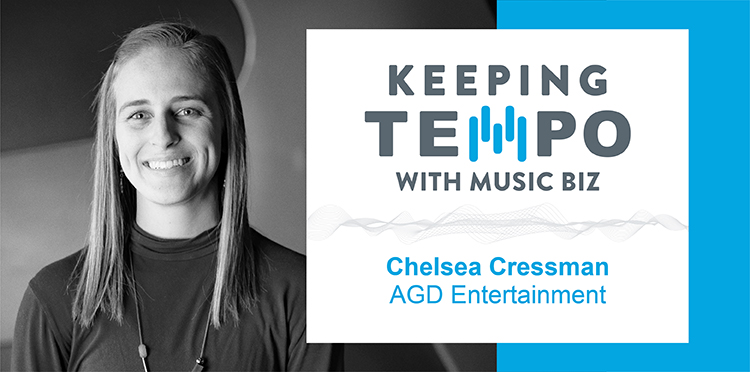 The social media and streaming markets have led to a strong influx of new artists, with the number of new tracks posted to Spotify jumping from 20,000 daily to 40,000 daily in a year's time. With all that competition, it can be incredibly daunting for a modern artist to connect with new fans and rise above the rest of the noise. We recently spoke with AGD Entertainment's Executive Director Chelsea Cressman about the company's offerings for developing artists, how artists can make themselves known as the creative class continues to expand, and what challenges artists will face going forward in 2020.
Music Biz: Can you give us a little background into why AGD Entertainment was founded, and what services it provides to artists?
CC: AGD Entertainment was founded by brothers Nathan and Timothy Dohse in 2014.  They started out in a band together and launched AGD in order to provide developing artists like they once were the tools necessary to advance in their career. The company's primary service is the Zero To 60 program, which assists artists with the setup and release of a project by providing educational and task fulfillment services across five main areas of a record rollout: operations, marketing, branding, publicity and performance.
Music Biz: AGD's suite of resources are all artist-focused, empowering them with the tools they need to succeed — why the artist-focused approach?
CC: One of the core values of the Zero to 60 program is to remain open door, meaning we work with artists of any genre, any level, and with whatever team structure they may already have in place. Whether they're just starting out working on their first EP or have been around the block a few times, we go through 350 tasks with each artist that fall into the five areas mentioned above from start to finish for every campaign. Artists know that it takes a lot to put out a piece of art, but a lot of them either don't know where to start or get too overwhelmed from the very beginning. These tasks help artists focus on a couple things at a time so that nothing gets skipped along the way. Artists can also have our team execute some tasks for them to lighten their workload while they focus on their art.
Music Biz: On a general note, how does an artist equipped with their own development tools and tactics integrate with their management team? Do conversations between artists and teams go more smoothly since there's a common, level playing field, or more friction between both voices?
CC: One of the biggest focuses on the operations side of each campaign that we work with our artists on is building a team. Who to hire next, when is the right time, who to invite to that showcase they've been working on for months, etc. are all questions that we go through on an in-depth level with each artist.  
All artists want to have someone do the work for them, but they need to first know their brand, voice, and narrative like the back of their hand — no one else besides them can develop the meaning and story behind their art. Once that's established, team members can then join in to help support in their vision. I've found that artists that have developed knowledge of both their art and their business have a more equal seat at the table with their management team or label. This legwork allows the artist to be more deeply involved in any conversations from the very beginning, instead of someone else making creative decisions for them.
Music Biz: Would you say it's easier for artists to bolster their own development due to rapid adoption of social media and more user-friendly tech platforms?
CC:  There are definitely pros and cons to all of the digital platforms that have emerged even in the last few years. One of the cons is just the sheer volume of platforms that are out there where an artist could possibly engage with new potential fans. It's daunting, and pretty much impossible, for artists to be present on every single one. 
This is where creating a narrative plays a key roll. Once an artist establishes the story they want to tell, they can create the content to bring that story to life. From there, the pro with all these digital platforms is that they allow artists to see who is engaging with their content on what platform and then focus on those specific spaces. For example, we all know that Facebook, Instagram, and YouTube are the big three when it comes to getting your content out to the masses. Beyond that, have you tried playing around with videos on TikTok? Grown an actively engaged following on Snapchat? Put your performance skills in front of more people via Periscope? 
Music Biz: Certainly the availability of content and the ease of access in posting new material is a major concern for budding artists looking to break into the business. What piece of advice would you offer those artists looking to make a name for themselves?
CC: Dive a little deeper into creating your narrative. I always ask my artists what is going to make them stand out against every other artist shouting from the rooftops, "I just released a new single, check it out!" Usually, that comes down to all of the things that make up that artist as an individual. Yes, this includes the masterpiece of music they're releasing into the world, but also what do they like to do outside of music? What do they believe in? What values or causes are really important to them? This allows for the artist to peel back the curtain, however much they want, on what is important to them in their lives which ultimately resonates with other people who like or advocate for the same things. This narrative helps create a name for themselves as an artist and gain more actively engaged fans in the process.
Music Biz: Do you think, in some cases at least, artists benefit from ditching technology and adopting tried-and-true tactics?
CC:  I think that we're in an age where technology can't be 100% ditched, but one of the simplest tried-and-true tactics that I think stands the test of time regardless of tech advancements is the handwritten thank you note. Whether this is to a venue that took a shot on you for your first show in a new city, a radio station DJ who took the time to chat about your new record on or off the air, a team member that helped you through the process of putting out your record, or really supportive fans that participated in your pre-order, personal and genuine gestures like this go such a long way for artists building relationships not just with fans but also within the business. 
Music Biz: Looking into 2020, what new trends, technologies and platforms would you say will have the biggest impact on artist development going forward?
CC: I think one of the biggest trends we're seeing digitally, specifically with advertising, is that people don't want to be sold something. They want to experience it. And, if they can do that while creating connections with other people, even better. As far as platforms go, Spotify has opened the gates more and more for artists' benefits such as Spotify for Artists, direct distribution, and submissions for editorial playlist consideration. All of these benefits allow artists and their team access to a ton of important data on how their music is performing and where, along with ways to personalize their Spotify artist page to further their narrative as an artist.
Music Biz: What do you see as the biggest challenge for developing artists in the coming year and beyond?
CC: There is an overwhelming number of musicians fighting to make a name for themselves in the modern music business. You mentioned that 40,000 tracks per day are being released on Spotify; that's a crazy amount of music! I think this massive number sometimes pushes artists to feel like if they don't release the album they just recorded tomorrow, then they're old news — that's just simply not the case. Taking the time to create really amazing art and developing a solid release plan for it takes way more work but yields more longevity for their overall career.
Music Biz: And how do you think they'll be able to overcome these challenges?
CC: Building a strong foundation is so key for every artist's career, especially for the long term. In developing this foundation, the artist needs to not skip any steps, without any excuses like, "I'll reach out to publicity outlets on my next record," or "By the time my next record comes out, I'll be able to run digital ads." Giving each piece of art, no matter if it's your first one or your 12th, the full push it deserves is what's going to help artists cut through the volumes of music being released every day.
---
You can read past "Keeping Tempo" articles via the portal linked here. And, stay tuned for more insightful discussions from our members and partners from across the industry!