[Keeping Tempo With Music Biz] — An Update on the Direct Shot Distribution Crisis Ahead of the Holiday Season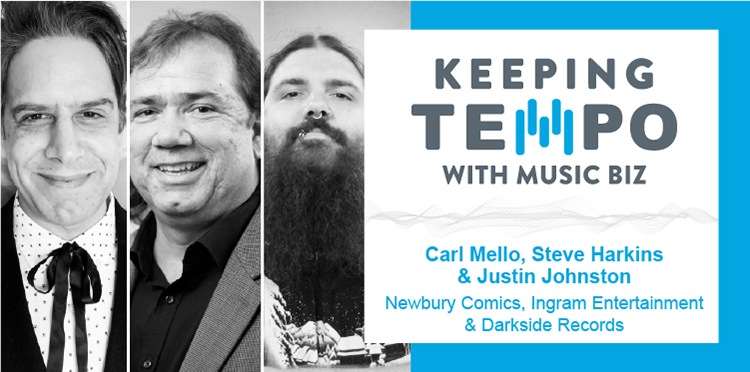 The musical consumption landscape continues to change year-to-year and even month-to-month. For years now, the media has claimed that the rise of digital formats will put an end to physical media as we know it. However, earlier this year, it was revealed that vinyl records and cassettes continue to see widespread appreciation from the music-buying public. Nielsen Music reported that this year's Record Store Day week saw 827,000 vinyl albums sold in the U.S. This was the third-largest sales week for vinyl albums since Nielsen started tracking sales in 1991. According to the mid-year RIAA shipment numbers, net revenues from physical products grew 5% to $485 million in 1H 2019.
Unfortunately, not all has gone smoothly for these retailers, as product distribution from the major labels has been consolidated to one company, Direct Shot Distribution. As outlined in an op-ed co-signed by 40 retailers this summer, this move has severely crippled the supply chain to indie stores, who across the board have reported new releases missing street dates, incomplete shipments, deliveries where the amount of product exceeds what was ordered, altogether missing shipments, and more.
Music Biz's Physical Business Action Committee (PBAC) exists to promote the idea that physical music product remains a meaningful and important business model with an ownership proposition for music fans that cannot be reproduced digitally. The PBAC meets regularly to air the concerns of physical product retailers, wholesalers and the like to promote sustained success in the physical music marketplace. We asked PBAC members Carl Mello of Newbury Comics, Justin Johnson of Darkside Records, and Steve Harkins of Ingram Entertainment to discuss the current state of the Direct Shot issue, and what effects it may have on the impending holiday selling season.
---
Music Biz: Thank you all for sharing your perspective on the Direct Shot situation. For the sake of our readership who may not be familiar with what is happening, can you briefly discuss how this issue came to be?
SH: Prior to 2019, Sony and UMG had utilized the services of the third party company, Direct Shot Distribution, for warehousing, pick, pack and shipment of physical music products. In April of this year, WEA opted to utilize Direct Shot and their services; in the same month, a new retail requirement was implemented, significantly increasing the overall volume of shipments while decreasing the average size.
CM: This resulted in lost and untraceable product, unfilled orders, incorrectly invoiced product, inefficiently packed product (instead of 30 CDs in a box, you might receive 30 oversized boxes, each with one CD in them.), and at best, delayed orders. 
Due to both the severity of the problem and a contemporaneous change of WEA's B2B site, customer service for Direct Shot-related products fell into disrepair at the same time. In my over 30 years in the music business, I have never seen anything near this failure to deliver a reasonable standard of performance.  
SH: And it's important to note that this crisis is not limited to independent record stores — it has also negatively impacted major chains, mass merchants and online retailers.
Music Biz: What steps, to your knowledge, are being taken to rectify the situation? Have there been any updates — improvements or otherwise — since the collective of indie retailers penned their letter to the majors this summer?
JJ: There was maybe a glimmer of hope when we learned longtime distributor Legacy purchased Direct Shot, but that match burned out fairly fast. When this whole situation started, problems were relegated to a new release here or there not showing up until Monday. But since then it's just snowballed into eight weeks between a purchase order sent and even a single piece of product from that PO received. 
In the present day, we're totally shut out of ordering product directly from some of the majors and choosing not to order direct from the rest because we have to do our best to get what our customers demand of us – product.
CM: While the problem remains serious, there have been steps taken to attempt to alleviate the stress put on Direct Shot. Currently, this mostly involves moving fulfillment of product to other suppliers, taking some of the burden off of Direct Shot and giving them a chance to elevate their performance. 
SH: One major recently moved their new release operation for select market segments to a second facility operated by Direct Shot. The intent is to alleviate some of the workflow from the third party's primary facility. Some independent retailers have reported service level improvements in this area. 
CM: That said, a good deal of time has passed since this ordeal began. Without complete transparency from those intimately involved with Direct Shot, it's hard to feel optimistic about their ability to reverse course and raise performance to an acceptable standard.    
Music Biz: To that point, the last time the Direct Shot issue was covered by trade media was this summer. Why is it that this issue has not remained in the news?
CM: It's been a long time since it was particularly sexy to advocate for or report on physical product. For instance, last summer, when the RIAA released their 2018 mid-year report that showed a precipitous decline in CD sales, the articles that followed showcased uninformed takes ridiculing buying music physically. They ignored the fact that sales numbers were also impacted by the fact that at least 30 albums that had top 10 debuts on the Billboard Top 200 so far that year that were not even released physically — if you don't build it, it can't be bought. 
JJ: The story of Direct Shot failing to do their job can't tread water because we all just expect music to be where it's supposed to be. No one is stopping to think that the three largest music companies in the world all have their physical goods in one warehouse that can't get it right. 
SH: Primarily retailers and wholesalers value their long-standing relationships with labels, distributors and artists. It is appropriate to focus on seeking solutions with our partners rather than air our concerns continually.
Music Biz: What communication have you had with Sony, UMG and Warner regarding the situation?
SH: UMG, Warner and Sony have each dedicated resources and time to discuss these continuing challenges and they monitor and guide our order status. Those responsible for day-to-day physical music business are equally concerned and frustrated with this crisis. They are to be commended for their dedication; however, they do not own the execution of product fulfillment. Their companies do own the decision to exclusively use the services of this one third-party company. 
And to their credit, Direct Shot has opened lines of communication. Ultimately, however, this issue is not about poor communication; it is about poor execution of product fulfillment.
JJ: We talk about it with our reps and above almost every day. It hasn't gotten dull because there is always a new issue to be dealt with. From chasing down POs that have been invoiced but never shipped, to opening 30 individually packed copies of the same Beatles LP, to typing out emails asking if there is any tracking or information on when this week's most in-demand release might actually arrive, communication from our end is ongoing. The level of our communication as a retailer is directly correlated to how much product we aren't receiving. 
Music Biz: Tegan and Sarah recently announced that they've asked Warner to shut down their online store due to the inability to meet shipments of their newest album. They're surely not the only artists out there that this has affected — what has been the reaction you've gotten from artists and managers who work closely with you to plan in-store performances, signing sessions, etc.?
SH: The negative impact on developing artists releasing new albums cannot be understated. New fans are walking out of stores without their intended purchase moving on to something else commanding their interest. Those artist management companies in the know are angry and frustrated.
CM: It's the reaction from artists, managers and labels. When artists like NF and Chance the Rapper are battling it out for a #1 chart position, the frustration of having unexpected issues impact their performance is felt not only by the artist and management, it's felt by everyone responsible for the success of that project.   
JJ: Personally, I was excited when I saw the Tegan and Sarah story come out, because we need artists to share this with their fans. We need any artist who's been affected to speak up publicly, not just to distribution partners, and we need their managers and labels to do the same thing. That's where the groundswell for change can really happen, when artists, managers and their labels put pressure on not only internally, but by publicly addressing what's going on.
Music Biz: Outside of the industry player perspectives, it's also important to talk about how this affects consumers. With 2019 being a banner year for physical releases from artists like Taylor Swift, Tool, and BTS, what have you heard from music fans who have come to your stores and are forced to leave empty-handed?
JJ: It really depends on how well we know the customer. Our regular and loyal customers are willing to listen to us try to explain this saga and are sympathetic. They still support us because we know them and what they're into, and what we can turn them on to if we had it. 
CM: But there are only so many chances you get to say, "No, I don't currently have that," to a customer before they change their music consumption behaviors. The "why" doesn't and shouldn't matter to the customer. It isn't their job to be aware of these things!
SH: Retailers make continual inventory commitments, but have difficulty receiving ample inventory to meet their needs and new album releases on a timely basis. Consumers are not educated about the root cause of the supply chain crisis. Consequently, retailers are unfairly measured and harshly criticized publicly through social media.
JJ: More casual customers and total one-offs who just stop in won't care and haven't cared what we have to say, so we stopped trying to convince them it's not our fault. We put on the best face we can and offer to take their info for when it does come in. Some people are cool with it, others just think, "Well I'll buy it online!" Good luck with that.
Music Biz: We're now in the Q4 purchasing season. How will the current state of the Direct Shot situation holiday season numbers for you?
CM: There is no question this situation will have a negative impact — the question is to what degree? We're in the middle of November and have orders from this summer that still haven't been filled, for some of the biggest albums in history. 
JJ: The most immediate effect is that it's hurting our credit lines and costing us a lot more money upfront. We've had to step out on catalog and new releases now, to be ready for all the moms and bewildered grandmother's in our shop with a list for their grandson, who's a regular, just to make sure we can try to sustain everyone's wants for the holiday season. Thankfully, our one-stop partners have been working with us to help mitigate some of the blow, but they still have to make money, too. 
SH: Without question, this year will be unique whereby thousands of artists' catalog recordings will not be available for purchase due to the supply chain crisis. Even perennial holiday recordings with long-standing, predictable sales patterns are in short supply and hitting retail locations later than in previous years. 
JJ: We're doing our best to not raise prices where we can, but in the end we do have to pass some of it off on the consumer. Raising an LP from $24.99 to $26.99 could actually mean that someone's niece doesn't get Billie Eilish AND Lana Del Ray this year. They might just get a pair of those funny socks by the register instead of that second LP. 
Music Biz: Record Store Day and its Black Friday counterpart has proven to bolster major numbers for the past 11 years. Do you expect the situation to affect access to the special collector's item releases planned for this November?
CM: I do know that precautions have been taken to mitigate the negative effect of this current reality, and I'm an optimistic person by nature. So, my fingers are crossed for a reasonably solid event. Ask me on November 30!
SH: There appear to be the typical production challenges, but both labels and distribution companies took extreme measures to ensure that product is delivered as timely and accurately as possible to retailers and wholesalers. It appears the delivery of Black Friday product is far better than day-to-day products available to all market segments.
JJ: Direct Shot is handling a chunk of our RSD orders and they all haven't arrived yet. As I write this, we are only two business days from Black Friday and we don't have 75% of my allocated product from one of the majors. When I inquired, the answer is that Direct Shot hasn't shipped them yet. Our Paul McCartney 7″s for Black Friday did come though – Direct Shot packed 7" picture discs in bubble mailers meant for CDs. Hopefully no one comes looking for a copy without a bent corner!  
On the flip side, WEA moved all of their Black Friday exclusives to one-stops even before they cut off direct indie distribution for regular product, so in that sense we at least felt confident that our product would arrive on time.
Music Biz: Indie record stores play a vital role in physical music commerce with more and more big-box retailers scaling back their stock on such product. Do you have any closing thoughts to offer readers as the current flag-bearers for selling vinyl, CD, cassettes, etc.?
SH: Collectively, we have suffered an unfair loss of revenue and customers and incurred unplanned, significant expenses — the administrative and operation costs alone are proportionately unprecedented. The good news is there are solutions to vastly improve the supply chain, but it will require the U.S. leadership of the three majors taking swift, bold and long-term steps to eliminate this crisis.
JJ: I got into this business 10 years ago, right as vinyl started to take off. I did it not because I knew it was going to, just because I was passionate about music and record collecting and saw a need in my community for a record store that could cater to anyone who walked in. We've grown from nothing, graduated from 2,000 to 9,000 square feet, hosted amazing touring bands, held community charity events, and beyond. And we've had a great time doing it all along the way. I don't plan on going anywhere, despite whatever a distribution company can throw my way. 
CM: I'm unfailingly optimistic about the future of an innovative, forward-thinking sector of independent music retail, one that better focuses on "seeing" and serving a more diverse clientele. With K-Pop redefining what a physical release can look like (and with Taylor Swift definitely paying attention); with Tool bringing higher-ticket, D2C style innovation to the mass market; and with artists like Travis Scott and Billie Eilish selling mass quantities of unique types of merch, music fans are nowhere near over owning physical product, totems and tributes to their complex and rich relationships with their favorite artists. Beyond Direct Shot, there is only opportunity! 
---
For more on the Direct Shot situation, click here to listen to the latest episode of "The Future of What" podcast, hosted by Music Biz President Portia Sabin.
You can read past "Keeping Tempo" articles via the portal linked here. And, stay tuned for more insightful discussions from our members and partners from across the industry!