[IN THE NEWS] — NY:LON Connect 2020, Day Two Recap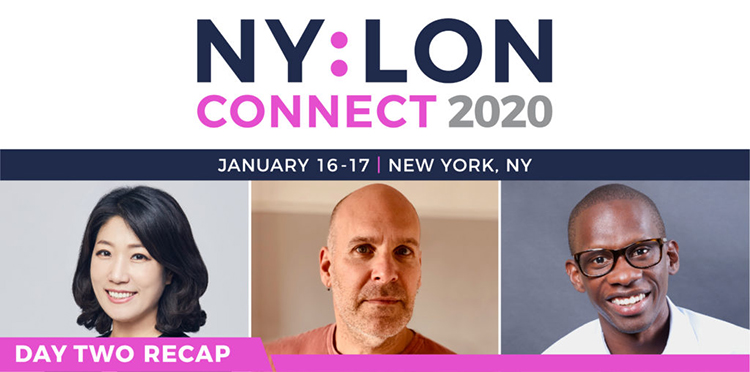 The NY:LON Connect 2020 global music summit, powered by Music Biz and Music Ally, was held this past Thursday and Friday, January 16-17, at the Dream Downtown in New York City. Strategically planned for the beginning of the year, this sold-out event hosted high-level executive delegates from 19 countries to discuss the status of the global music business and to set a unified agenda for the industry in the coming 12 months. Click here for a recap of NY:LON Connect 2020 Day 1.
---
Track 4: Emerging International & Influential Markets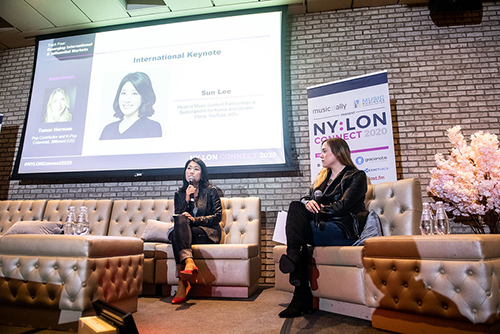 It's no secret that K-pop has dominated the minds — and wallets — of global music fans; in her keynote on Day 1, Spotify's Cecilia Qvist stated that BTS was the second most-streamed artist on the platform behind Queen. This influx of activity has done a great deal to boost the Korean music market. Day 2 keynote speaker Sun Lee, YouTube's Head of Music Content Partnerships & Subscriptions for Korea and Greater China, began her talk with Billboard contributor Tamar Herman by citing IFPI numbers from 2010 and 2018, which show that the region has gone from the 21st to the 6th largest music market in just eight years' time. Lee emphasized the major role that YouTube has played in boosting music from the region, notably starting with Psy's smash 2012 hit "Gangam Style."  She went on to discuss how artists like K-pop group BLACKPINK have continued to smash records in the last year, such as receiving one million concurrent views on the platform. "Youtube is a global stage that helps content travel far and wide," Lee said,  emphasizing that this is not uniquely due to streaming habits in the region — 90 percent of views for the top 25 YouTube videos in 2018 came from outside of Korea.
One major factor that has contributed this growth is the way that fans in Korea consume their music. Korea has a very chart-oriented music business that influences what users listen to, rather than users personalizing their own playlists. "It would be like people in the U.S. pressing play on the Billboard 100," Lee offered. Another major factor is how K-pop artists have embraced physical formats to boost their album sales. Similar to how Taylor Swift released different collectable editions of last year's Lover, Korean artists are packaging their records with limited-edition cards with members from each member of the group, or lottery tickets to win free tickets to their live performances. These tactics are giving fans incentive to buy multiple copies of their albums upon release. When asked about the future of music from the region, Lee said she was confident that future cross-genre collaboration with K-pop artists, along with Billboard's recent decision to factor in YouTube streams in song chart positions, will help solidify the Korean market's impact on the global industry.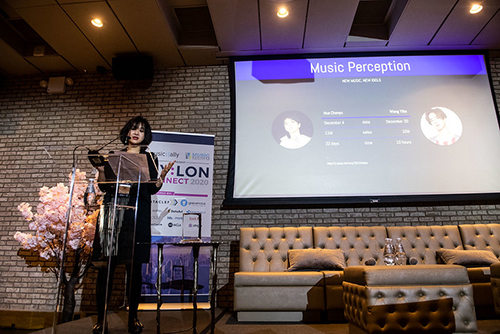 The track carried on with a presentation on the Chinese market from Kanjian Music Co-Founder Xiaoman Zou, who has over 15 years experience working with copyright in China. The taste of music fans in China is dictated by relatable artists who have exciting, relatable backstories, with Zou explaining,"In China, we love music and a good story… everyone wants to be like their favorite artists." Despite the level of relation fans seek with their favorite artists, many are flashes in the pan, relatively speaking. While an artist like Wang Yibo can bring in $2.6 million in 20 minutes upon releasing a new single, Zou said that most songs don't remain popular for more than six months to a year.
Similarly, China has currently more than 50 different music services, but Zou says the turnover for some of these companies is incredibly quick. This is due in part to getting used to differences in how business is conducted in the region (e.g., communicating mainly over WeChat instead of email), and ensuring your business model is financially viable. Zou also points out that no music companies in China are really disconnected from politics in the region, saying that if you want to sell or stream music, you need to have at least five licenses from five different government entities' and that proving that your company has the resources and tech to meet their standards is often difficult to prove. Still, with over a billion users in the region and steep growth in streaming revenue, there is a great deal revenue that can be earned once players in the region acclimate to its unique requirements.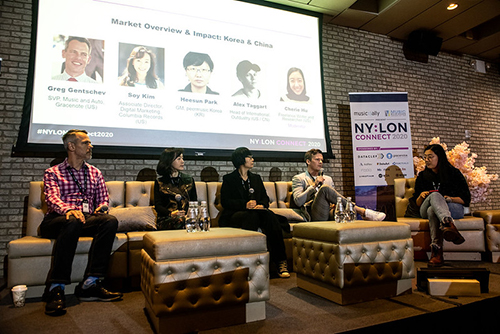 Building off the opening discussions of China and Korea, the day's first panel — moderated by music business writer Cherie Hu — dug in deeper to the opportunities and global impact that these markets present to the global music industry. Alex Taggart of Outdustry began by discussing how improvements in rights management in the region over the past three to five years thing, but it will take some time for revenues to meet expectations. He also shared that Tencent Music, the largest parent company for streaming services in the region, brings in around 70 percent of their revenue from social-based music services, such as virtual "gifts" that fans can send to their favorite creators as tips for their content. Additionally, artists license their music to stream on DSPs, but offer an option to sell exclusive content to fans who buy albums for a few extra dollars on top of the streaming fee. While there's a great deal of money flowing from China at the moment, Taggart says there's still work to be done before local music breaks into the global mainstream. He offered that the Korean government has invested in its music business for almost 20 years, and the fruits of its labors are just beginning to show in recent years with the K-pop boom.
With respect to the success of music exported from Korea, Columbia Records' Soy Kim offered that along with the music comes an export of "K-Culture," calling it "not a product but a movement" for fans to embrace. The widespread availability of WiFi also makes streaming content easier — with the three major regional telecom companies blanketing South Korea with internet access, the spread of information is "blisteringly fast." And according to Kim, celebrity culture is a bigger deal in Korea than in the U.S. — an artist can be attached to a makeup brand or alcoholic products, and these types of partnerships are major drivers of commerce for the Korean music industry. When discussing how to break artists both in China and Korea, the panel agreed that partnerships like these should be forgone for a social-first strategy. BTS, for example, was extremely engaged with their fan base at the start of their career, helping to quickly build and maintain a high level of enthusiasm for whatever their next move might be.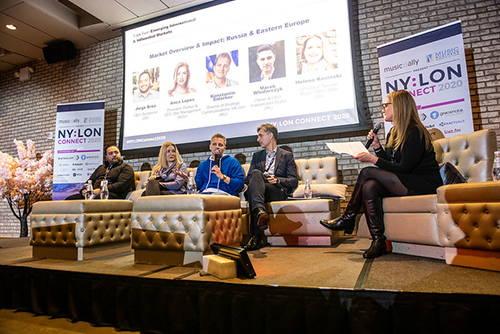 Wrapping up the first track of Day 2 was a discussion of the Russian and Eastern European markets, with special focus delivered by delegates from the Polish and Romanian music industries. Panel moderator Helena Kosinski of MRC Data offered context for why these markets offer such promise right now: as the western part of the world has adopted paying subscription fees for music, growth in more mature markets is beginning to dwindle, so the question is now where the next major boom of growth will come from in the west. Beginning the discussion was Konstantin Sidorkov, director of strategic communications for the largest social network in Russia, vKontakte (VK). Before the introduction of streaming in the region, which VK is now a major player in, Sidorkov said that the Russian music model mostly mirrored a SoundCloud model, where artists could upload their music without a way to monetize. Now, after signing deals with the major labels, VK has around 2.5 million subscribers, a number similar to that of Apple Music's in the region and a major fraction of Russia's total of 8 million music subscribers. Symphonic Distribution CEO Jorge Brea mentioned that their growth was relatively organic in the region, saying that their success in the region largely to Russia diversifying its music business to embrace streaming.
Moving onto Poland, panelist Marek Włodarczyk, owner & CEO of Independent Digital, discussed how physical music still plays a major . On the streaming side, Włodarczyk shared that while the Polish Hip-Hop scene has a major demand for physical product, the Polish market has majorly embraced streaming over the past six to seven years. Users are largely listening to local artists — 70 percent of the Spotify Top 200 in Poland are Polish, the majority of which are Hip-Hop artists. Spotify is the largest streaming market in the region, although the split between ad-supported and paid streamers is 50/50, making Poland only one percent of Spotify's global market share. Due to a deal with regional mobile carriers, Tidal is the second most prevalent platform in Poland.
Representing Romania was Anca Lupes, the President of RAW Music, an organization that supports growth for the region's music industry through its Mastering the Music Business event. Though the region is geographically smaller than most in Eastern Europe, the market share is the second largest. As of now, around 40 percent of the country streams music, with YouTube and Spotify reigning as the major international players on the market. The IFPI has also supported the development of an indie label association in the region to bolster growth outside of major label music. Lupes also shared that the live music market in Romania is a major factor, with local ticketing platforms reporting that more than 5,000 live shows across all genres took place in Romania last year. To that point, live music is also significant in Russia, with VK's own VK Festival in St. Petersburg bringing in around 100,000 attendees every year. The event is drink- and drug-free, and also offers educational programs, sporting events, and other activities.
Click here for a full recap of Track 4 from Music Ally.
Track 5: Technology, Innovation and Startups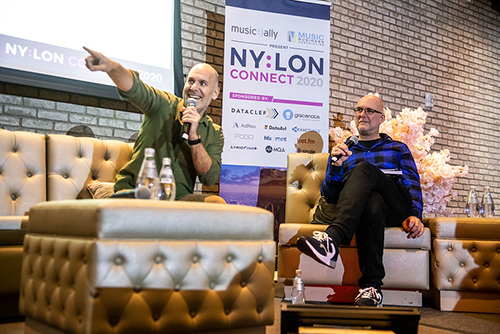 The final track of the 2020 NY:LON program began with a spirited discussion about the future of music tech with WMG's new Chief Innovation Officer for Recorded Music, Scott Cohen. An innovator in every sense of the word, Cohen helped start digital distribution giant The Orchard in 1997, before the record industry made its major transition from physical media sales to the $.99-a-song model of the MP3 era. Cohen explained to interviewer Paul Brindley, CEO of Music Ally, that in his role with Warner — one that was tailor-made for his skillset — is to ensure that the next major transition in the music industry is smoother than the shift from physical sales to digital, and online sales to streaming. He equated this to his shift from using an "A-to-Zed" map when first moving to London to now using Google Maps; Cohen said he can't pinpoint when the transition happened, and he hopes the next shift in the music business is just as seamless.
So what is next on the horizon for the music business? Cohen discussed how, in its current form, VR has yet to reach its full potential for music. The important part to him is crafting a truly visceral experience, giving the example of boxing games for VR headsets that create the distinction of, "I n0t playing a boxing video game, I'm BOXING!" He offered the example of a VR app that would make the user feel like they were on-stage with their favorite band, playing along to their favorite songs without having a hint of musical talent, as the level of engagement that really resonates with users. AI was also on the docket, discussing its applications in creating new music. On a general note, Cohen offered his advice to those tech companies looking to pioneer in the music business but biting off more than they can chew: "Do one thing well!" He stated that many times, the "unsexy" problems in the industry are the ones that are the most lucrative, such as those currently working to improve the metadata space.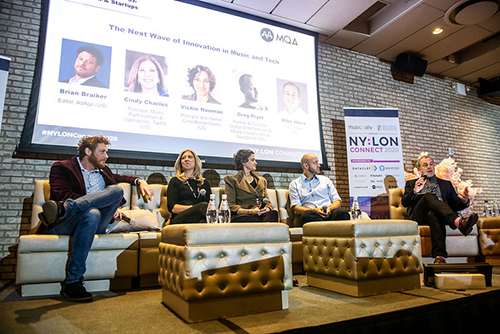 Expanding the discussion on future innovative tech in the music industry was the day's last panel discussion, moderated by MQA CEO Mike Jbara. The discussion began by asking AdAge Editor Brian Braiker about the outside perception of music's value proposition, particularly in the case of a marketing campaign. Braiker said that while music is is mostly used as an additive in campaigns (from the perspective of CMOs), the direct-to-fan relationship that a number of modern artists are currently embracing shows that there are otherwise untapped audiences that artists build by themselves simply by them being fans of their music. Speaking on audience engagement, Twitch's Cindy Charles discussed how the company's streaming platform, while appearing to be passive entertainment, actually engages audiences — she offered the example of viewers tipping streamers who are singing karaoke, a business application they are exploring in Korea and Indonesia.
Outside of Twitch, gaming came up as another avenue that the industry has just begun to explore. According to CrossBorderWork's Vickie Nauman, the "A-Ha!" moment for the industry was when Electronic artist Marshmello performed a concert on popular online game Fortnite, which was viewed by more than 10 million gamers. She now works to license music in expansion packs for VR rhythm game Beat Saber, which requires users smash colored blocks in tune with a song to earn points. Explaining how the revenue stream from this game came to be, she credits it to developing a compelling user experience, saying, "Today we pay $8 for a cup of coffee; we could be paying $8 fo a pack of music, too."
The panel then shifted to the future advances in monetizing music via tech. Among other things, differentiation between DSPs was explored; while the industry explored offering exclusive content on major players like Spotify and Apple Music, this is more about creating more tailored services based on fan interests, akin to Heavy Metal digital radio station Gimme Radio. Furthermore, the panel discussed smart speakers and DSP playlists don't yet engage the listener by sharing artist info for new tracks similar to the ones they love — in order to get more info, users need to remain tethered to their phone, and future tech applications could be used to make these forms of passive listening more active.
Click here for Music Ally's recap of Scott Cohen's keynote interview and the "Next Wave" panel.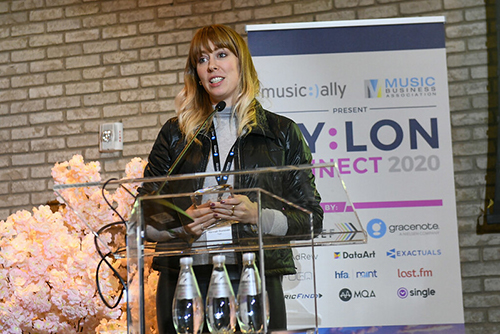 AI was the (unplanned) theme for the 2020 edition of the NY:LON Connect Startup Showcase and Award Ceremony. All five companies — Super Hi-Fi, MyPart, Boomy, FeedForward and Trash — presented innovative, AI-based solutions that can create new revenue streams for the industry. The winning pitch, as determined by an audience poll, was "Computational Cinematography" app Trash, showcased by founder and CEO Hannah Donovan. The app takes video clips shot on a user's phone and, using patented AI tools, creates a short film complete with filter edits and music clips. Relating to the music business, Donovan discussed the opportunity to license 30-second clips of songs to soundtrack users' videos.
Click here for Music Ally's coverage of the Showcase and Awards program, with details on all of the day's pitches.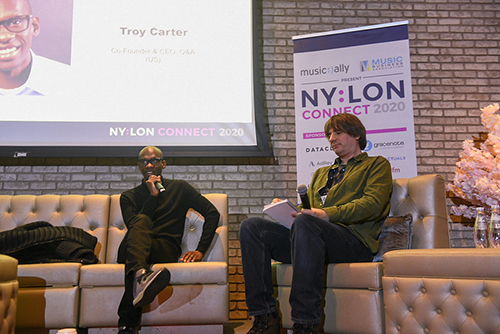 After presenting Trash's Donovan with her award, Q&A's Troy Carter took the stage for the finale keynote of this year's program, moderated by Music Ally's Stuart Dredge. A man of many hats in the modern music business, Carter discussed how his time at Spotify proved to be a "master class" of the future of the music business, and how the industry could marry traditional practices with new tech advancements. This specific approach guided his actions after leaving Spotify, which led him to take time off and explore what was happening in the African and Chinese music markets, then assemble Q&A around what the artists of today needed from a modern day music company. Speaking on the the patience and specific care it took to follow this approach, Carter offered, "You can't bake a cake in a microwave."
One thing he learned, and has incorporated into Q&A's software-focused division, is that it's necessary to develop tailor-made tech solutions for the music business that meet your company's specific needs. These solutions should not, according to him, get in the way of an artist-first approach to music. To that end, Q&A build its Human Resources division to offer label services for its artists, assembling a team that understood and operated under the natural gestation for new artist development. Carter said he values the role that tech plays in the business now, but it should remain a means to an end for users to access and pay for music, and that songs should not serve as "a customer acquisition tool." He also discussed his frustration with the music business' approach to using data. "Politics shouldn't be more advanced than music," he said, with the example that an artist's team should be better equipped to utilize user data for promotional purposes than a team for a political campaign.
Click here for the full transcript of Dredge's interview with Troy Carter.