[IN THE NEWS] — NY:LON Connect 2020, Day One Recap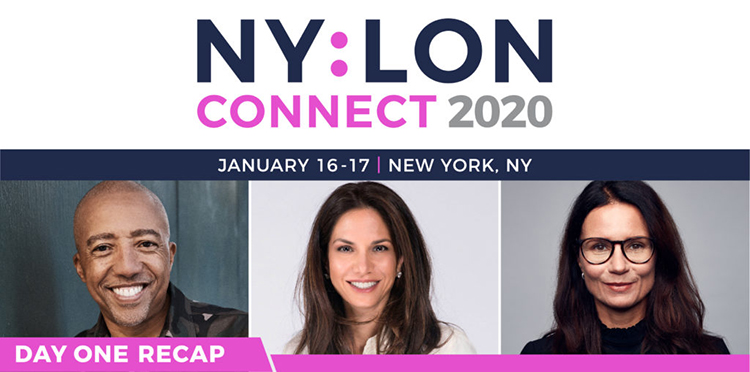 The NY:LON Connect 2020 global music summit, powered by Music Biz and Music Ally, was held this past Thursday and Friday, January 16-17, at the Dream Downtown in New York City. Strategically planned for the beginning of the year, this sold-out event hosted high-level executive delegates from 19 countries to discuss the status of the global music business and to set a unified agenda for the industry in the coming 12 months. Click here for a recap of NY:LON Connect Day 2.
---
Track 1: Global Streaming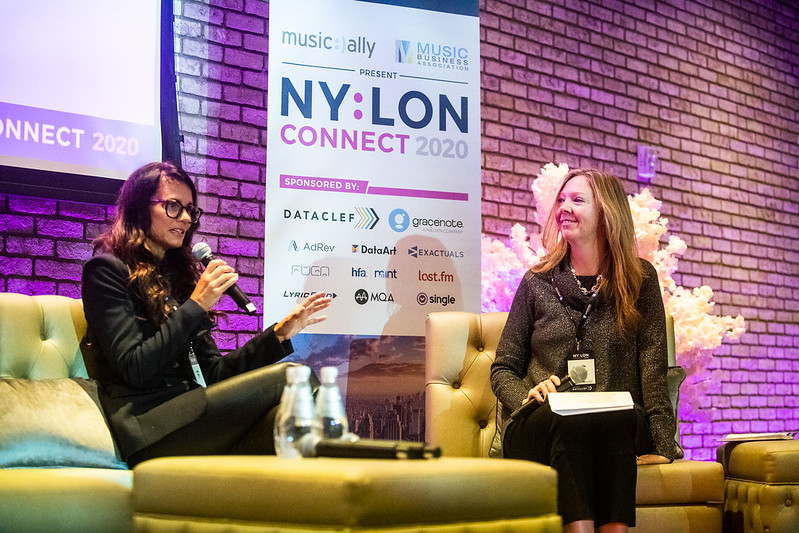 The first day's program kicked off with a keynote interview of Cecilia Qvist, Spotify's global head of markets, conducted by Music Biz President Portia Sabin. In the talk, she discussed her approach to expanding into developing markets, explaining that the company does not put "boots on the ground" in new regions until they have assembled the right personnel to give its robust culture due attention. "We are a streaming service with a global reach, but a local touch," Qvist offered. This process takes into account the genres and content that each country favors, ensuring and localizing their app to make sure users can use it no matter their dominant language (Qvist noted that when Spotify launched in India last year, the app included five local languages to choose from).
The conversation moved to the future of the industry, and what excites Qvist at the beginning of the year. "We're on the tip of the iceberg of what streaming will become," she said, noting that it was only 10 years ago that consumers accessed media through print books and newspapers, and that music consumption will continue to evolve as well. She also discussed interesting developments around podcasts, stating that Spotify's implementation of podcasts on their platform has led to growth in audiences in Latin America and Indonesia. Going forward, Qvist said the company looks to expand its investments on educational, health, and mindfulness-minded programming, committing to internal estimates that non-music content will one day comprise 20 percent of Spotify's offerings.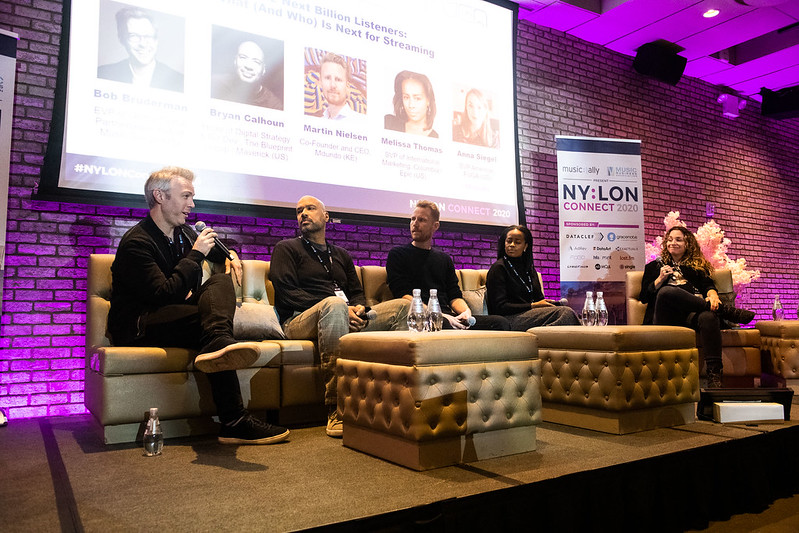 After Qvist's interview, the first panel of the day kicked off, asking the question of where the music industry will find its next billion streaming listeners. Melissa Thomas, SVP of international marketing for Columbia Records and Epic Records, hailed that, "There is no passport control," in the modern industry, with technology effectively eliminating barriers to accessing content from regions outside of a user's home country. As panel moderator Anna Siegel of FUGA pointed out, this has paved the way for four consecutive years of growth, establishing mature streaming markets like the U.S. and paving the way for emerging markets with untapped potential, including Africa and India. The barriers to breaking into these markets, however, are as unique as the regions are themselves. Panelist Martin Nielsen, founder and CEO of Kenya-based music app Mdundo, said that access to technology and billing both prove challenging in Africa, comprised of over 50 countries each with their own billing formats and levels of internet access that need to be taken into account.
Beyond establishing into international markets, the panel discussed different tactics to reach users through mediums other than music platforms. Thomas cited the examples of Travis Scott's Look Mom I Can Fly documentary on Netflix and the soundtrack to Sony's Death Stranding PlayStation 4 game as examples of cross-platform projects that help to reach new music fans and give artists' songs new life in other mediums. As Kobalt's Bob Bruderman stressed though, these partnerships need to come abut organically, not compromising on the artist's brand in a way that will detract from fan interest.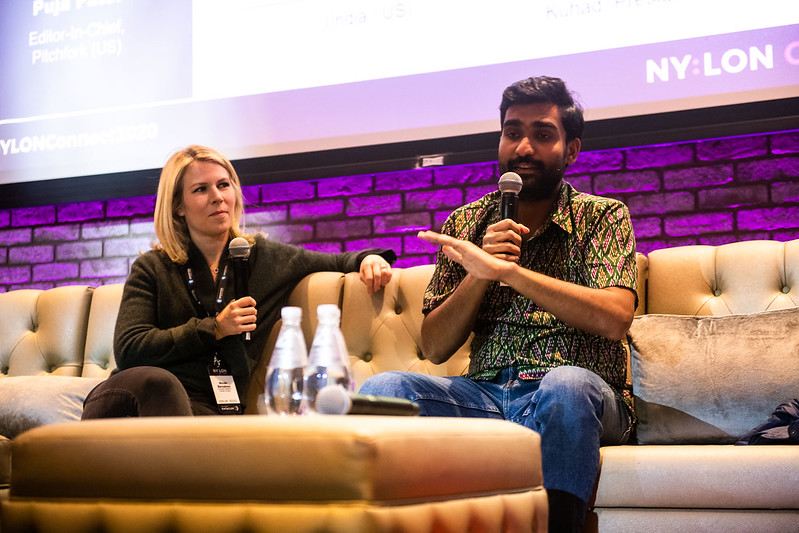 The first track of the day wrapped up with an interview of Indian singer/songwriter Prateek Kuhad and his manager, Women in Music President Nicole Barsalona, conducted by Pitchfork Editor-in-Chief Puja Patel. Kuhad has had a meteoric rise to the top of the Indian indie scene while also making waves in the U.S. — his track "Cold/Mess" was just featured on President Obama's year-end list of favorite songs. While the two admittedly don't know how the President came across "Cold/Mess," this rise has been in part due to how Kuhad has shopped his music around on the digital market. Because Kuhad's songs don't fall in line with traditional Indian or Bollywood music (he writes traditional Indie Singer/Songwriter Folk songs, sung both in English and Hindi), Kuhad and his team had to find what music fans of his would also enjoy and look for playlist or internet radio placements that made sense. This translated to Kuhad being added to a coffee house station on Sirius radio, and "Fresh Folk" and "Chill Out" playlists on streaming services.
Kuhad has also gained massive popularity due to the level of interaction he has with his feverish fan base. When he first began his career, he worked on building an email newsletter list of around 10,000 fans, who he sent free downloads of his music to as a thank you for supporting him. He is also highly engaged with his fans on social media, replying on Twitter and Instagram to help build a more personal connection. "We want to stay with these people," Barsalona offered. "That's what's really valuable — his music is speaking to them as they live their lives in a really meaningful way." Patel asked if he's adopting the most popular platforms of the day — TikTok, for example — to reach his fans. This fed into a larger conversation of authenticity — Kuhad says he's a big fan of Instagram because he loves to take pictures, and that he never does anything for the sake of promotion that doesn't come organically to him.
Click here for a full recap of Track 1 from Music Ally.
Track 2: Label Evolution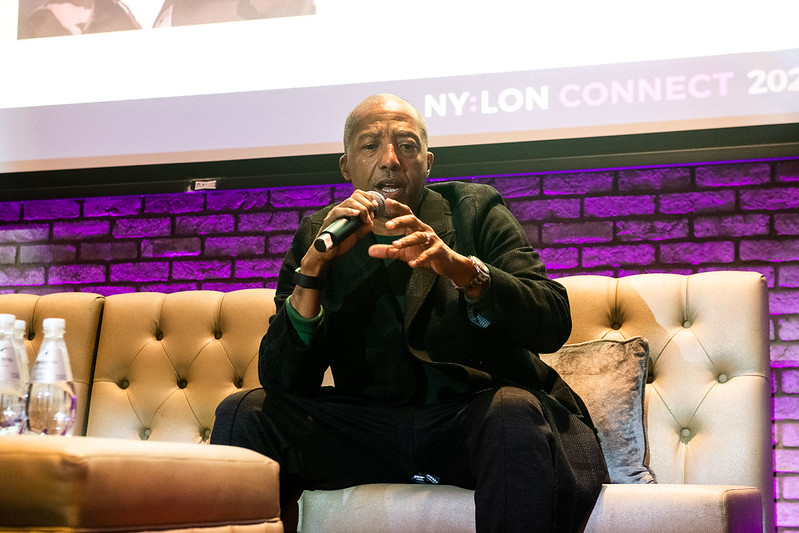 300 Entertainment's approach to distributing music is vastly different than, and disruptive to, the traditional label model, which made company CEO Kevin Liles the best voice to begin the day's second track on discussing record label evolution. Liles' response to the blistering changes that the industry have faced is inspired by the timeless advice of legendary producer Rick Rubin: if you make a great record that stands out, people will find the music. And while he acknowledged that technology makes it possible for artists to release their music without a traditional label, Liles still values the experience behind a release team to help spread the word that their music is out. From his point of view, it is important for a company like 300 — or a label for that matter — to be honest about their value proposition with artists, and be flexible when dealing with the individual needs of each of artist on their roster. 300 cuts distribution deals that vary from artist to artist, ensuring their music reaches and engages the fans it resonates with most.
When asked what excites him about the future of the music industry, Liles said, "Not knowing is exciting." He cited the uncertainty of what consumption and distribution methods will dominate the industry in the coming years. Liles is also excited about the influx of young people entering the music business for the first time, and hearing them ask "why" when it comes to the ways business is done, challenging industry norms and breathing new life into a business he has been in for more than 30 years. However, the fundamental principle behind what Liles does — to maintain the value and quality of true artistic expression — will never change. He is in the business of helping artists make, as he put it, "…great music for great music's sake, no limitations."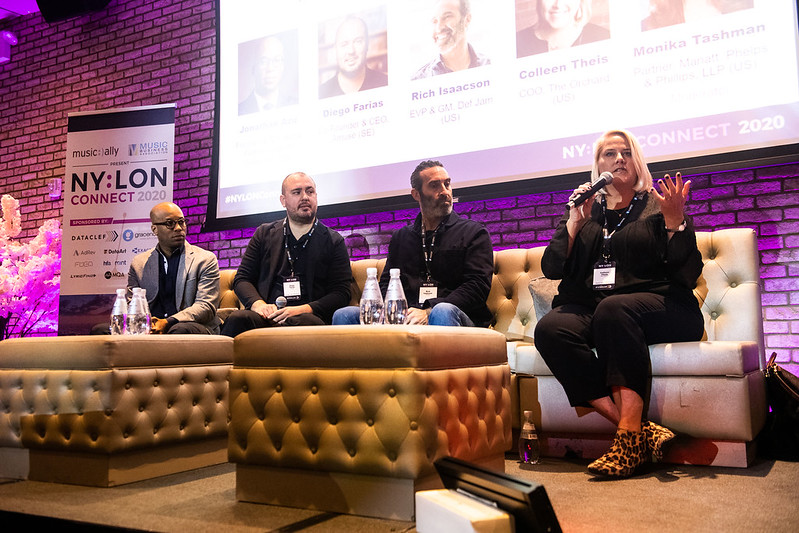 After Liles' interview came a panel moderated by Manatt, Phelps & Phillips' Monika Tashman, which sought to define what, in 2020, a record label  looks like and what it means to sell and distribute music. The panel represented the full spectrum of old vs. new label models. On the newer side, Amuse Co-Founder and CEO Diego Farias discussed how he set up Amuse to function as a label of the future, as a distribution platform that offers other artist services. His company has a pre-established set of terms for deals with artists with other terms that are customizable based on the needs of each individual artists. The Orchard operates in somewhat similar ways when dealing with artists directly. Though their primary business remains distribution from the more than 10,000 labels they partner with, company COO Colleen Theis stated that they expanded into making artist deals upon taking inventory of what technology and infrastructure they share with labels and companies like Amuse.
For the DIY artist without label support, the panel agreed that there are a number of steps for them to take to make a splash in the industry. This is due to how technology has expanded the democratization of the industry — with Farias citing that 38% of the top streaming artists on Spotify were not artists at the beginning of the year. With so much music being released and more artists debuting now than ever, there remains a need for a strong team who can help artists rise above the noise. Discussing the value a traditional label offers in 2020, Def Jam's Rich Isaacson said, "When we sell ourselves, we have a global army at our disposal. I have relationships from doing business all around the world, not just because the label promotes the record. There's the value of knowing I can pick up the phone and make a call for what I need." Theis echoed support for a strong artist team, saying, "DIY doesn't mean just by oneself." With record deals getting shorter and the revenue split towards artists increasing both in new and old distribution deals, artists must determine what model helps best them best share their music with the world, or as Culture Collective's Johnathan Azu put it, helps them reach their own definition of success.
Click here for a full recap of  Track 2 from Music Ally.
Track 3: Publishing & Rights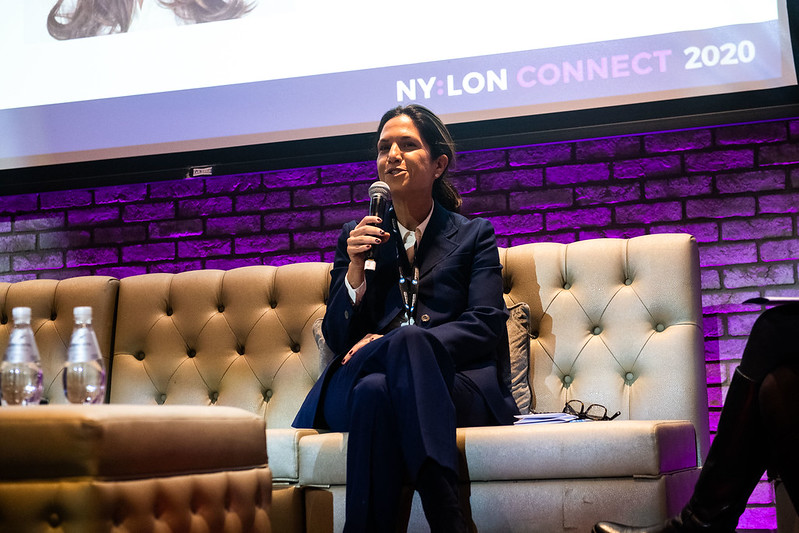 Under the leadership of its Founder and CEO Golnar Khosrowshahi, Reservoir has built a catalog of over 110,000 copyrights with titles dating as far back as the 1920s. But as discussed in the opening keynote interview for the Publishing and Rights track , conducted by MRC Data's Helena Kosinski, it took work incorporating turnkey solutions and time finding the right people to grow at such a rate in a time of "doom and gloom" for the industry. Reservoir took a similar approach when it looked to break into artist management, partnering with Big Life Management, allowing them to make a more impactful splash in the space than hiring a management team and starting from scratch. There is a unique human element that Khosrowshahi has looked to establish — she said that while technology can solve a lot of the industry's problems, it cannot help you plan your career trajectory and tell you who to work with on your next project —which is especially true for songwriters, she added.
Looking to the future of the publishing space — especially Reservoir's — Kosinski asked about the opportunities that excite Khosrowshahi and the challenges she expects to face. When working with Reservoir's songwriters, Khosrowshahi explained that sync now comprises around 25-30% revenue, so including high sync returns in new songwriter deals has become a new expectation. She also remarked on the steep increase of K-pop, Bollywood and Latin music's popularity in the global music business space, saying that with all things, Reservoir would love to be in the space but would need to expand in an organic way that requires them bringing the right people on board to facilitate that expansion.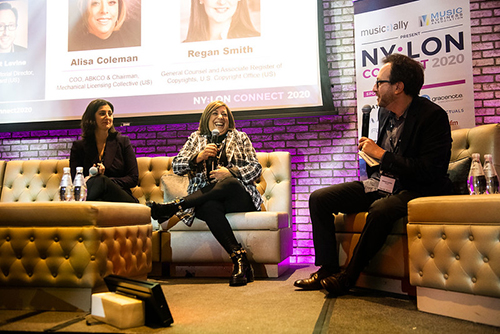 The Publishing and Rights track continued with a special interview with Mechanical Licensing Collective (MLC) Chairman Alisa Coleman and Regan Smith, General Counsel and Associate Register of Copyrights for the U.S. Copyright Office, giving an update on the progress made since the Music Modernization Act (MMA), which became law in late 2018. The MLC is set to open its doors at the beginning of 2021, ensuring more accurate royalty payments to publishers and rights holders who voluntarily register with the entity or through its blanket licensing initiative. This move may be a big help to smaller songwriters and DSPs, according to Coleman, as registering with the MLC will help ensure accurate accounting of the money owed to those parties. Coleman and Smith encourage DIY artists who do not normally take steps to register their copyrights to begin incorporating that practice, stating that the MLC has established an FAQ website that will walk them through the process of ensuring they have the right information to register and then through the registration process.
Addressing some of the concerns behind the implementation of the MLC, Coleman reiterated that the collective is still in the process of writing final operating rules and policies with a group of songwriters and publishers, which will then be vetted by another group of songwriters and publishers. She also stated that the DSPs are paying the operating costs for the MLC, who in turn benefit from not needing to pay other services to handle licensing issues for them. And because costs are handled by the DSPs, there is no need for commission from rights holders. Coleman ended by saying she feels once the Copyright Royalty Board is up and running, in addition to the MLC beginning the process of sorting through "black box" payments, more and more will understand the value of the services they are looking to provide.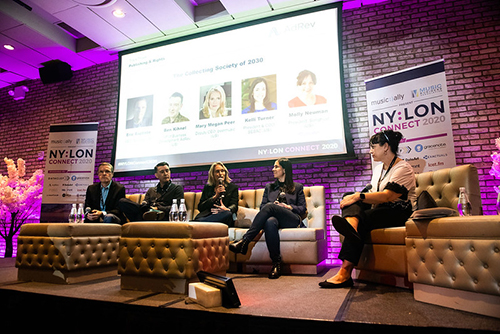 The last panel of the day, moderated by Songtrust President Molly Neuman, asked the question "What will the Collecting Societies of 2020 look like?" Due to the frequent and sweeping changes in the industry, organizations like SESAC and SOCAN have already made significant shifts in their business, breaking into publishing/mechanical rights and tech-driven solutions, respectively. peermusic Deputy CEO Mary Megan Peer echoed the importance of implementing tech-based solutions, saying that it helps support the publisher's songwriters so they can focus on being creative and not worry about the data-entry end of things. With the advent of dynamic music searching, especially voice search, data entry is extremely crucial. SESAC President and COO Kelli Turner equating the number of ways an artist's name can be registered to a game of telephone, for example, with different rights holders entering the same information in different ways (e.g., Bob Dylan; Dylan, Bob; Bob A. Dylan; etc.).
The panel agreed that a number of advancements in tech will both cut down on effort and costs associated with some of the more tedious parts of the job, with AdRev's Ben Kihnel pointed specifically to AI advancements in audio detection and newly developed data standards as significant improvements to the status quo. New revenue streams are also exciting opportunities for collecting societies to explore — for example, SOCAN CEO Eric Baptiste gave the example that in India, the market for licensing lyrics currently sits at $5 million; if the company used all the tools available in its Dataclef suite, that number could easily jump to $500 million.
Click here for a full recap of Track 3 from Music Ally. And stay tuned for our recap of NY:LON Connect 2020 Day 2!
---