Black Music Action Coalition To Unveil 2nd Music Industry Action Report Card During Music Biz 2023 Keynote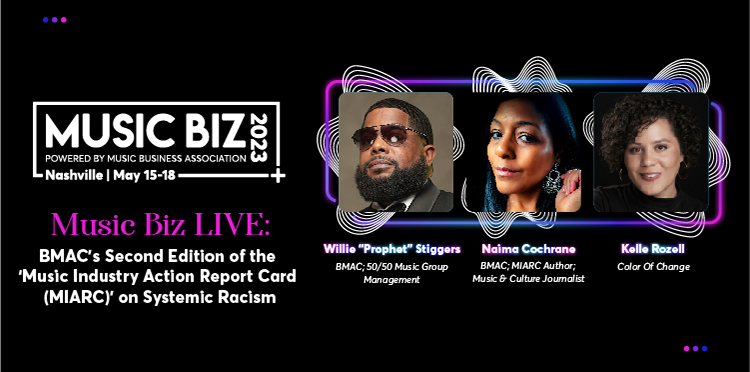 May 2, 2023 (Nashville) — The Music Business Association (Music Biz) today announces that The Black Music Action Coalition (BMAC) will debut data from the second edition of its Music Industry Action Report Card (MIARC) in a keynote conversation on Monday, May 15th during the organization's upcoming Music Biz 2023 conference, to be held May 15 – 18, 2023 at the JW Marriott Nashville.
The MIARC report is part of larger BMAC efforts towards justice within the music business and to use the power of the music industry to improve communities and create policy change. This month, BMAC will launch the second installment of the Music Accelerator Program at HBCU Tennessee State University (TSU) to create access and inclusion for Black music executives. BMAC has also just announced the OnRamp program in partnership with the Academy of Country Music (ACM), a program giving aspiring Black Artists and professionals a guaranteed income and mentorship and support for 1 year.
Full details for the May 15th keynote can be found below:
Music Biz LIVE: BMAC's Second Edition of the 'Music Industry Action Report Card (MIARC)' on Systemic Racism in the Music Industry
Monday, May 15 | 5 — 6 pm CT
BMAC's 'Music Industry Action Report Card (MIARC)' takes an assessment of companies throughout various sectors of the music industry — major label groups, DSPs, the Recording Academy and more — on how thoroughly they have followed through on June 2020 public promises to elevate black employees, financially commit to racial justice initiatives, and/or take other steps to rectify decades-long legacies of racism in boardrooms while profiting off of black artists, and how they've continued to build on those initial commitments in ways that will create sustained change in the business.
Monday's Keynote Speakers:
+ Willie "Prophet" Stiggers
Co-Founder & Chair, BMAC; CEO, 50/50 Music Group Management
+ Naima Cochrane
Board Member, BMAC; MIARC Author; Music & Culture Journalist
+ Kelle Rozell
Chief Marketing & Storytelling Officer, Color Of Change
In addition to the MIARC reveal, representatives from ACM, mtheory and TSU will be on-hand to discuss initiatives and changes that have positively impacted DEI efforts in the Nashville community.
"In just three short years, BMAC has proven to be an essential voice in combating systemic racism and shaping a more inclusive music industry community," said Music Biz President, Portia Sabin. "While we wish and strive for a world where this type of research is no longer necessary, we're grateful to BMAC for choosing the Music Biz stage as the place to debut this important data, and look forward to working together to make it actionable."
"The Black Music Action Coalition (BMAC) is committed to accountability and equity within our industry," said Willie "Prophet" Stiggers, Co-Founder/Chair (BMAC). "Our Music In Action Report cards are a way for us to take an honest look at where we are and ultimately where we want to be. It's our intention to create annual benchmarks rooted in the initial commitments and pledges made by the music industry in 2020. Music Biz Week is a great opportunity to share our findings and to have an honest dialogue with the music community on developing sustainable solutions that ensure Black and Brown executives & Artists are able to equitably participate in an industry that's heavily built on our creativity and artistry."
All three keynote interviews at Music Biz 2023 will be led by Sabin and held under the Music Biz LIVE banner, which began during the start of the COVID-19 pandemic and quickly became a vital forum where key figures across the global music business discuss the most timely issues of the day. Kobalt Founder & Chairman Willard Ahdritz has been confirmed for a keynote conversation on Tuesday, May 16th; this conversation will kick off with a special presentation by Luminate CEO Rob Jonas, who will walk attendees through the most notable global music industry data points for the year so far. Indie artist LU KALA; Jillian Rutstein, Director, Digital & Creative Synch for Prescription Songs and Amigo Records; and Tracy Gardner, Head of Label Licensing & Partnerships for TikTok, will participate in the final keynote interview on the morning of Thursday, May 18th.
More than 500 music industry companies from 25 countries have committed to attending the four-day event, which will mark the Association's 65th Anniversary and its 10th year under the "Music Biz" moniker (it was known as NARM, or the National Association of Recording Merchandisers, until 2013). As in years past, the Association has built out its four-day educational program of more than 125 panels based on topic and speaker submissions from the global music business through its annual Call For Presentations process.
To date, more than 300 global industry figureheads are confirmed to participate in the event. Big-name speakers joining the Music Biz 2023 program include Whitney-Gayle Benta (JKBX); Natalia Nataskin (Primary Wave); iconic artist, DJ, and producer Prince Paul; Shuman Ghosemajumder (TeachAids, Fmr. Google click-fraud czar); Tony D. Alexander and David Porter (Made in Memphis Entertainment); Richard James Burgess (A2IM); Robin Stout (Intellectual Property Office); Caroline Champarnaud (SACEM); Michele Ballantyne (RIAA); SK Sharma (Ingrooves); and Kris Ahrend (the MLC).
# # # #
About Music Biz 2023
After its highly successful return to an in-person format in 2022, Music Biz 2023 will take place May 15-18, 2023 at the JW Marriott Nashville. The organization's flagship event will once again deliver four days of industry-defining conversations and connections, plus important discussions on how our industry may evolve to better serve the needs of all music professionals. Visit musicbiz2023.com for the preliminary conference agenda, event registration and lodging information, and more. Members of the editorial press can apply for press credentials via this link.


About the Music Business Association
The Music Business Association (Music Biz) is a not-for-profit membership organization that advances, promotes, and invests in the future of the music business by providing a trusted forum where ideas and cooperation flourish. Through events, education, and engagement, the Association brings together the full breadth of the industry for unparalleled access to networking, resources, and thought leadership.


About Black Music Action Coalition
Black Music Action Coalition (BMAC) is an advocacy organization formed to address systemic racism within the music business. Our coalition advocates for Black artists, songwriters, producers, managers, agents, executives, lawyers, and other passionate industry professionals. Our programming is inclusive of economic and educational pipelines that help address systemic racial disparities in the music industry and society at large.


Media Contacts
For Music Business Association (Music Biz):
Nicole Hennessey, Vice President — nicole.hennessey@musicbiz.org
For Black Music Action Coalition (BMAC):
Kathryn Frazier-Jackman, Biz 3 — kathryn@biz3.net
Khalila Douze, Biz 3 — khalila@biz3.net