Kobalt Music Founder and Chairman Willard Ahdritz To Keynote Music Biz 2023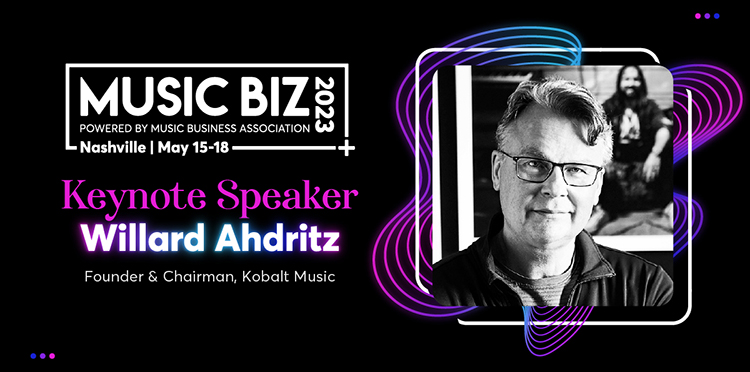 PLUS: Music Biz confirms first 100+ speakers across 4-day educational program
March 21, 2023 — The Music Business Association (Music Biz) today announces that Kobalt Founder & Chairman, Willard Ahdritz will participate in a keynote conversation on Tuesday, May 16th during the organization's upcoming Music Biz 2023 conference, to be held May 15 – 18, 2023 at the JW Marriott Nashville. This and all keynotes at Music Biz 2023 will be held under the Music Biz LIVE banner, which has become a vital forum where key figures across the global music business discuss the most timely issues of the day.
Ahdritz has worked tirelessly to introduce transparency, fairness, and big tech to the music industry ecosystem throughout his illustrious career. As Kobalt's CEO from its inception until 2020, he led the company to become a top-three global music publisher. In 2014, the company acquired AMRA, transforming and relaunching a year later to make Kobalt the only publisher to offer global direct collection from digital sources. With this full-service global platform that manages and collects music rights & royalties, Kobalt vastly increased the speed and efficiency of royalty collections for its clients. Today, AMRA has global license agreements with all major DSPs and claims directly in over 200 territories. Ahdritz was named one of the music industry's most influential business leaders by Variety in 2020 and received the 2020 Music Biz Innovator Award.
"We pride ourselves in courting the perspectives of true industry innovators for our Music Biz LIVE keynotes at our Annual Conference," said Music Biz President, Portia Sabin. "Our goal with these interviews is to get to the bottom of common problems our entire industry faces and develop real-world solutions. Willard more than fits the bill for this type of talk, and we're thrilled to bring audiences his perspectives on both the state of the industry in 2023, and how we can continue to push inclusion & collaboration forward."
Today's announcement also coincides with Music Biz revealing the first selection of confirmed global music business professionals set to speak during the event's four-day educational program. An up-to-date interactive schedule including speakers and panel descriptions can be found here.
# # # #
About Music Biz 2023
After its highly successful return to an in-person format in 2022, Music Biz 2023 will take place May 15 – 18, 2023 at the JW Marriott Nashville. The organization's flagship event will once again deliver four days of industry-defining conversations and connections, plus important discussions on how our industry may evolve to better serve the needs of all music professionals. Visit musicbiz2023.com for the preliminary conference agenda, event registration & lodging information, and more.
Also returning in 2023 is the second edition of the Association's crowd-sourced Bizzy Awards program, honoring music companies & individuals who are advancing commerce in the music industry and making a difference in diversity, equity & inclusion efforts. The 2nd Annual Bizzy Awards ceremony will take place on the evening of Wednesday, May 17 and will be hosted by Fitz and the Tantrums co-lead vocalist, Elektra solo recording artist, and founder of Diversify the Stage, Noelle Scaggs.


About the Music Business Association
The Music Business Association (Music Biz) is a not-for-profit membership organization that advances, promotes and invests in the future of the music business by providing a trusted forum where ideas and cooperation flourish. Through events, education and engagement, the Association brings together the full breadth of the industry for unparalleled access to networking, resources and thought leadership.


Media Contacts
For Music Business Association:
Nicole Hennessey, Vice President — nicole.hennessey@musicbiz.org
For Kobalt:
press@kobaltmusic.com