Artists Get Cheat Sheet on Website Development Tools in New Infographic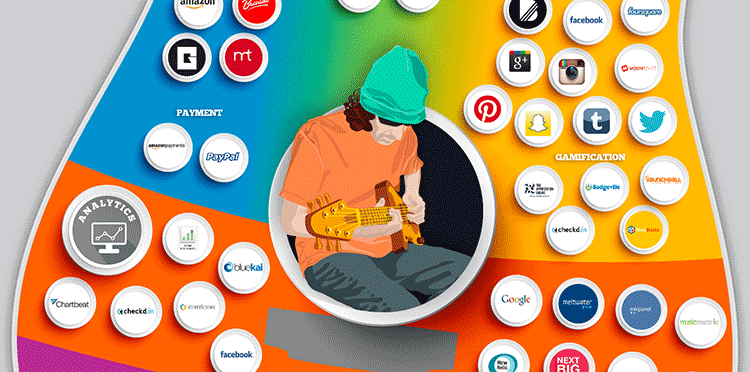 March 20, 2014 – The Music Business Association (Music Biz), formerly NARM and digitalmusic.org, is helping artists find the tools they need to create better websites with its new infographic, "Artist Website Ecosystem." Created by the association's Digital Marketing Workgroup, led by Lee Hammond of the Universal Music Group and Chuck Fishman of Acquia, the document lists a variety of web services that musicians can use to add specialized functionality to their sites.
The infographic is broken down into seven main categories: Content Management, Single Sign-On, Commerce, Social, Analytics, SEO Tools, and Email. Each is accompanied by the logos and URLs of various third parties that artists can use to add that service to their website, providing a handy cheat sheet that any webmaster can easily consult while constructing pages. Many categories are then divvied up further into subcategories that allow for even more specialization, such as web platform recommendation, audio players, and video players for Content Management; commerce platform, social commerce, fulfillment, and payment for Commerce; and tour widgets, fan loyalty programs, gamification, commenting systems, social curation, and social widgets for Social.
"It's extremely important for musicians to maintain their own official websites, and thanks to the third-party services highlighted in this infographic, it's much easier for them to achieve professional results with minimal experience," said Robby Towns, Director of Digital Strategy & Community for Music Biz. "We hope that artists and other webmasters will hang this infographic by their desk to consult whenever they decide to add new features to their sites, as these services can help anyone create a high-quality and highly functional web presence that will draw in new fans and impress potential industry backers."

Embed This Infographic On Your Site (copy code below):