[WEEKLY SALES] Sam Smith Scores First #1 as Taylor Swift Looms: Comment from Music Biz President James Donio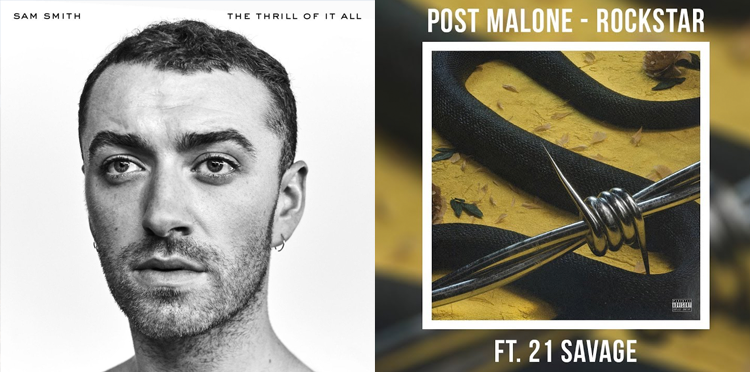 James Donio, President of the Music Business Association (Music Biz), commented on this week's sales numbers issued by Nielsen (published by Billboard — albums; singles) and BuzzAngle Music (published by HITS Daily Double — albums; singles).
"It was a big week for new albums, with five debuting records reaching the Top 10 of the Nielsen and BuzzAngle Music charts. They are led by Sam Smith's The Thrill of It All, which racked up over 225,000 album equivalent units. It's Smith's first #1 album, along with his best sales week ever, and the seventh biggest debut of 2017 so far. He's followed by Red Pill Blues, the latest from Maroon 5, at #2 and Texoma Shore from Blake Shelton at #4. The latter continues a remarkable streak for the Country veteran, marking the eighth consecutive year in which Shelton has placed an album in the Top 10. Other notable debuts came from Kelsea Ballerini (#7 with Unapologetically) and Kid Rock (#8 with Sweet Southern Sugar).
"Meanwhile, Post Malone notched his fifth week at #1 on the Billboard Hot 100 and BuzzAngle Top Songs charts with 'Rockstar' featuring 21 Savage. In addition, Sam Smith and Maroon 5's high-charting album debuts gave a lift to their respective singles, with Smith reaching #4 on Billboard and #3 on BuzzAngle with 'Too Good at Goodbyes' and Maroon 5 hitting #9 on Billboard and #6 on BuzzAngle with 'What Lovers Do.' Taylor Swift's 'Call it What You Want' also made its first appearance on the BuzzAngle chart, landing at #4.
"Next week will be all about Taylor Swift, who is set to make a massive impact with her new album Reputation. The album is reported to have moved more than 700,000 units in its first day alone, sat at 925,000 after Sunday, and is expected to top 1.5 million for the week.