U.S. Ecommerce Growth Jumps to More than 30%, Accelerating Online Shopping Shift by Nearly 2 Years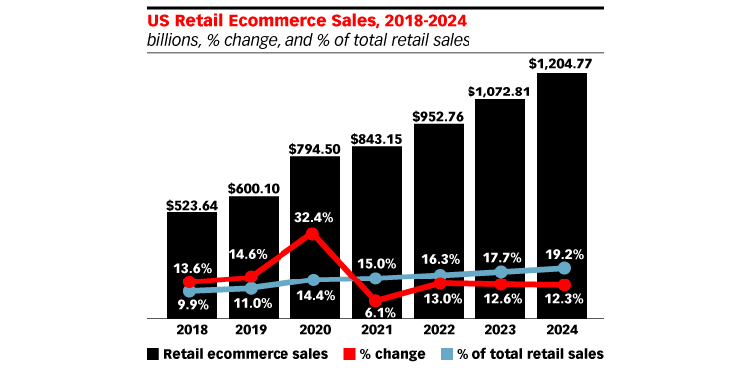 The pandemic has accelerated ecommerce growth in the U.S. this year, with online sales reaching a level not previously expected until 2022. In our Q3 U.S. retail forecast, the top 10 retailers by ecommerce sales will tighten their grip on the retail market. U.S. ecommerce sales will reach $794.50 billion this year, up 32.4% year-over-year. That's a much higher growth rate than the 18.0% predicted in our Q2 forecast, as consumers continue to avoid stores and opt for online shopping amid the pandemic.
"We've seen ecommerce accelerate in ways that didn't seem possible last spring, given the extent of the economic crisis," said Andrew Lipsman, eMarketer principal analyst at Insider Intelligence. "While much of the shift has been led by essential categories like grocery, there has been surprising strength in discretionary categories like consumer electronics and home furnishings that benefited from pandemic-driven lifestyle needs."
Click here to read more from eMarketer.