Tony-Winning Frozen Star Idina Menzel Lends Voice to Give the Gift of Music, Launching 2014 Holiday Campaign & Contest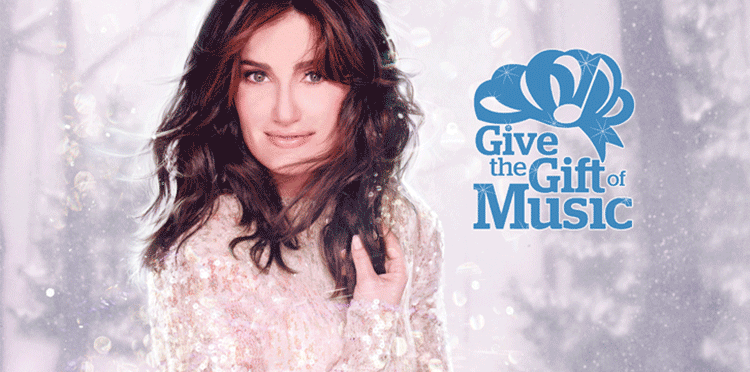 Grand prize winner will receive tickets to Menzel's upcoming World Tour, a signed copy of her Holiday Wishes album and more
December 1, 2014 — Kicking off its 2014 Holiday Campaign & Contest, Give the Gift of Music (GTGOM), a joint industry initiative between the Music Business Association (Music Biz) and the Recording Industry Association of America (RIAA), today debuted a brand new video from Tony Award-winning singer/actress Idina Menzel, whose seasonal album Holiday Wishes was released on October 14 through Warner Bros. Records. The video spotlights the significance of giving and receiving music as a gift and launched exclusively on the homepage of givethegiftofmusic.info. 
"I've received many gifts of music in my life, but a very significant one would be Mr. Roper of Bayliss Elementary School," says Menzel. "He recognized that I had some talent and gave me my very first solo in the choir concert."
To watch the full video, visit givethegiftofmusic.info.
GTGOM's 2014 Holiday Campaign & Contest asks music consumers and fans to share in 300 words or less how music plays a part in their holiday celebrations. Whether it's being part of a church caroling group, singing around the piano at grandma's house, blaring the stereo while cooking a holiday meal, or buying mom her favorite CD as a stocking stuffer each year, GTGOM wants to hear how music has become a holiday tradition in the lives of music fans. One (1) grand prize winner will receive tickets to Menzel's upcoming World Tour and a signed copy of her Holiday Wishes album. Second and third prize winners will also receive signed copies of Menzel's album, as well as special gift packages. Specific details on the new gifting contest – including deadlines, rules, and regulations – can be found at http://givethegiftofmusic.info/contests/2014-holiday-contest.
In addition to Menzel, givethegiftofmusic.info hosts music gifting videos from Taylor Swift, Michael Bublé, Josh Groban, Florida Georgia Line, and Ed Sheeran, among many others. Fans can further connect with the GTGOM campaign and its featured artists on Facebook (facebook.com/givethegiftofmusic) and Twitter (twitter.com/agiftofmusic).
Music Biz and the RIAA oversee the GTGOM campaign, which reminds music consumers throughout the year that they can give the gift of music in more ways than ever, including physical, online, and mobile options. A variety of industry organizations and more than 70 top musicians support the initiative and have helped spread the gifting message. Artists contribute original anecdotes to the givethegiftofmusic.info website that allow consumers to hear how music gifts have touched the lives of their favorite performers. Visitors can also share their own gifting memories, discover new music gift ideas, and share their music wish list with friends and loved ones all year long. In addition, industry groups have supported the campaign by using the GTGOM logo and website URL on their products, in advertisements, and on their websites.
About Idina Menzel
Tony Award-winning singer/actress Idina Menzel's career has traversed stage, film, television, and music. She was most recently heard as Elsa in Disney's global box-office smash Frozen, in which she sings the film's Oscar-winning song "Let It Go." After Menzel's performance of the multi-platinum track at the 86th annual Academy Awards, she made history as the first person to both land a Billboard Top 10 hit and win a Tony Award for acting. Her seasonal album, Holiday Wishes, was released on October 14 in the U.S. via Warner Bros. Records. It was produced by Grammy Award-winner Walter Afanasieff (Barbra Streisand, Celine Dion, Mariah Carey) and features classic favorites such as "All I Want for Christmas Is You" and "Have Yourself a Merry Little Christmas," as well as Joni Mitchell's Christmas-themed "River," one of Menzel's favorites. She also duets with international superstar Michael Bublé on "Baby It's Cold Outside." Menzel currently stars as Elizabeth in the original Broadway production of If/Then. She will embark on her World Tour in Summer 2015. Visit www.idinamenzel.com for more information.